Dodge RAM for Sale in Miami
For many, a pickup truck is a right of passage. It symbolizes that you've arrived and are prepared to work hard to make an honest living. With a selection of Dodge RAM for sale in Miami, Kendall Dodge Chrysler Jeep Ram is dedicated to helping new and seasoned pickup buyers find a new or used truck to get the job done.
Now, we don't have to convince you that a pickup is the right tool for the job, we just have to convince you that Dodge RAM trucks are the only trucks you need to be looking to buy.
Pickup Trucks Power America



The pickup truck has long been an icon that represents hardworking Americans, and Miami RAM dealers understand this . Whether designed to protect soldiers during war or aid cowboys on the frontier, it has served a unique role since its inception.
Known for serious craftsmanship, trucks remain sturdy despite the bumps and bruises they incur along the way. You know you can trust the soundness of a RAM because it's constructed to be extremely solid.
Many people are dedicated owners primarily because of how useful trucks are. Why own a car that's only good for trekking back and forth when you could have lots more versatility? If you want to haul materials or if you need to help a friend whose vehicle is stuck or broken down, a truck is what you need.
From the worksite to the backyard, pickups do the heavy lifting, Dodge RAM trucks help Miami tackle the biggest projects and keep our city moving forward.
There's Nothing Like a Dodge RAM in Miami
RAM has already surpassed Chevy and locked horns with Ford, now vying for the number one slot in truck sales. With breakthrough design and tons of standard features, RAM has the competition on the run.
Recently, RAM took Best-in-Class for mileage. One of the brand's most talked about innovations, RAM's remarkable fuel efficiency beats out any other truck.
In 2015, all new Dodge RAM in Miami will also be J2807 compliant, meaning that all of their tow ratings will meet or exceed the standards set by the Society of Automotive Engineers. They're the first company to announce full compliance.
And towing is definitely a RAM specialty with higher payload and towing capacity than the Silverado 1500. A variety of high-caliber engine choices and an 8-speed automatic transmission provide plenty of power for whatever task you have in mind.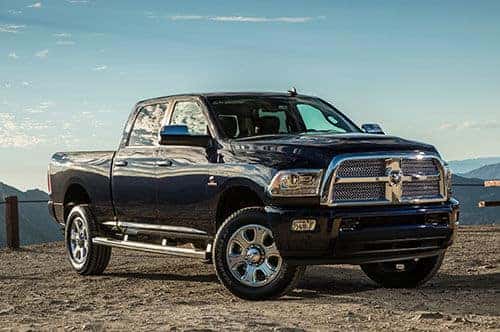 The overall exterior has gotten high marks for style, giving a smooth blend of tradition and contemporary updates. Fine touches like the bright, chrome grille and LED lighting make for a bold appearance.
Dodge RAM trucks also offer the most spacious and well-equipped interiors, topping Ford and Chevy when it comes to room and amenities. Drivers enjoy an intuitive dash design to make the ride relaxing.
First-rate UConnect touchscreen infotainment systems are also part of the package, easily outdoing the clunkier systems still being offered in other makes. When you're in a RAM, you have all the controls at your fingertips.
Even with such high standards for quality, RAM's pickups are still more affordable than other leading brands. They're priced for value to keep Americans heading where they want to go.
Not Just for Work


With so many cab layouts and trim levels to choose from, Dodge RAM trucks aren't only suited for your day job. They're also designed to handle family duty or any personal use you can come up with.
Take advantage of comfortable seating, deliberate arrangement, and creative storage space. You can seat a number of passengers and still have plenty of built-in storage in the rear cabin.
Get away for a few days with your friends and have some fun taking your RAM off-road around Miami. Or pack your camping gear, hitch up the family boat, and take the whole crew to a favorite vacation destination.
Never before has a pickup seen so much luxury or attention to detail, making it the right choice for you if you tend to play as hard as you work.
The RAM 1500 EcoDiesel is a Gamechanger
Yes, this is it, the truck that has been making waves. RAM's introduction of the 1500 EcoDiesel has disrupted the industry, and it's changing what people expect from a pickup–especially here in Miami.
The diesel engine offers some excellent perks:
Better fuel economy
More torque
Better trade-in or resale value
With this model, RAM decided to address the most important need that consumers have. Gas prices are hanging steadily at high numbers, so how can drivers get the same power and towing capacity without taking a hit at the pump? It's the most innovative pickup truck and the most popular Dodge RAM for sale in 2015.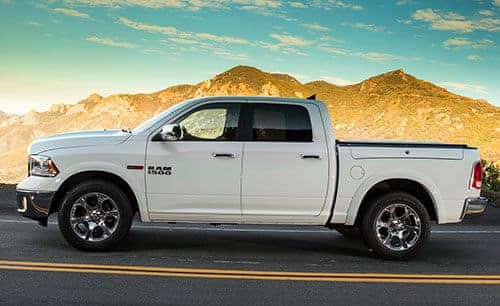 Using a clean-burning diesel engine, RAM achieved significantly increased fuel economy, boasting 28 miles per gallon on the highway. The 1500 EcoDiesel is paving the way for efficiency that doesn't sacrifice performance, which will make for a lot of happy owners of Dodge RAM in Miami.
Miami RAM Vehicle Offerings
Available in multiple trim levels, RAM trucks are built tough enough to take on any job you have in store. Unmatched power and hauling ability make this lineup the best available for hardworking Americans.
RAM 1500
Knowing that your truck has the durability and force to tackle any project is a great feeling. Increase that feeling even more when you invest in one that can handle serious demands and save on gas. Dodge RAM trucks are on the leading edge, offering the only truck with turbo diesel technology. With gas mileage numbers similar to an SUV, the 1500 EcoDiesel is changing pickups, which is what makes it the most exciting Dodge RAM 1500 for sale today.
Starting at $30,240
Tows up to 10,350 lbs.
Engine options:

3.6L Pentastar V6 / 305 hp
5.7L HEMI V8 / 395 hp
3.9L EcoDiesel V6 / 240 hp
RAM 2500
Your choice of three robust engines and a max payload of 3,170 lbs. make the 2500 a go-to model when you need a truck that's prepared for challenges. Keep everything you need organized and at your fingertips with the lockable RamBox Cargo Management System. And relax when the day is done in a cab where comfort and convenience are maximized for your benefit.
Starting at $30,115
Tows up to 18,220 lbs.
Engine options:

5.7L HEMI V8 / 383 hp
6.4 HEMI V8 / 410 hp
6.7L Cummins Turbo Diesel / 370 hp
Ram 3500
It's no surprise that Ram's 3500 took Best-in-Class for max towing. This model has been subjected to rigorous trials in desert heat to ensure that no matter how many times you put it to the test, it never stops pleasing. Each impressive trim comes with an advanced engines designed to be more efficient while making sure you see superior performance.
Starting at $30,910
Tows up to 30,060 lbs.
Engine options:

5.7L HEMI V8 / 383 hp
6.4 HEMI V8 / 410 hp
6.7L Cummins Turbo Diesel / 370 hp
Ram Chassis Cab
Ram knows that consumers need flexibility so they can be ready for anything. Packed with the power of a Ram, this dynamic model was designed to offer you limitless potential. That's why the Chassis Cab took Best-in-Class for its rear frame steel strength of 50,000 PSI.
Starting at $31,330
Tows up to 22,750 lbs.
Engine options:

5.7L HEMI V8 / 383 hp
6.4L HEMI V8 / 410 hp
6.7L Cummins Turbo Diesel / 320 hp
C/V Tradesman
If you need protected space for your gear and materials, but you still want easy access, the C/V Tradesman has you covered. With its heavy duty cargo space, dual sliding doors, and rear liftgate, transporting everything you need has never been more convenient. Also designed with fuel economy in mind, the C/V Tradesman gets 26 miles per gallon on the highway.
Starting at $21,825
Tows up to 3,600 lbs.
3.6L Pentastar V6 engine / 283 hp
ProMaster
The ProMaster is a van that can serve just about any type of business. Get it with windows or without. If you need it to be even more adaptable, check out the chassis cab and cutaway options. Whatever line of work you're in, the ProMaster makes it easy to transport simply and smoothly.
Starting at $28,630
Tows up to 5,100 lbs.
Engine options:

3.6L Pentastar VVT V6 / 280 hp
3.0L EcoDiesel I4 / 174
2015 ProMaster City
If your work keeps you on the move, reduce stress and increase convenience with the ProMaster City passenger wagon or cargo van. Take your workshop and your team with you. The passenger version can fit up to five people and still leave room for storage. More details will be on the way soon for this brand new commercial RAM model.
Tows up to 2,000 lbs.
2.4L Tigershark Multiair II engine / 178 hp