Dodge Viper vs Chevy Corvette z06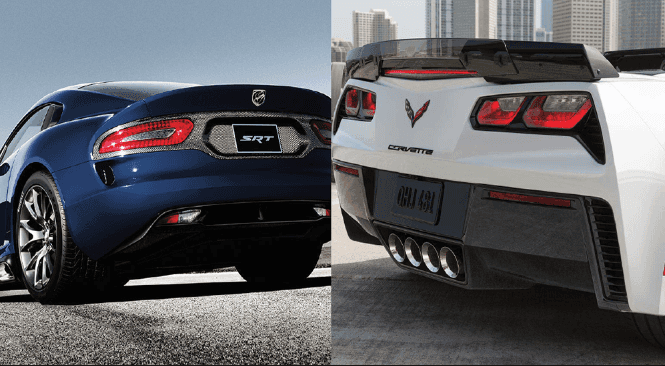 After watching multiple races between the Dodge Viper ACR and the Chevrolet Corvette Z06, we wish we could have tested them ourselves. Both these performance vehicles are crazy fast and gorgeous.
While both cars are fairly similar in terms of horsepower, Looking at what's under the hood only goes so far. The best way to determine which car is actually better is to race them and thankfully
Motor Heads did that for us in episode 72 of their "Head 2 Head" series. Here is what we learned.
Engine Specs
The Viper engine is bigger than the engine in the Corvette Z06, but bigger is not always more powerful. The Viper ACR has a 8.4-liter V10 engine, which puts out 640 horsepower. The Corvette Z06 has a supercharged 6.2-liter V8, 650-horsepower engine, so although it is a smaller engine, it offers more horsepower than the Viper ACR.
Viper ACR
The Viper is not necessarily the car for everyone because the feel of it closely resembles that of a race car. However, the Viper handles extremely well both on the track and on the road and in comparison to the Z06 in a general on-road driving situation, the Viper is safer.
Corvette Z06
The driver had some issues handling the Corvette Z06 on the road. The car handled great on straightaways, but it was challenging to maneuver around curves. The driver did love the stereo system in the car, and he didn't have any issues with the noise level from the car.
Both these cars had their benefits and drawbacks, but which one is better in terms of speed? Well, because the Viper handles better, it has the ability to maintain higher speed throughout the entire race. Therefore, Motor Heads determined that the Viper won the race.
Both of these cars are beasts, and handle even better than a Porsche 911 according to the video, which is impressive since the Porsche 911 is an expensive import. At Kendall Dodge Chrysler Jeep Ram, there are Vipers in inventory. Come test drive them today! (just not on the track!)