Drive An Angry Challenger Scat Pack 1320 On the Street or the Strip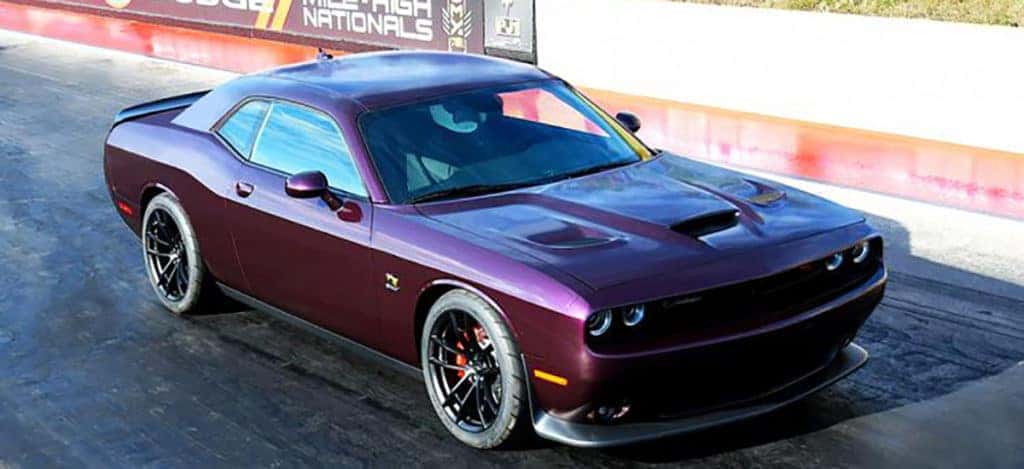 Photo credit: Dodge
Dodge has always looked for ways to provide something that has never been done before for their customers. With a fanbase that loves intense speeds, the modern muscle cars made by Dodge have never been faster or more impressive. Dodge recently unleashed another new innovation to allow fans to be able to go from the street to the drag strip without any challenges. The 2019 Dodge Challenger R/T Scat Pack 1320 has just become the latest vehicle approved by the National Hot Rod Association (NHRA). This means owners of this special package Dodge Challenger can go from driving through communities to entering a competition in NHRA's Stock and Super Stock Sportsman class racing in the upcoming 2019 season.
Ready, Set, Dodge!
The 2019 Challenger R/T Scat Pack 1320 packs quite a punch with its 392 HEMI V8 engine. Drivers have a powertrain that musters up 485 horsepower and 475 lb-ft of torque with as much speed as any owner could hope with a quarter-time of just 11.70 seconds at a top speed of 115 mph. Remarkable high-performance engineering has helped the Dodge Challenger outsell the Chevrolet Camaro in 2018 and continued through the first quarter of 2019. The Challenger reached 13,431 vehicles sold versus the Camaro selling over 1,300 less with 12,083 sold. 2018 was the first time in history Dodge had a muscle outsell the Camaro. Dodge isn't done there, they are planning to pass the Ford Mustang for the top spot of muscle sales, as Ford has been trending down since 2015. In 2015 Ford sold over 115,000 vehicles and in 2018 they sold less than 75,000 Mustang muscle cars. The premier choice for American muscle cars is becoming the Dodge Challenger.
The Scat Pack Can Race With the Big Boys
The drag- oriented, street-legal muscle car in the Dodge Challenger R/T Scat Pack 1320 features a class weight break of 8.72 and carry a minimum weight of 3,400 pounds. Drivers preparing to race at an NHRA event must satisfy each rule and regulation required for the category they seek to join. The Scat Pack 1320 was also awarded access to be included upon modification to join the exclusive NHRA Stock Eliminator competition. The Challenger 1320 fits into the "B" stock category. Owners do not have to modify the vehicle at all for access racing in the National Muscle Car Association events.
Complete with its sleek design, including an "Angry Bee" badge that is shown on the front fenders, the instrument panel, and headlamps. Before long, this special vehicle will be at dealerships across the nation. Fiat Chrysler Automobiles (FCA) is proud of the work they have done with the Dodge brand.
"The 1320 brings the drag racing technology we launched on the limited-production Demon and pairs it with the proven 392 Hemi engine to create a blank canvas for the serious grassroots drag racer who may have one car that needs to do double duty — both at the drag strip and on the street," said Steve Beahm, head of Passenger Car Brands – Dodge, SRT, Chrysler and Fiat, FCA – North America.
Nothing Moves Like A Challenger
For those who want to add some excitement in their garage, check out our new Dodge Challengers, including the new 2019 Dodge Challenger. We welcome you to buy, lease and sell your vehicle at Kendall Dodge Chrysler Jeep Ram.
Rush over for a test drive on any of new vehicles or pre-owned vehicles. Having a hard time dealing with on-going car issues with your ride? Let us do our part to help and help get you back on the road quickly with our experienced service staff. With a simple service appointment, our professional service team will help your vehicle problems be resolved in a timely fashion. We look forward to helping you now!