Exploring the Five Jeep Patriot Model Options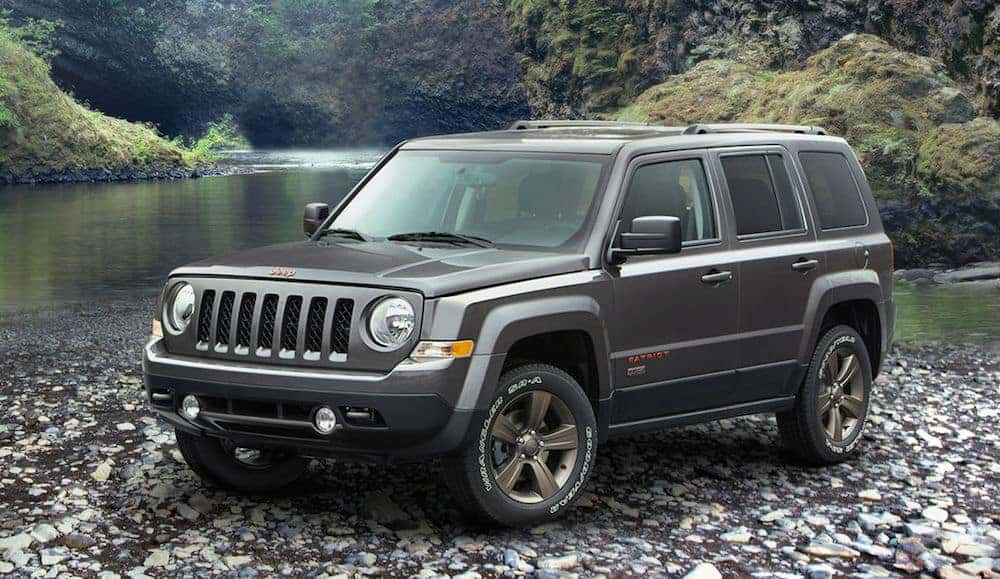 The car-buying process is full of difficult decisions. You have to establish what type of vehicle you want, what brand you want to pursue, and what specific model you're going to opt for.
Your options don't end there, especially if you opt for a Jeep Patriot. The brand's most affordable vehicle is the perfect choice for those seeking a compact sports utility vehicle. It's stylish and comfortable, and it delivers plenty of power under the hood.
Of course, as we mentioned, just because you've narrowed in on the 2016 Jeep Patriot, it doesn't mean you're finished making choices. You'll have to opt for one of the nameplate's five trim levels, with each of the versions offering their own features and amenities. For example, the least-expensive Sport trim offers SiriusXM Satellite Radio, while the top-of-the-line High Altitude includes leather-trimmed heated seats. Each of the trims includes their own color and wheel options, giving customers the opportunity to truly make the Jeep their own.
It can be difficult to distinguish the differences between each of these trims, so we've highlighted their main attributes below. Then, when it's time to head into a Jeep dealership, you'll know exactly what you should be asking for…
Sport ($17,595)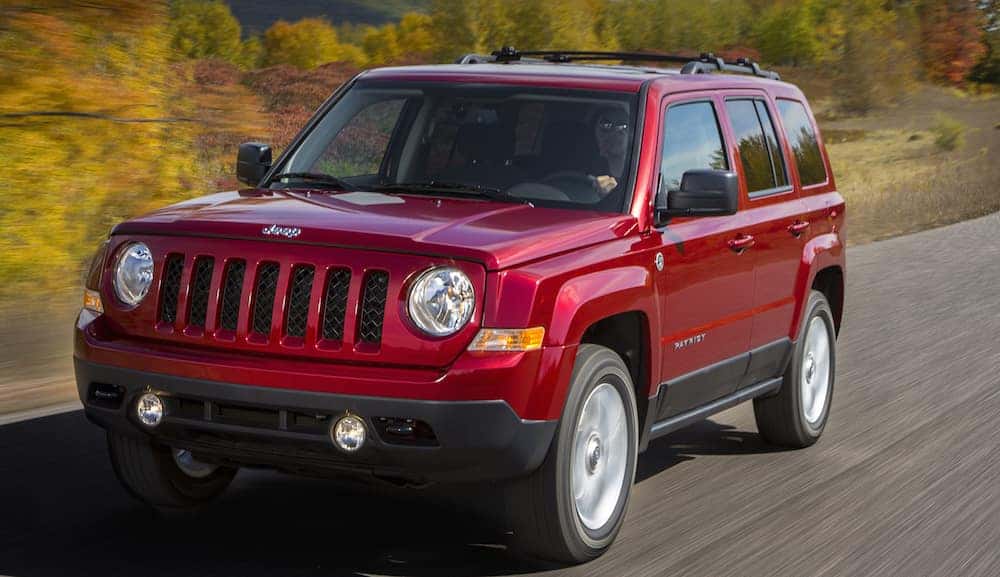 When you opt for a 'sport' trim, you expect an athletic, powerful engine. This version of the Patriot certainly delivers that strength via the 2.0-liter DOHC engine, and drivers will also learn to appreciate the unit's efficiency. The unit can deliver a 30 highway mile per gallon fuel economy, and the five-speed manual transmission should result in an unmatched driving experience. The Electronic Stability Control will certainly be helpful when operating the vehicle, as the system helps prevent accidents while assuring that you stay on your intended path.
The trim is also highlighted by the SiriusXM Satellite Radio, which provides the driver with over 130 channels to choose from. The system also allows for smartphone integration, so you can enjoy all of your playlists via the Jeep's sound system.
Meanwhile, the 60/40 rear folding seats will result in 53.5-cubic-feet of cargo volume, allowing you to fit any bulky or peculiar cargo. You ordinarily expect solid interior measurements from an SUV, but the opportunity to manipulate the interior puts the Patriot on a tier of its own.
Colors:
Billet Silver Metallic
Black
Bright White
Deep Cherry Red Crystal Pearl
Eco Green Pearl
Granite Crystal Metallic
Maximum Steel Metallic
Mojave Sand
True Blue Pearl
Wheels:
16-Inch Styled Steel Silver Wheels
16-Inch Black Painted Styled Steel Wheels
Sport SE ($19,740)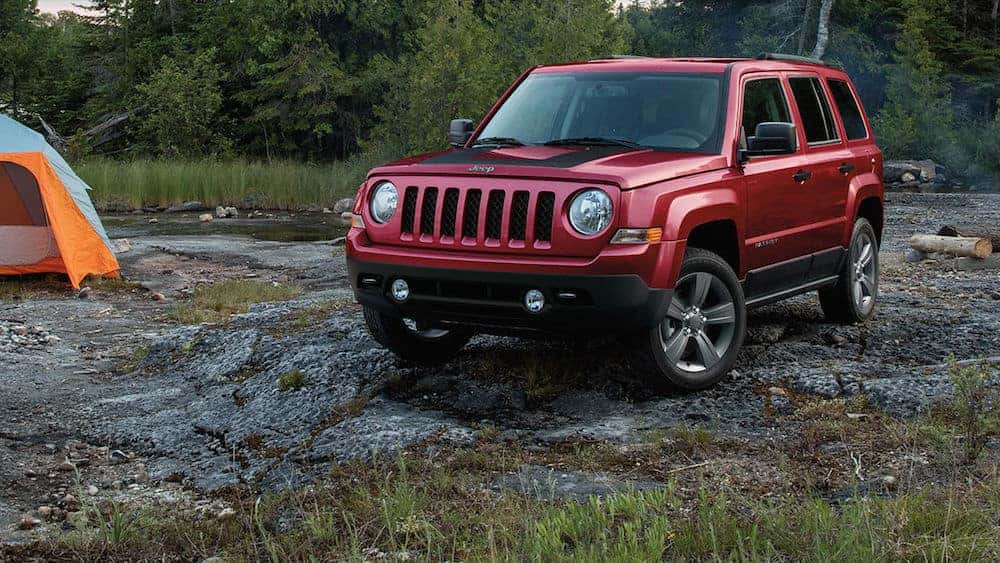 The Sport SE trim essentially takes that previously-mentioned Patriot and it makes it a bit more versatile. For example, the rear fascia step pad will allow easier access to the cabin, and the included roof rails will allow you to transport bikes or surfboards. This will vicariously impact the cargo room, as you won't be forced to cram those larger objects into the compact SUV.
The brand also included several comfort features to this trim level, including heated sport mesh front seats. The vinyl-trimmed seats will provide that extra bit of pleasure as you're commuting on those cold mornings. Meanwhile, the leather-wrapped steering wheel isn't only stylish, but the soft-touch materials will allow you to operate the vehicle with ease. Plus, the mounted controls will allow you to manipulate your radio, so you'll never have to take your eyes off the road or hands off the wheel to find your ideal station.
Colors:
Billet Silver Metallic
Black
Bright White
Granite Crystal Metallic
Mojave Sand
True Blue Pearl
Redline 2 Coat Pearl
Wheels:
17-Inch Mineral Gray Aluminum Wheels
75th Anniversary Edition ($20,975)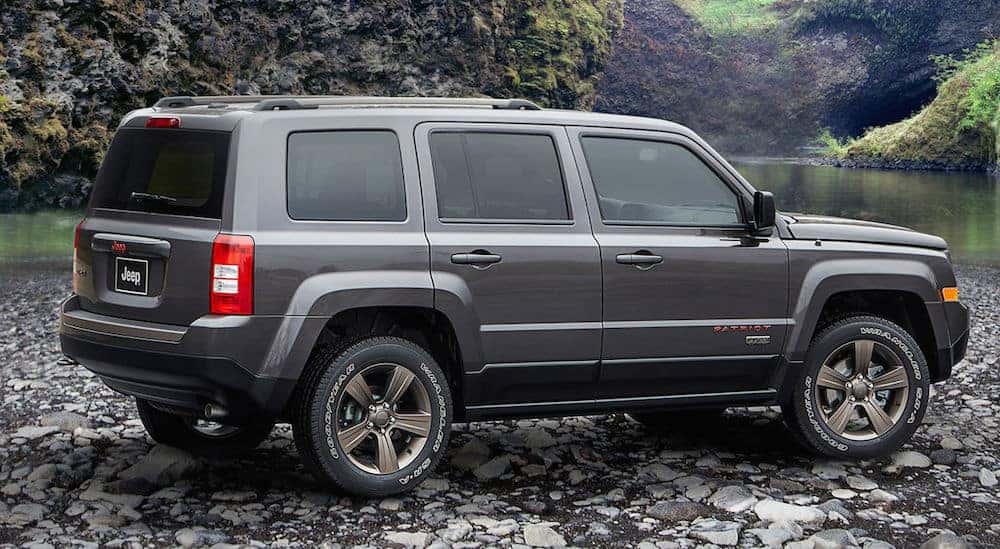 It's Jeeps 75th birthday, and to celebrate, the brand's release their 75th Anniversary Limited Edition Jeep Patriot trim. To recognize the milestone, the SUV sports an exclusive badge that identifies the birthday. This branding includes a silhouette of the brand's first vehicle (the Willys MB), as well as the first year of production (1941).
Of course, this special edition Jeep Patriot offers a lot more than a special badge. There are several bronze accents included throughout the exterior, specifically on the wheels, roof rails, step pad, and front fascia. These inclusions are accentuated via the variety of available color options, including the exclusive Recon Green option.
The 75th Anniversary addition is topped off with a power sunroof, allowing the vehicle's occupants to enjoy the sun and fresh air.
Colors:
Granite Crystal Metallic
Billet Silver Metallic
Bright White
Black
Recon Green
Wheels:
17-inch Low-Gloss Bronze Aluminum Wheels
Latitude ($22,195)
The Latitude separates itself from the other trim options via a trio of interior features. Leading the pack is the Automatic Temperature Control system, which allows the Patriot's occupants to manipulate the air conditioner/heater to provide their optimal comfort level. If you often find yourself arguing with your passengers about the heat, this will be the perfect feature for you.
The Latitude trim also includes power windows with driver one-touch down capabilities. Instead of having to blindly play around with your window's controls, one simple push of the button will instantly provide fresh air to your cabin. Meanwhile, the heated premium cloth seats aren't only comfortable, but they'll provide some additional warmth as you try to escape the cold weather.
Colors:
Billet Silver Metallic
Black
Bright White
Deep Cherry Red Crystal Pearl
Eco Green Pearl
Granite Crystal Metallic
Maximum Steel Metallic
Mojave Sand
True Blue Pearl
Wheels:
17-inch Tech Silver Aluminum Wheels
High Altitude ($24,775)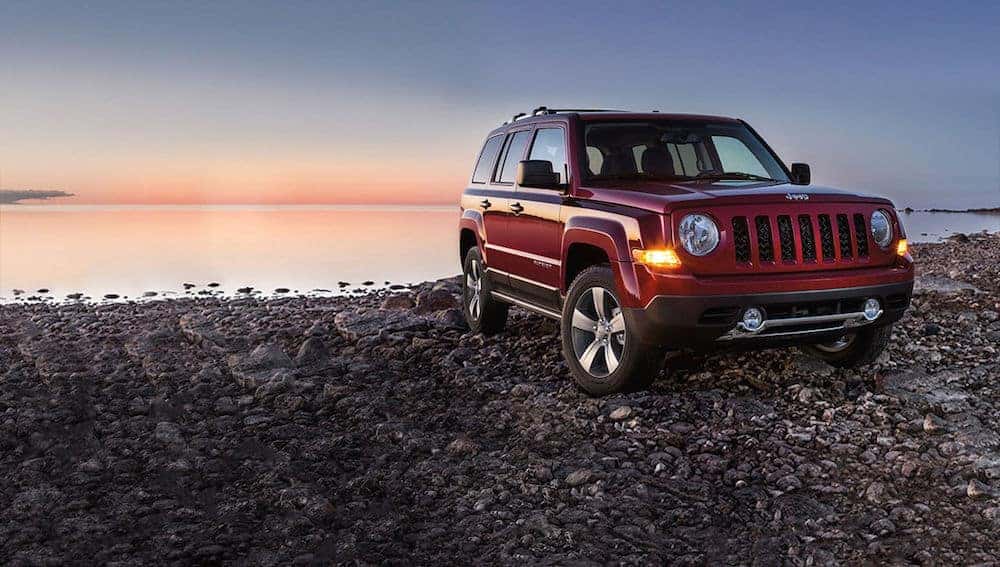 The High Altitude trim is the top option for Jeep Patriot owners, so this version of the SUV predictably includes the most luxurious and innovative features and amenities.
The leather-trimmed power driver's seats add a level of style to your interior, with the accent stitching helping to convey that upscale feeling. Meanwhile, the six-way power adjustable seats will ensure that the driver will truly find their most comfortable seating position.
The power express sunroof will open via the simple press of a switch, and drivers will find that they appreciate the amount of fresh air streaming into the cabin.
On the outside, owners will discover that their selected Patriot color is accented by a variety of bright colors and metals. The front lower fascia, rear fascia, roof rails, and exhaust tips were specifically designed to stand out from the rest of your SUV.
Colors:
Billet Silver Metallic
Black
Bright White
Deep Cherry Red Crystal Pearl
Eco Green Pearl
Granite Crystal Metallic
Maximum Steel Metallic
Mojave Sand
True Blue Pearl
Wheels:
17-inch Granite Painted Pocket Wheels
Tough decisions, right? Of course, we don't interpret these options as a bad thing; we appreciate the ability to build our ideal Jeep Patriot and pick and choose the features we deem essential. The 2016 model is clearly competent all on its own, but these trim levels help personalize each of the SUVs. Considering the number of options, there's a chance that you'll never find a pair of identical Patriots.
Luckily, each of these trims share one characteristic: they're affordable. Unlike other compact SUVs, you won't have to dish out a ton of money to secure a new Jeep Patriot!