Future Ram Rebel Gaining Demon HEMI V8 Engine?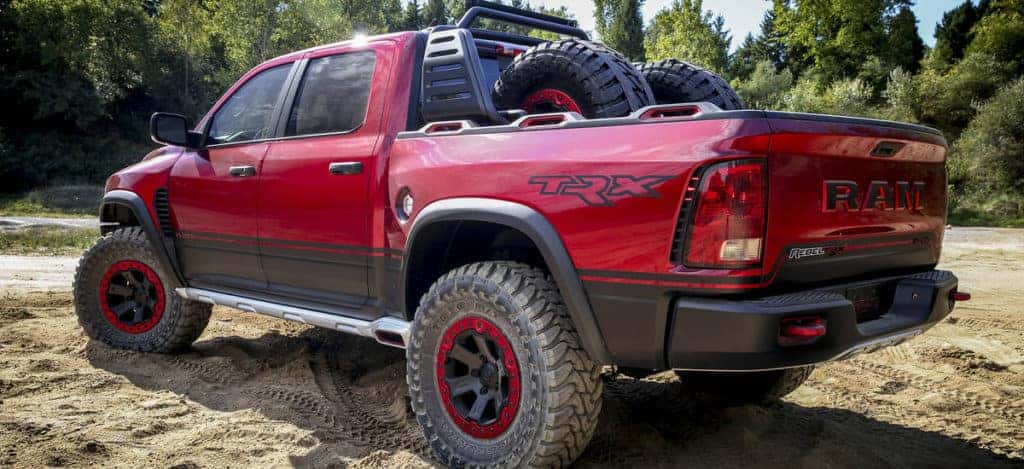 Photo credit: Ram Rebel TRX Concept
Ram Rebel TRX ConceptFiat Chrysler Automobiles (FCA) has their sights set on adding the remarkable Dodge SRT Demon engine into their Ram Rebel TRX. This is not surprising news to anyone as FCA has always pushed the boundaries with their vehicles. FCA and Ram have looked for new ways to compete against the Ford F-150 Raptor. The manufacturer has previously displayed concepts and an endless swirl of reports ever since the debut of this revamped Ram Rebel. But there's a lot more yet to be revealed about the highly anticipated Ram Rebel TRX than what we do. And we're pleased to share recently introduced details according to Motor1.
Speculation About the Demon Infused Ram Rebel
The prototypes presently being made are carrying the current Hellcat engine inside, but at least one model has the SRT Demon HEMI V8 engine inside. This is quite incredible news considering the last we saw of this impressive engine was well over a year ago in the 2018 Dodge Challenger SRT Demon. The current Dodge Challenger and Charger Hellcat trims carry FCA's supercharged 6.2-Liter V8 that affords 707 horsepower, but the one-of-a-kind SRT Demon was able to hit 840 horsepower. The large jump in horsepower is what set the fantastic SRT Demon ahead of every muscle car on the market. The source who has test-driven the Ram Rebel TRX with the SRT Demon claims the special "Demon" Rebel was made by an independent company that has their shop in Detroit, but this wasn't built by FCA. With 40 Ram TRX prototypes currently being tested, this lone Ram Rebel with the Demon powertrain is speculation, but we're hoping for this pickup can indeed carry the stunning engine.          
Into the Upcoming Ram Rebel
The upcoming Ram Rebel TRX has had speculation about it from inception. We have heard the Ram Rebel TRX is going to contain dual Bilstein shocks and pressurized air-powered locking differentials to contend with the Raptor and its long-distance Fox Racing suspension setup. The upcoming new Ram 1500 will have a 10-speed automatic transmission. Inside the Ram Rebel is going keep the dial shifter, gain a "Viper-style" Ram-air induction system and ARB Air Lockers in both the front and rear axles. What makes the ARB's Air Locker system ahead of the curve is its ability to use pressurized air to lock the axles for unmatched traction.
This upcoming project has gotten a lot of attention and rightfully so. For those who want to experience the best Ram trucks, including the newest Ram Rebel, we recommend test-driving with us at Kendall Dodge Chrysler Jeep Ram.
Shop New Ram With Us Today
For those that want the rush and excitement of owning a new pickup, we can help! The new 2019 Ram Rebel starts off at $44,240 MSRP (plus destination fee). Our professional staff is ready to accommodate your buying, leasing Doral Ram. We're happy to assist with any sales and invite you to try out any of our latest Ram vehicles.
We're also able to help fix or maintain your current vehicle, even if you didn't shop with us. Make an online appointment at our service center and we'll take care of the rest. We look forward to providing a rewarding customer experience for you at Kendall Dodge Chrysler Jeep Ram!