Jeep Wrangler'S Ground Clearance and Angles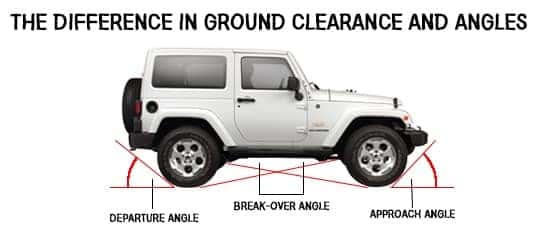 If you are an off-roader with a Jeep, or plan on getting a Jeep Wrangler to go off-roading, it is important to know your vehicle's ground clearance and angles. If you don't know your vehicle's ground clearance or its different angles, you could easily get stuck or severely damage your vehicle while off-roading.
Running Ground Clearance
Running ground clearance is a huge aspect of off-roading especially when rock crawling. This term is also referred to as just "ground clearance" and "ride height." Basically, running ground clearance is the distance between the undercarriage of the Jeep and the ground. Your vehicle's ground clearance is important to know when off-roading because you will be able to estimate how big an obstacle is and if your vehicle will be able to clear it without getting stuck or damaged.
The ground clearance of stock Jeep Wrangler trims varies between 8.3 to 10 inches. But of course, if you want a higher ground clearance, you can get a lift kit or add new wheels or tires.
Back to Geometry
Think back to your geometry days in high school. When it comes to the Wranglers off-road performance three angles are super important.
Different angles:
– Departure and Approach Angles: Both of these angles are simple and easy to understand. The departure angle is the maximum angle a vehicle can descend before the tail end drags. The approach angle is just the opposite, it is the maximum angle a vehicle can crawl up without touching the bottom of the front of a vehicle.
– Breakover angle: The breakover angle is a bit more difficult to understand. The breakover angle is the maximum angle a vehicle can handle without the middle of the vehicle touching the object it is going over. This is usually measured by the lowermost point of the vehicle to be safe.
Jeep Wrangler Ground Clearance and Angle Specs
Jeep Wrangler Sport + Freedom Edition
Departure angle – 29.1 degrees
Breakover angle – 21.5 degrees
Approach angle – 38.7 degrees
Jeep Wrangler Sport S
Departure angle – 31.6 degrees
Breakover angle – 24.8 degrees
Approach angle – 41.5 degrees
Jeep Wrangler Sahara, 75th Anniversary Edition + Winter
Departure angle – 31.8 degrees
Breakover angle – 25.1 degrees
Approach angle – 41.7 degrees
Jeep Wrangler Willys Wheeler W, Rubicon, Hard Rock Rubicon
Departure angle – 32.3 degrees
Breakover angle – 25.8 degrees
Approach angle – 42.2 degrees
Now that you understand ground clearance and angles you are ready to go rock crawling, but before doing so, check out our inventory of "off-road ready" Jeeps here at Kendall Dodge Chrysler Jeep Ram