Guide to Jeep Offroading in Florida
Florida isn't exactly known for its extreme hills or rocky terrain. Most people pack up for the Sunshine State to stroll on the beaches in the summer or to hit Disney and the other theme parks with the kids. Florida has a reputation for relaxation, not extreme outdoor adventures.
However, just because you may hear more about celebrity sightings in South Beach or dream of wasting away in Margaritaville does not mean there are not opportunities to explore your more adventurous side. Florida is, after all, the home of alligators, panthers and some of the biggest swamps in the country.
Florida offers plenty of opportunities for off-roading fun. If you haven't already visited a Jeep dealership in Miami to find your dream model, now is the time to do it so you can take advantage of great deals and be ready for some adventures in the warm weather.
Here are a few of the best places to go off-roading in Florida:
Ocala National Forest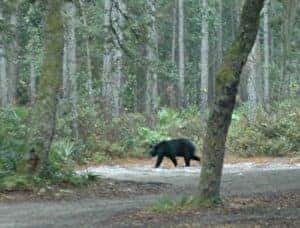 Ocala National Forest in Tallahassee is the second largest national forest in the country that is federally protected. It is the sounthernmost national forest in the United States, and it is the oldest national forest east of the Mississippi.
Ocala National Forest has over 600 natural lakes and ponds, one of the largest sand pine scrub regions, 200 miles of trails designated for ATVs and motorcycles, and another 81 miles of off-road trail specifically for Jeeps and other vehicles. These trails are kept away from the precious natural resources in the forest, but if you're lucky, you still might get a glimpse of wildlife such as the Florida Black Bear, wild boar or American alligators.
Horse Hole Mud Bog
If you don't mind getting a little dirty — ok, a lot dirty — Horse Hole Mud Bog provides off-roading fun for the whole family. You can run your Jeep through the shallow mud pits and spin out to your heart's content. ATVs are also allowed in the park, and minors are welcome.
Concessions are on site, and camping is allowed so you can make this a whole weekend event.
The park is located in Inglis, which is southwest of Gainesville.
Big Cypress National Preserve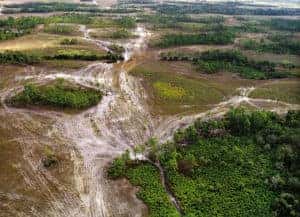 Big Cypress National Preserve was one of the first national preserves when it was established in 1974. Located in Ochopee in south Florida, the preserve borders the Everglade National Park and is home to a diverse ecosystem that includes Florida panthers, black bears, alligators, and poisonous snakes. Nine endangered species live in the preserve, including the West Indian Manatee.
Though off-roading is permitted in Big Cypress National Preserve, it is heavily regulated. A permit is required for off-roading, and to get one, you have to take an orientation course and get an inspection. If you are granted a permit, it is good for one year, and you have to display it on your Jeep.
There was once over 400 miles of trails available for off-roading in the Big Cyrpress National Preserve. However, controversy over the impact of off-roading on the local ecosystem has led park managers to scale back the number of trails available.
Tri State Off Road Park
Come here to watch off-road racing or to get dirty in the mud yourself. The park includes a deep hole mud bog that requires some oversized tires and a powerful engine to navigate. But if you do, you'll have bragging rights and a notch in your off-roading belt.
The park also includes top ground tracks, a play hole and a consistency pit. Concessions are available, as are activities for the kids. The whole family is welcome at this off-roading park.
Osceola National Forest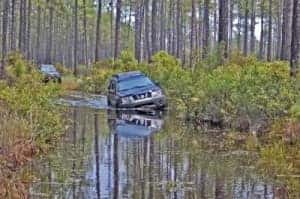 Located in Tallahassee, Florida, near the border with Georgia, Osceola National Forest includes 200,000 acres of pine flatwoods and hardwood swamps. Approximately 13,660 of those acres are the protected wilderness area known as Big Gum Swamp Wilderness.
Like other national forests and wilderness areas in Florida, Osceola National Park is home to the Florida black bear, alligators, and the endangered red-cockaded woodpecker.
The forest includes a 28-mile scenic trail, hiking trails, horseback riding trails and off-roading trails. Only licensed vehicles are allowed on the trails, so you won't have to contend with dirt bikes or ATV riders. Just make sure you stick to the designated trails when off-roading, or you could face big fines.
Triple Canopy Ranch
Located in Lake Wales, Triple Canopy Ranch has 425 acres of trails, mud pits, obstacle courses and race tracks to get as fast, rough or dirty as you like with your Jeep. After a long week at work, this is the place to go to really work out your stress and let it all go.
Bring the whole family and camp for the weekend. Everyone will find something to enjoy here.
Since the ranch caters to off-roaders, it also has a service provider on site to tend to any repair needs or mechanical issues your Jeep might experience if you've been a little too aggressive on the course.
Revolution The Off-Road Experience
This expansive park offers great off-roading opportunities as well as a variety of outdoor activities to appeal to the whole family. There are 220 acres of trails that have been created to put your skills to the test. Obstacles include mud log piles, steep descents, muddy steps and much more. The course emphasizes challenge over speed, so expect to take it slow on this one.
The park also accommodates ATVs, buggies, and mucky ducks. If you've had your fill of off-roading — as unlikely as that seems — you can head over to the 65-acre lake to fish for bass or try your hand at archery.
The park is located in Clermont, which is west of Orlando in central Florida.
Hard Rock Off-Road Park
The Hard Rock Off-Road Park in Ocala is open to all kinds of off-roaders, including dirt bike, ATV and 4×4 riders. Jeeps and other off-road vehicles have been given their own section of track, which includes a rock garden, steep climbs and a variety of trails. You can get as rough as you like without having to worry about side-swiping a dirt bike coming up fast on your right.
The Jeep trail is open 10 a.m. to 5 p.m. every day, rain or shine.
You can bring the kids, who can try their luck on the pee-wee trails with their dirt bikes, and the whole family can camp overnight. Primitive camping is also available, which includes no access to hookups or wi-fi.
Florida has a lot more opportunities for off-roading in your Jeep than you might think. It's not just the land of snorkeling and sun bathing. You can get as rough and muddy as you like climbing over rocks and splashing through pits in your Jeep. You might even see a bear or a panther off the track, adding to the thrill of the adventure.
Head over to Kendall Dodge Chrysler Jeep Ram, the top Jeep Dealership in Miami, to find the Jeep to fulfill all your off-road fantasies. We have a variety of rugged models that can rise to the challenge you set for yourself. Of course, you can also shop for crossover models that will perform just as well in the mud pits as they will on the highway on the way to the office come Monday morning.