Hennessey Debuts 1,000 Horsepower Jeep Gladiator Maximus 1000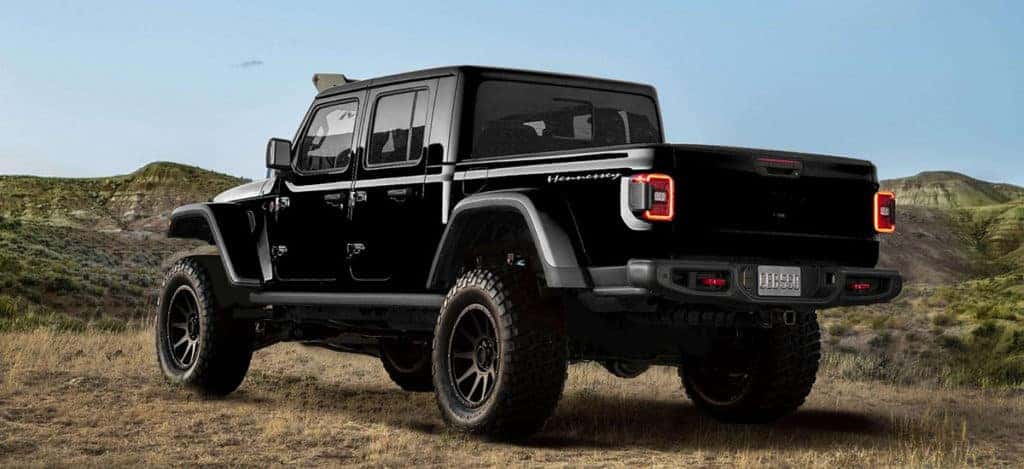 Photo credit: Hennessey
Hennessey Performance is back at it again with their tremendous concepts that breathe fire and make the impossible possible. A company quite well-known for converting nearly any vehicle into a 1,000-horsepower beast. Hennessey has recently showcased their latest example with an all-new project that is gaining attention, the all-powerful and new 2020 Jeep Gladiator mid-size pickup. Earlier carnations by Hennessey include crafting the 2018 Dodge Challenger SRT Demon into a 1,000 horsepower Demon and more recently taking on the Jeep Grand Cherokee Trackhawk and converting the SUV to have 1,000 horsepower as well. Hennessey Performance has an all-new project that is gaining recognition, the all-powerful 2020 Jeep Gladiator mid-size pickup, for its 1,000 horsepower engine and sleek look.
Up To the 1,000 Horsepower Challenge
When Fiat Chrysler Automobiles (FCA) first introduced this all-new Jeep vehicle in late 2018, many knew it was going to be popular. The first Jeep pickup in decades sold more than 4,000 Gladiator models with the limited Launch Edition run in less than 24 hours. The popularity of the vehicle is evident and the new Jeep product gained more recognition when Jeep head Tim Kuniskis was asked about including a V8 engine into the Gladiator. He said "it would fit like a glove" however, "no air space around the engine and the whole external space of the vehicle, so you have no crush space; you have nothing that can be used to absorb energy in a crash." So, many thought the idea of adding a larger powertrain was off the table. Rather than be deterred, the folks at Hennessey saw a challenge.
The Hennessey Maxmimus 1000 Has Arrived
The 2020 Jeep Gladiator was built with only one powertrain option, the legendary 3.6-Liter V6 Pentastar gasoline engine that grants 285 horsepower and 260 lb-ft of torque to all four wheels. What Hennessey did was work around the limited engine space to deliver a product capable of dropping jaws. They have indeed won over the crowds with their new Maximus as Hennessey swapped out the V6 unit and substituted it with a 6.2-liter supercharged V8 Hellcat engine. No joking here, this Gladiator has the same power as the best 2019 Dodge Challenger muscle car, the high-end SRT Hellcat Redeye trim. The standard Gladiator was powerful enough offering Best-in-class towing, but adding this wicked powertrain is outstanding strength for the pickup.
Additional Upgrades
Hennessey added further upgrades including a six-inch lift kit with 20-inch wheels that have extra rubber around the tires and custom LED auxiliary lights. A new fuel system, radiator and stainless steel exhaust were added to help the pickup hit its 1,000 horsepower mark. Only 24 models will be made with a starting price of $200,000 and the company will begin making them in July with the deliveries set for the end of 2019. Find Maximus and Hennessey embroidery on the seats and know this is one of the most vicious vehicles ever crafted.
"We wanted to create the ultimate Jeep Gladiator. Maximus 1000 – the name says exactly what it is: Badassery on 4-wheels," said company founder, John Hennessey.
Find Everything Jeep With Us!
Hurry to test-drive our large lineup of new vehicles, including our latest Jeep vehicles. We also have the all-new 2020 Jeep Gladiator pickup ready to go! Whether you're in Doral, Kendall, North Miami, Homestead, we're happy to help our South Florida and local Miami customers. We're here to make all our customers drive away with a choice they will love. Allow our professional sales team to help with any buying, leasing or trade-in offers.
Keep in mind, we are open seven days a week and can handle almost any repairs your vehicle might need. Trust us to help you get your vehicle up and running like day one with a simple online service appointment and trip to our service center. We hope to see you soon for any of your automotive needs at Kendall Dodge Chrysler Jeep Ram.