The History of Early American Pickup Trucks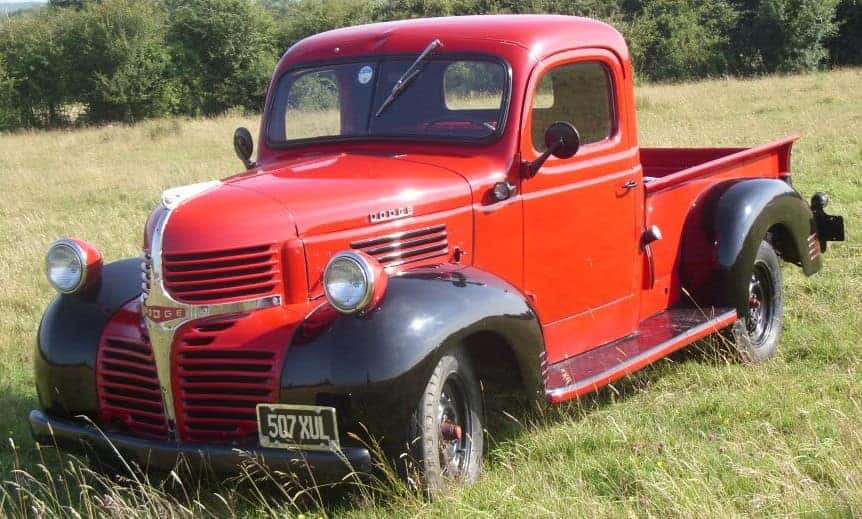 Today, the truck market is a heated segment with more demand than ever for vehicles that are highly functional, extremely versatile, and incredibly powerful.
For many Americans, it's difficult to imagine why someone would ever want a car when they could drive a pickup.
Trucks make tough jobs a piece of cake, camping trips a total blast, and off-road adventures unforgettable.
They've become more than just work horses; they've turned into vehicles that are relied on by families and used for numerous recreational activities.
When you look back through the last century, it's amazing to see how much innovation has taken place over time. Pickups, which were once little more than cars with attached back ends, are now an entirely different animal.
If you compare a Dodge Ram for sale this year with a truck that dates back to the '50s, you'd be amazed by the differences.
So take a peek at how far the industry has come thanks to dedicated brands like Ram that constantly push the boundaries, making pickups bigger, better, and more capable.
Back to the Very Beginning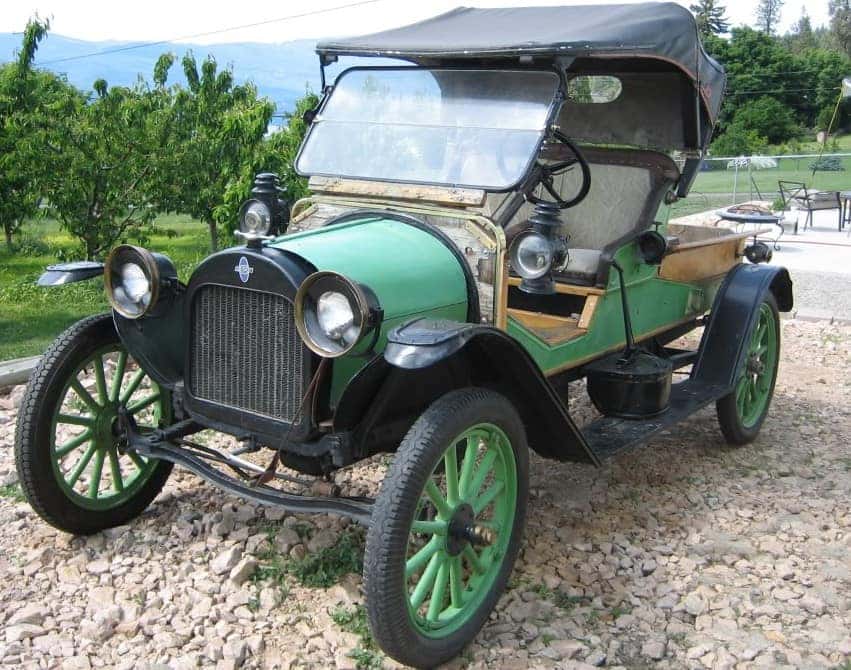 The first pickups in America came from Dodge and Chevy who both released models in 1918. The automotive industry was booming, and it was challenging to even keep up with car sales, but both brands decided to try something bold.
Dodge had filled a special request from the government for military vehicles, and after World War I, Dodge converted their military ambulance into the half-ton Screenside Commercial Car. It was built on a 114-inch automobile chassis and was rated for a payload of 1,000 pounds.
Then in 1921, Dodge struck up a deal with the Graham Brothers Company to manufacture 1.5-ton trucks with mechanical components from Dodge and body parts from the Graham Brothers.
The trucks were sold through Dodge Brothers dealerships and did well. In 1924, a 3/4-ton version was added, but only 2,400 were ever built.
In the meantime, Chevy had also been successfully producing pickups. Their Model 490 Light Delivery truck, which came out in 1918, was sold in a unique way.
It came with the following:
Chassis
Engine
Transmission
Fenders
Grille
Headlights
Steering wheel
Foot pedals
Shift lever
It did not however, come with a body. Buyers were expected to provide their own cabs, and they often made them from wood. But aftermarket cabs could be purchased.
Chevrolet also came out with a second truck in 1918, the Model T one-ton chassis cowl. It had a reinforced automobile chassis so it could be used for commercial purposes, and it was powered by a four-cylinder engine that produced 21.7 horsepower.
Both the 490 and the Model-T one-ton were produced through 1928, making a name for Chevy in the pickup game.
But the very first truck ever made in a factory didn't debut until 1925, and it was made by Ford. Based on the Model T, the pickup came with an extended back end, a cargo box, and an adjustable tailgate.
It was marketed as the Ford Model T Runabout with Pickup Body, and it sold for $281. 34,000 units were produced the first year it was on the market.
By 1928, many improvements had come along. Ford's pickup featured a closed cab, windows that rolled up, and a safety glass windshield.
It had a three-speed transmission and a four-cylinder engine that delivered 40 horsepower which was a lot of oomph for that day. And across the industry, trucks just kept getting better.
Here Comes the Six-Cylinder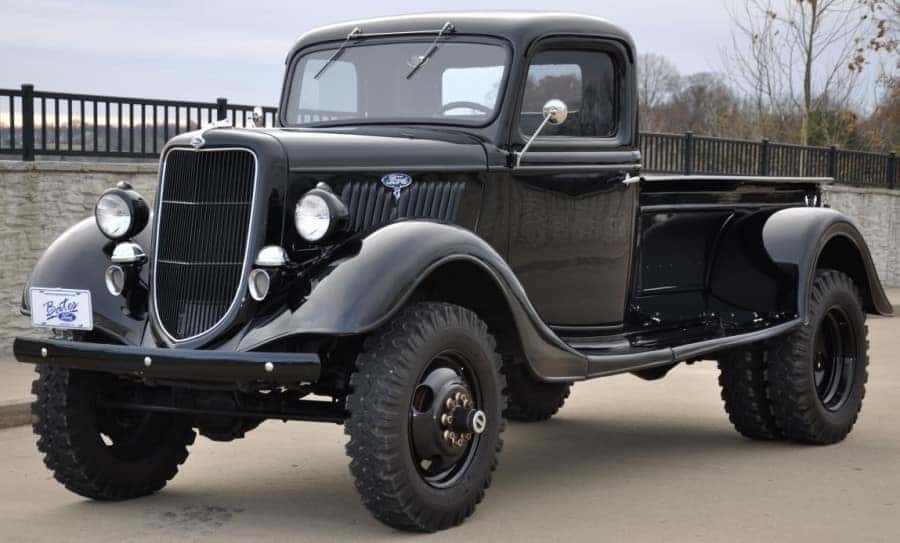 In 1929, Chevy put the first overhead valve six-cylinder engine into play. Ford promptly contributed a flathead V8 that offered 65 horsepower and followed that up with a flathead six in 1933.
But Dodge had a big advantage over the other two manufacturers. Because the company had been purchased by Chrysler, its vehicles were fitted with engines from multiple divisions.
Premium engines from Chrysler, DeSoto, Dodge, and Plymouth were all featured in Dodge's Commercial line during the '30s.
The industry-wide introduction of the six-cylinder engine was the start of one of the most dominant trends in the truck industry: More power is better.
For Americans, it was also the beginning of a love affair that has lasted for decades and continued today. It didn't take long for people to realize that there's just no other vehicle like a pickup.
Big Developments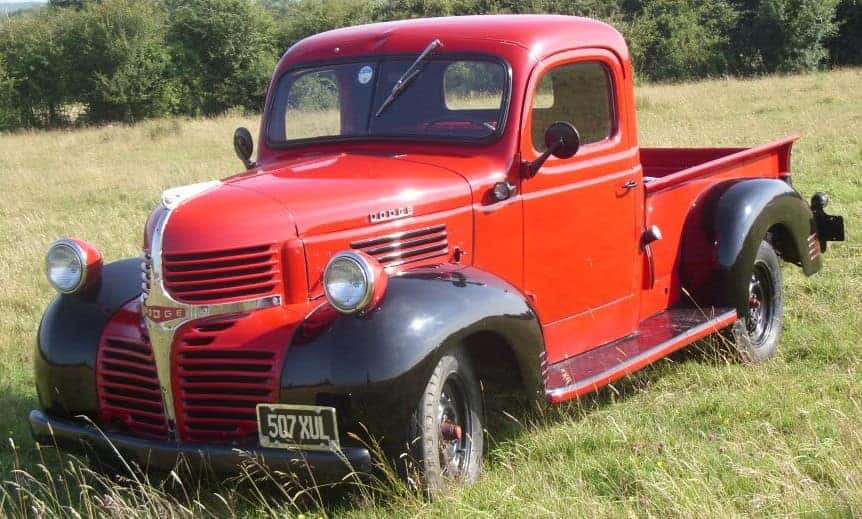 Dodge began work on its first light-duty factory-built four-wheel drive pickup in the early '40s. It was released in 1946, and it was the first truck to be produced out of Dodge's brand new plant.
In 1948, Dodge released its post-war B-Series, setting it apart from all the competition. The brand's new trucks were the most advanced ones available. They had seen a slew of improvements from revised engine placement to a cross-steering arrangement.
Overall they had looks and performance that had never been seen before, and Dodge really took the lead in pickup sales.
Chevy's models saw an increase that brought them up to 90 horsepower in the early 1940s, but major changes for their lineup had more to do with styling.
Throughout the decade, Chevrolet focused a great deal of attention on making their trucks look big, impressive, and stylish. Colorful finishes and lots of chrome are signature marks of Chevys from the era.
Ford also added some new styling cues to their models and was doing well with their new six-cylinder at the start of the 1940s. But another war and the death of Henry Ford's son and ultimately Henry Ford himself took a toll on the company.
After the war they increased production of an improved version of their pickup and struggled to stay afloat. But in 1948, a game changer arrived; Ford released their F-Series, the trucks that would take them through to modern times.
The 1950s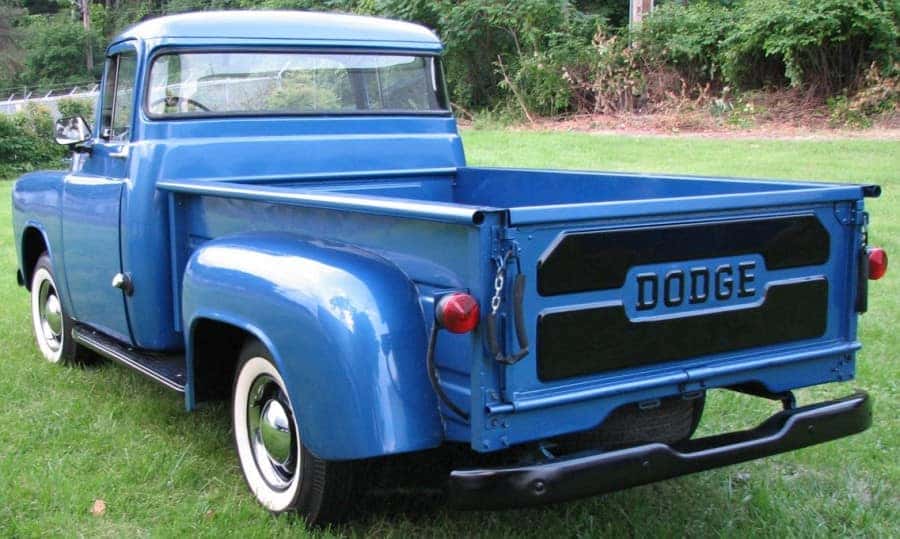 Dodge's B-Series trucks stayed in production until the C-Series hit the scene in '54. They were Dodge's first V8-powered pickups, and the engines in light duty models delivered 145 horsepower and 215 lb-ft of torque.
Heavy duty trucks got the Hemi V8 which produced even more power. Despite the serious upgrades, Dodge's pickups were still more affordable than many comparable models of the time, and that drew in many buyers who were looking for the best deal.
The trucks also had a new modern look that attracted consumers. They had been redesigned from the frame up, featuring better visibility, maneuverability, and a tighter turning radius.
In 1955, Dodge also included a fully automatic PowerFlite transmission to enhance the ride and make their trucks more fuel efficient.
In the later part of the decade, their light-duty trucks got a more powerful engine once again. A 318-cubic-inch V8 pumped out 205 horsepower, and it was the first engine with a rating that high in 1959.
At the same time, Chevy was working on improvements of their own. They interviewed consumers and business owners to find out what people were really looking for in a truck.
Through their research, they learned that everyone really wanted more room, so they designed a much larger cab with a three-person seat, a larger windshield, and more user-friendly doors.
They decided to weld the cabin instead of bolting for better safety, and they added a new suspension to smooth out the ride.
The second half of the '50s brought along their Task-Force pickups which had the first wraparound windshield in the truck industry.
Other new models included the Cameo Carrier, which had extremely striking styling, the Fleetside, and the El Camino.
Ford moved forward with their F-Series which came in a variety of different configurations. The early '50s brought minimal changes except for design tweaks here and there.
But in 1953, the company celebrated its golden anniversary and released an all new lineup of F-Series pickups in honor of the occasion.
The flathead V8 was replaced by an overhead-valve V8 that Ford had already been using in their cars. And some radical grille styling really made Fords of this period distinct from other brands.
By the end of the decade, the oddly-shaped grilles had been dropped for a more modern look. A wraparound windshield and redesigned dash were also added for appeal. And just before the start of the '60s, Ford released their first factory-made 4×4 truck.
With demand and competition always pushing the top makers to improve, pickups continued to become more and more capable and convenient, solidifying their place in the American market.