Jamie Foxx is the New Voice of Chrysler Marketing Campaign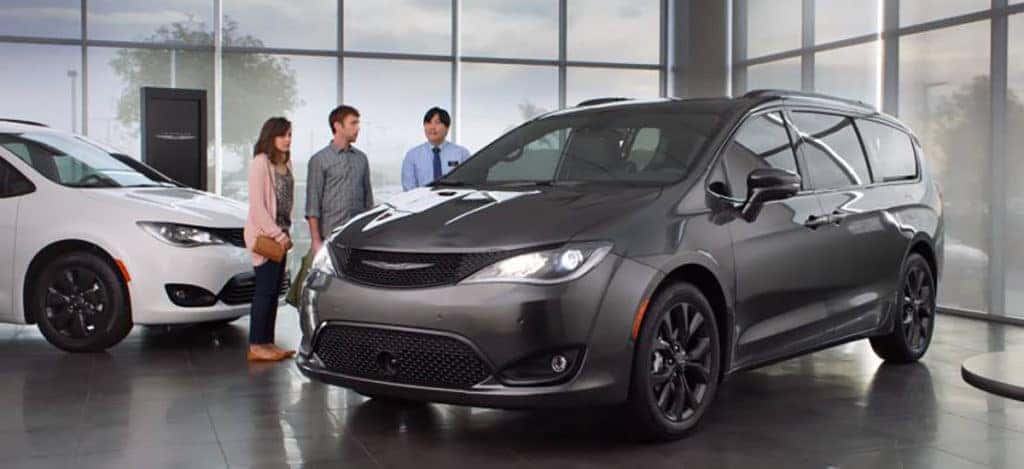 Photo credit: Chrysler
Fiat Chrysler Automobiles (FCA) has found their new talent to help promote their best selling Chrysler vehicle, the Chrysler Pacifica. Jamie Foxx, the Oscar-winning acting and singing talent lends his vocal abilities to support four all-new commercials. The creation of FCA and GSD&M Austin, an advertising agency company, produced the campaign. Over the course of 2019, the final three ads will be released. FCA opted to not include any Chrysler campaign commercial during the Super Bowl, the most watched event of the year. Despite not including a commercial for the big game for the first time since 2009, they have instead gathered the star power of Jamie Foxx and will rely on all the facts that make the Pacifica as amazing as it is.
Latest Ad Highlights the Many Chrysler Pacifica Perks
The first ad to debut shows a couple looking into the 2019 Chrysler Pacifica. While looking at the fresh and clean Pacifica, the family questions "Are we a van family?" before Jamie Foxx responds "Of course you are!" as he lists all the accolades and special features that make Pacifica worth buying. The accolades of the new 2019 Chrysler Pacifica include winning the Family Car of the Year award (for the second year in a row) by Cars.com. Earning a Best Buy by Consumer Digest for the third year in a row and a Top Safety Pick from the Insurance Institute for Highway Safety (IIHS). These are just some of the reasons FCA didn't have to include any commercial in the Super Bowl, as the Chrysler brand is winning year round.
Remarkable Fuel Economy Is Just the Beginning
The 2019 Chrysler Pacifica Hybrid is the first-ever hybrid minivan that affords customers 32-mile pure electric range with an efficiency rating of 82 MPGe and a stunning 520-mile total driving range. The 2018 Chrysler Pacifica provides drivers with a fuel economy of 19 mpg in the city and 28 mpg on the highway. Though the 2019 Pacifica doesn't exactly compare to the Pacifica Hybrid in terms of fuel economy, it is one of the most fuel-efficient non-PHEV minivans available. Customers are going to be hard-pressed to ever find a better option suitable for providing so much. A sleek design and wonderful safety features help make the Pacifica and Pacifica Hybrid incredible buys for consumers.
Inside the 2019 Pacifica
The modern 4th generation Uconnect provides drivers to set up a charging schedule and configure a two-week driving history to view one's fuel economy easily. There's also an app that connects the vehicle with a smartphone to use features with just the push of a button. Lock and unlock doors, warm or cool the vehicle and find wherever the Pacifica is so drivers never have to wander around a parking lot lost looking for their vehicle again.
For long road trips, there's a great way to keep kids and passengers entertained with the Chrysler Pacifica Hybrid 4G LTE capabilities with unlimited data. This unlimited data is offered for only $20 a month through AT&T for Chrysler Pacifica owners. Reliable wireless connectivity serves up to eight devices, which is excellent for long trips to have everyone satisfied.
What Makes the Chrysler Pacifica So Amazing?
Incredible exterior design with a matching luxurious interior, rich in space as well as technology, owners get a steal with each purchase of the 2019 Chrysler Pacifica. To learn how the Pacifica has made driving better and safer is to study the latest designs and technology added. Not only are the available safety features, such as full-speed forward collision warning with active braking, so important to its success, but they also reinforce how owning a minivan has never been a wiser choice for families. Want to see for yourself?
Where To Find Your Own 2019 Chrysler Pacifica
There's no risk in stopping by to see our newest collection of Chrysler vehicles, including the 2019 Chrysler Pacifica and 2019 Chrysler Pacifica Hybrid. We sell new and pre-owned vehicles every day and our professional staff is ready to show off all the features of the Uconnect system and let you test drive any vehicle we have. If you're looking to sell or trade-in, we're available for your business as well.
Kendall Dodge Chrysler Jeep Ram provides a full-service experience and can handle almost any job your vehicle should need from oil changes to rotating tires, checking and replacing brakes and everything else to make sure your vehicle stays running well. Make an online appointment and our service team will be able to help get your vehicle looked at in a timely manner. We hope you stop by today!