Jeep Adventures At The Tip Of Your Fingers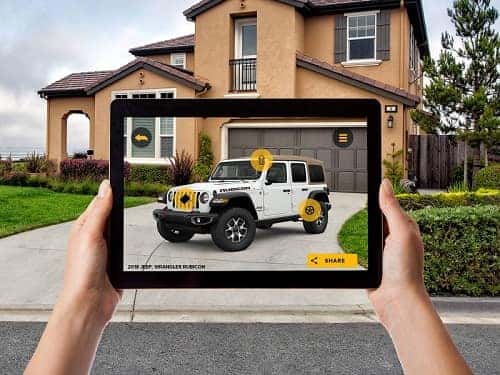 Technology really is a beautiful thing, especially when it comes to Jeep. From building your very own Jeep Wrangler to embracing the off-road life – the Jeep Adventure app, Jeep Badge of Honor and the Jeep Off-Road Pages allow consumers to experience the legendary capability of the Jeep Brand using augmented and virtual reality.    
Jeep Adventure Reality App
What if customers not only had the ability to design their own Jeep Wrangler, plus see just how good it would look in their driveway, without ever leaving their home? Cue to the Jeep Adventure Reality App. The Jeep Adventure Reality App offers users the ability to configure their very own 2018 Jeep Wrangler right in their hands. According to Jeep, users can choose trims, change colors, switch wheels, try tops and doors off or on and design their very own personalized interior cabin.  
What's interesting about this app is once the user has completed building their Wrangler, they can actually sit inside the Jeep. Once the Jeep of choice is built, users will then have the ability to explore the interior then digitally place the user inside the cabin of the Jeep. Afterward, with only moving the smartphone, users can move from left to right, zoom in and out and depending on where they point the phone, the interior of the Jeep will be displayed. Also, it's the augmented reality aspect that lets users see the Jeep in their own driveway or even in their living room which is what really sets the app apart from being just another configurator.
But wait there's more! Not only can users build their very own Jeep Wrangler but after they finish building their vehicle, consumers can find a dealer and search through new inventory to find a Jeep much like the one they just built – prices may vary.
Jeep Badge of Honor
"The program started back in 2013, and since then we've shipped over 33,000 badges," said Jeep Product Marketing Associate Brandon Girmus. "We average about 1,000 badges per month and Jeep Badges of Honor are available for 49 current trials in 17 states. The best part is the program is entirely free with no cost to users."
A brand-sponsored mobile app, the Jeep Badge of Honor awards hard badges to those users who off-road on about a dozen trails across the country. Jeep has specifically chosen off-roading trails for users to explore while also having the ability to browse their selections, see other users photos, save favorites, trail directions, information, highlights, and difficulty ratings. According to Jeep – everytime the user logs in, explores new trails and/or engage with the Badge of Honor community, they can earn Trail Points to level up to higher achievement ranks. Hard badges are awarded to those who have checked-in and also completed a trail. Those badges include:
Located in Lake Tahoe, CA, the Rubicon Trail is a 22-mile-long route that's half road/half trail. Users can pass through the El Dorado National Forest while hosting a plethora of obstacles like Thousand Dollar Hill, Loon Lake and Gatekeeper – Just to name a few.
Considered one of the more difficult trails, the Cliff Hanger allows users to tackle rock obstacles while enjoying a beautiful view of Moab, UT.
CAUTION! EXPERT OFF-ROADERS ONLY! Black Bear Pass is located in Telluride, CO – right about Bridal Veil Falls, this mile-long trail turns into a one-way only. Users can also enjoy the beautiful views of Red Mountain pass and Bridal Veil Falls.
According to Jeep, this trail is one of several multifaceted routes located in Rausch Creek Off-Road Park with a difficulty range of "Moderate" to "Very Challenging". Consisting of almost 3,000 acres of trails ranging from easy, intermediate and hard, this trail is perfect for any kind of off-roader.
Jeep Off-Road Pages
After making its debut in the 2017 Jeep Grand Cherokees, the off-road pages provide useful and helpful information in terms of the Jeep's off-road systems while improving the driving experience. Through the Jeep Grand Cherokees available 8.4 Uconnect 4C NAV System,  Off-Road Pages allows drivers to view the vehicles diagnostics like suspension, selec-terrain, and gauges while on an off-roading adventure. Plus, drivers can also monitor the basic essentials like oil, coolant and transmission temperatures.
The Jeep Off-Road Pages are especially helpful for those consumers interested in purchasing the all-new 2018 Jeep Grand Cherokee Trackhawk. The high-performance Grand Cherokee Trackhawk can tackle pretty much any terrain or track thanks to its standard Quadra-Trac Active On-Demand 4xx4 System with adaptive damping.
Jeep is certainly turning heads with these awesome (and useful) smartphone and infotainment display features. Take any of our available 2018 Jeep Models for a test drive today at Kendall Dodge Chrysler Jeep Ram located in Miami, FL or visit our website to take a look at all of our available 2018 inventory.
Photocred: Jeep.com