Jeep Celebrates 50th Easter Safari with Commemorative Concept
If you're someone who loves to celebrate the outdoors with your own take on joie de vivre, then getting into that Jeep Wrangler in Miami is the best move for you. With Jeep enthusiasts all over the country, you're guaranteed to never be alone in your passion for sunshine, nature and hitting the trails. Jeep communities spring up anywhere there are trails that need exploring.
Most recently, Jeep has decided to celebrate with a special group who's been doing this very thing for almost 30 years now. The group is the Red Rocks 4-Wheelers Club and their excursion takes place every spring in the Moab desert of Utah. Feeling like you need to spread your wings and explore? Join up with them by registering for next year's trip and see what Jeep life really is!
50th Anniversary of Easter Jeep Safari

Every spring, members of Red Rocks 4-Wheelers Club flock to the deserts of Utah as instinctively as the wild salmon of Capistrano, during the week-long Easter Jeep Safari event. There to  celebrate all things Jeep, the attendees take to the sprawling trails of the Moab desert, scaling rock walls and climbing over boulders. During its 49th Anniversary, Jeep revealed seven new concepts including the Chief, Staff Car, Wrangler Africa, Grand Cherokee Overlander, Renegade Desert Hawk, Cherokee Canyon Trail and Unlimited Red Rock Responder.
While Jeep won't be outdoing their previous seven concept unveiling, they have marked this  occasion with something different. As the 2016 year approaches, so does the 50th Anniversary of of the Easter Jeep Safari event and Jeep will be commemorating the occasion with just the right gift: a new Red Rocks concept.  
The aptly named Wrangler was unveiled at this year's SEMA show in LA and was met with certain praise as Jeep has yet to disappoint in its concepts, especially on doting fans. Fixing the already rugged and extremely hard body of the Rubicon Hard Rock with multiple accessories, Mopar was more than pleased to get in on the excitement of adding to this commemorative concept.
"We're extremely grateful to the Red Rock 4-Wheelers for continuing this iconic Jeep event and we present our Wrangler Red Rock Concept as a tribute to them and the enthusiasts who attend the annual Jeep Safari and support our brand," said Jeep chief Mike Manley.
Red Rocks Wrangler

Built on the existing and rugged Rubicon Hard Rock unlimited, you'll notice in any photos you see of the Red Rock, there are no doors. Not entirely unusually, especially given that riding sans doors is one of the greatest perks of Jeep Wranglers, but for this concept, there are none to be found. No doors. And the same goes for the roof, too, which again, letting the open air surround your body is a thrill that is saved for the Wrangler alone. The Red Rock concept simply didn't come with a roof. No one is finding themselves bummed because of it.
While the Easter Jeep Safari is dedicated to getting you out on the open trails, miles away from everything, so is the Red Rocks Jeep. Full exposure, full commitment.
What it does have is a roll cage and a windscreen, along with a couple more key items that you'll want to take with you on your excursion.
Riding on 17-inch beadlock wheels and donning 35-inch BF Goodrich K02 tires that are fitted to a suspension that is lifted by two inches. A reinforced tailgate, power winch, red tow hooks front and rear, new rock rails…you know, the things that become vital while off-roading in the open desert.
Riding on the Jeep's next-generation, Dana 44 solid front and rear axles with electronic locking differentials and a Rock-Trac transfer case that sports a 4:1 low range. Equipped with a manual transmission, it has a 73.1:1 crawl ratio for getting over the toughest obstacles, be it boulders or fallen trees.
Because Jeeps are more function and fun, exterior additions include LED headlights and fog lights, Warn winch, front and rear differential covers, and a reinforced tailgate with spare tire carrier.
As you could guess, its exterior body color is red, per its namesake. Still, as a concept, it needs those few cosmetic extras that set it apart from the bunch. A special custom power-dome hood that includes a special Red Rock decal and badging, body-color grille with low-gloss inserts and low-gloss Granite Crystal off-road bumpers. It's interior is as handsome as it is rugged with Amaretto Katzkin leather brown seats with silver accented stitching with a special grab-handle plaque.
Differential covers, a reinforced swing gate and wheel mount, a power winch, LED headlamps and fog lights as well as an onboard CB radio.
While it hasn't yet been determined what exactly will make it onto the special-edition package, production is sure to include some, if not most, of the content that was on display at the SEMA show. Because of this, price has also not yet been determined for this package. The good and the bad news is only 50 lucky buyers will have to concern themselves with this as there are only 50 Red Rock Editions being produced; one for each of the 50 years honoring the Easter Jeep Safari. Jeep has plans to launch production of the Red Rock package next year just in time for the anniversary.
Commemorative Concept
Because of the amount of Jeep drivers, fans, and enthusiasts that attend the Jeep Safari every year, Jeep usually waits until then to unveil any new concept vehicles they have coming up. This year, to mark the very special occasion of the Easter Jeep Safari's 50th anniversary, they waited till the SEMA show to unveil their tribute to the celebration.
The Red Rock concept was met with certain praise as Jeep has yet to disappoint in its concepts. Fixing the already rugged and extremely hard body of the Rubicon Hard Rock with multiple accessories, Mopar was more than pleased to get in on the excitement of adding to this commemorative concept.
Moab Jeep Safari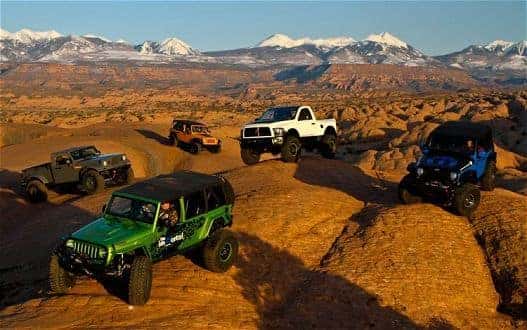 The original Jeep Safari was started by the Moab Chamber of Commerce in 1967 where members of the Chamber would take to the trails on a given Saturday. As word spread more joined together to celebrate the outdoors and their time on the trails. It remained this way until the early 1980's when the Chamber asked the Red Rocks 4-Wheeler Club to take it over.
Since then, they've successfully turned it into a nationwide excursion. Still held every spring in the Moab desert of Utah, Jeep owners, drivers, and enthusiasts get together to ride the trails, experience the open landscape and celebrate the outdoors through the power of your Jeep.
The lure is simple: a nine-day getaway where you get to choose one of the 40 different trails that range in difficulty to experience the red desert from the mesa top to canyon bottom in your own vehicle.
Red Rock 4-Wheelers
Having been formed by local members of their community in the early 1980's, it was originally a small club organization where meetings would be held in local members homes. As they grew and were asked to take over the organization of the Jeep Safari, they shifted focus to promote fun, safe and responsible 4-wheeling. Currently, they host many events held throughout the year while emphasizing the importance of keeping our State and National parks open and clean.