Jeep Gladiator Helps Boost 2nd Quarter Earnings For FCA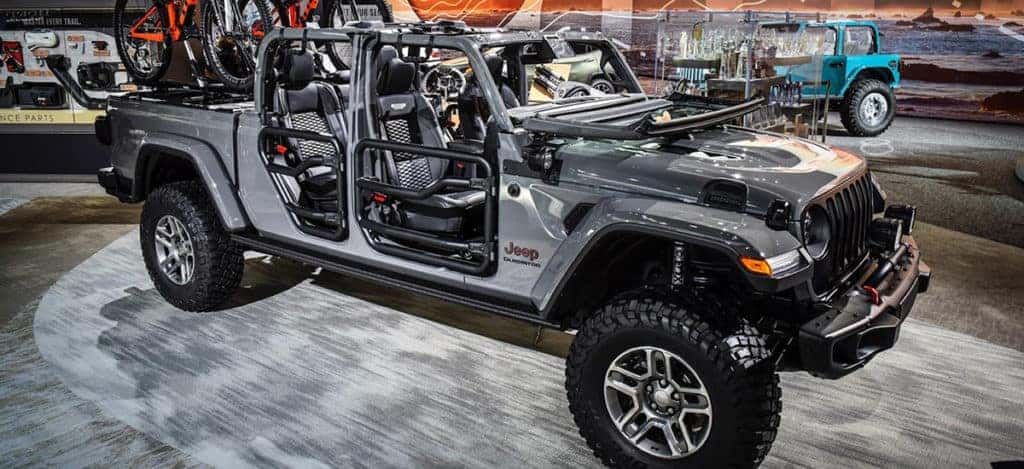 Photo credit: Jeep
More good news has come to Fiat Chrysler Automobiles (FCA) as their second-quarter results were announced. Thanks in part to their legendary Jeep brand, FCA saw a rise of 3.3% and overall the stock rose 5.6% since 2019 began. The largest earnings for FCA, a global company that represents Ram, Dodge and Chrysler among others, came from North America. Total North America sales rose 12% or $1.75 billion. FCA has noticed which vehicles gained the most amount of attention from their customers.
The all-new 2020 Jeep Gladiator exceeded expectations according to FCA CEO Mike Manley when he spoke to the press. Let's go over how Jeep ended up with their most successful product in the last several years. Of all the vehicles they have made, who would have thought a mid-size pickup would be so successful?
Brief History of Jeep Pickups
Jeep had not made their own pickup for decades (since the 1992 Comanche), but returned to the segment with a phenomenal choice for buyers this year. The 2020 Jeep Gladiator is based off a concept from 2005 of the same name. Jeep made its first pickup in 1947 with the Willy-Overland Jeep 4×4 truck. This vehicle had 14 truck body and chassis variations and lasted until 1965. Originally, the company that made this first Jeep, Willys-Overland, had produced their trucks for the United States Army during World War II and created over 300,000 Jeep vehicles for military use. The company was acquired by Kaiser Motors in 1953 before changing their name to Willys Motor Company and finally, in 1963 the business was known as the Kaiser-Jeep company. By 1963, Jeep was ready to change the automotive business. 
Classic to Modern Day Jeep Pickups
American Motors Corporation made a deal to gain the Kaiser Jeep company. The most successful Jeep pickup series ran from 1963 till 1987; the widely popular Jeep Gladiator J-series. Finally came the Jeep Comanche, which ran successfully for an additional few years after the J-series ended. In total, the Jeep Comanche ranged from 1986-1992. Now, Jeep has restored the Gladiator nameplate in a vehicle that is fitting of the name. The first wave of Jeep Gladiator pickups sold out in under 24 hours! However, the Jeep Gladiator is back on the market today and available today for buyers. Sales reflect how popular the all-new 2020 Jeep Gladiator has become widely popular among consumers. Reflecting on the previous quarter of sales, CEO of FCA Mike Manley had this to say.
"Overall I would say we are pleased with our second results, which were in line with our second-quarter expectations. It gives us some strong momentum as we enter the second half of the year, particularly when you consider the significant reduction in dealer stock in the quarter," said  FCA CEO Mike Manley.
Visit Kendall Dodge Chrysler Jeep Ram Today For Your Jeep Test-Drive                                                                                                                                        
We want to ensure your automotive experience is highly enjoyable. We know you'll be excited to drive your new vehicle or finally trade-in your current one. Come on down to Kendall Dodge Chrysler Jeep Ram for all kinds of great deals this summer. Interested in a new Jeep vehicle? Curious about test-driving the 2020 Jeep Gladiator?
For those that are satisfied with their current vehicle, we can handle maintenance work or any repair job to get your current vehicle back to great shape. With a simple online service appointment, we can get started on the work needed. We hope to see you soon!