Jeep Gladiator Maximus 1000 Showcases Immense Horsepower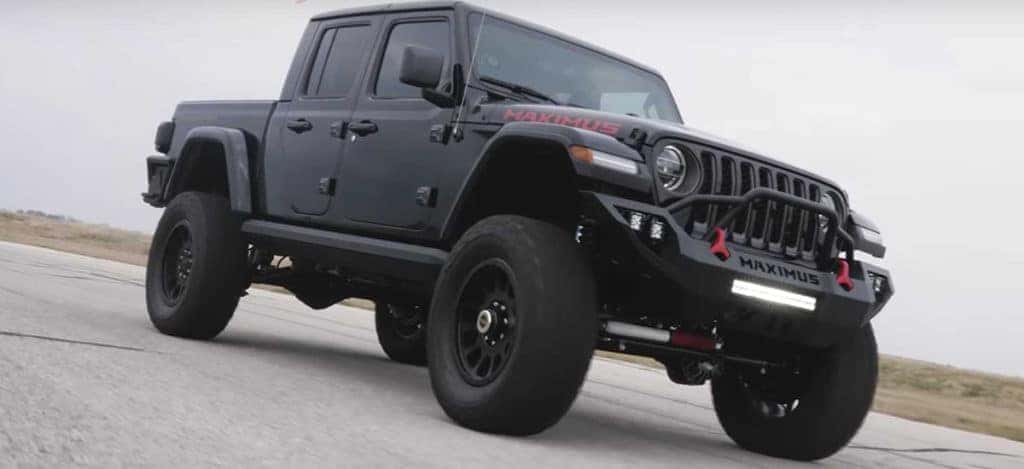 Photo credit: Jeep
From the day the 2020 Jeep Gladiator was introduced, many tuning houses, like Hennessey Performance Engineering, were licking their chops to get to work on the latest Jeep vehicle. The first Jeep pickup truck since 1992 with the Jeep Comanche. The 2020 Jeep Gladiator was built to offer class-leading tow capacity of up to 7,650 pounds and a 4×4 payload of up to 1,600 pounds. The hands behind Hennessey have taken that best-in-class power and modified the all-new Gladiator into an even crazier creation. How far did they push the Jeep pickup?
1,000 Horsepower Gladiator Is Here
Dubbed the Jeep Gladiator Maximus 1000, the Hennessey Performance work added a monstrous 6.5-inch lift kit, 37-inch tires, placed King shocks, and placed custom diamond-stitched leather interior. The front and rear axles and driveshafts were upgraded as well. Other elements have been added to enhance this pickup for the lucky owners including a new radiator, fuel system, and a stainless-steel exhaust. The interior looks quite different than the current Jeep Gladiator runs. Perhaps the best feature will be under the hood, as Hennessey decided to add a Hellcat engine inside. The large 6.2-Liter HEMI V8 engine that produces 1,000 horsepower and an incredibly strong 933-lb-ft of torque raises the stakes for this Jeep pickup. Few vehicles can even compare to having this much strength and capabilities, but that's just what makes the Maximus 1000 so intense. Paired to an eight-speed automatic transmission, this supercharged engine carves out its own space in the pickup segment. 
More About the Maximus 1000 Pickup
First shown at the SEMA show in Las Vegas in November 2019, this is a rare vehicle that will only see 24 made for a select group of lucky customers. Named after Maximus Decimus Meridus, the famed Roman general depicted by Russell Crowe in the 2000 film Gladiator. That film was the Best Picture winner at the Oscars and we're certain this vehicle could hold a candle to any pickup competition. This enhanced Jeep pickup is more than capable of both on and off-road travel. Fortunately, those who are looking for the all-new 2020 Jeep Gladiator are still in luck. The popular Jeep product will continue to be produced and is ready to go at Kendall Dodge Chrysler Jeep Ram tight now. Don't hesitate to find out more about Jeep products!
Find the Latest Jeep Vehicles With Our Help
We're here to assist our customers out in many ways, including going out for a test-drive our latest lineup of new vehicles, including our brand new Jeep vehicles. We're ready to go at Kendall Dodge Chrysler Jeep Ram and have both the new 2020 Jeep Wrangler and all-new 2020 Jeep Gladiator. Whether you're in Doral, Kendall, North Miami, Homestead, we're happy to help our South Florida and local Miami customers. We're professional and here to assist our customers with all buying, leasing or trade-in offers. 
Hoping to have some repairs on your current vehicle? Come to us so we can get started. Just make a simple online service appointment and visit our service center. We hope to see you today at Kendall Dodge Chrysler Jeep Ram!