Jeep Gladiator Two-Door Hellcat Is Wild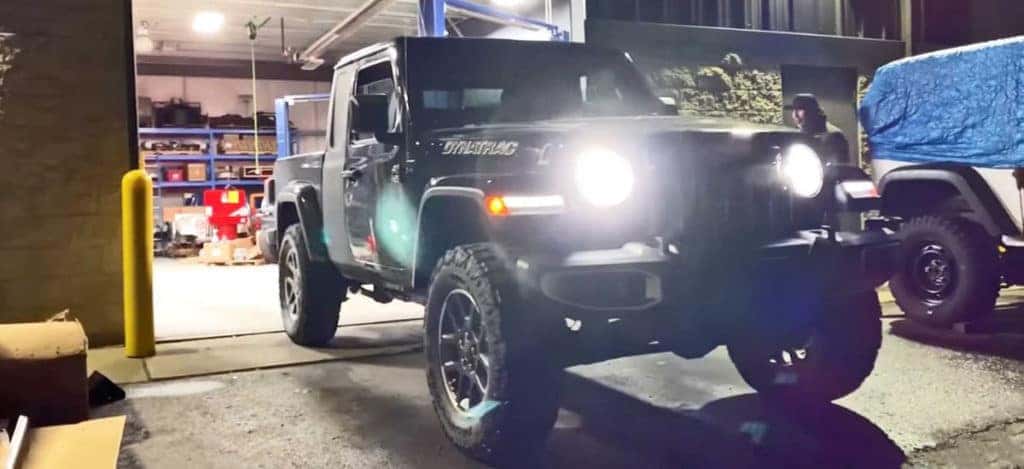 Photo credit: Jeep
Leave it to Fiat Chrysler Automobiles (FCA) to create the next great vehicle that a company like Dynatrac reassembles and engineers in a new light. The latest example of a stunning new product (2020 Jeep Gladiator) turned into a revamped, reimagined vehicle. We knew the modifications would come and they arrive with the first Jeep Gladiator to hold an immensely powerful 707-horsepower Hellcat engine.
So, Why Not Include the Hellcat Engine As An Option
The truth behind the Hellcat powertrain not being an available option for the Rubicon trim of the 2020 Jeep Gladiator isn't due to space constraints. FCA 's Head of Jeep brand recently spoke this spring about how that wasn't the case, but safety was.  Apparently, the size of an engine doesn't leave enough space for the proper spacing required to protect the car in the event of an accident. Effective crumple zones and proper airflow are negated with an addition of a large 6.2-Liter supercharged V8 Hellcat engine added to the Gladiator pickup.
"Everybody always asks me that question: it fits. You know that. It fits like a glove. It is not a problem to put it in — other than emissions and fuel economy — except it would never pass any crash tests, and that's a problem." -Tim Kuniskis, Head of Jeep brand
Where There's A Will, There's A Way
The 2020 Jeep Gladiator comes only as a four-door for drivers to purchase. The engineers at Dynatrac, known for their custom Jeep vehicles, have added more than their usual brand of suspension lifts and axle upgrades. They went all in to create a two-door model in their Codex project, where Dynatrac inquired guidance from Michigan-based America's Most Wanted 4x. Together they got their hands on one of the launch edition vehicles (only 6,120 Launch Edition Gladiators were made and they cut one of them directly in half!)
The result is a shorter 2020 Jeep Gladiator, approximately two feet less from the standard truck. The wheelbase checks in at 118 – 120-inch range, and they completely took out the backseats. It's a true pickup with just front row seating as a two-door set-up which allows for the addition of the Hellcat powertrain swap. Already boasting best-in-class towing, now, a real-life Jeep Gladiator Hellcat edition exists. The starting price of the base model Jeep Gladiator is $37,040 MSRP (plus destination fee) and has already arrived at Kendall Dodge Chrysler Jeep Ram. For those who can't wait to test drive the 2020 Jeep Gladiator, we can help. Or for those looking for a vehicle that carries the Hellcat already, we know where to shop!
Drive the Latest Jeep Vehicles With Us!
At Kendall Dodge Chrysler Jeep Ram, we know a thing or two about the latest Jeep vehicles, like the new 2019 Jeep Wrangler. Come out for a test-drive on any of our brand new vehicles and our great line-up of pre-owned vehicles.  Whether you want to buy or lease, trade-in or sell your current ride, we're here to provide a solution.
Trust us to help you get your vehicle up and running like never before with an online service appointment and visit to our service center, it'll be our pleasure to help out. We look forward to seeing you today no matter if you're looking to upgrade your vehicle or take home a new one.