Jeep Introduces First-Ever Desert Rated Jeep Vehicle, the 2020 Jeep Gladiator Mojave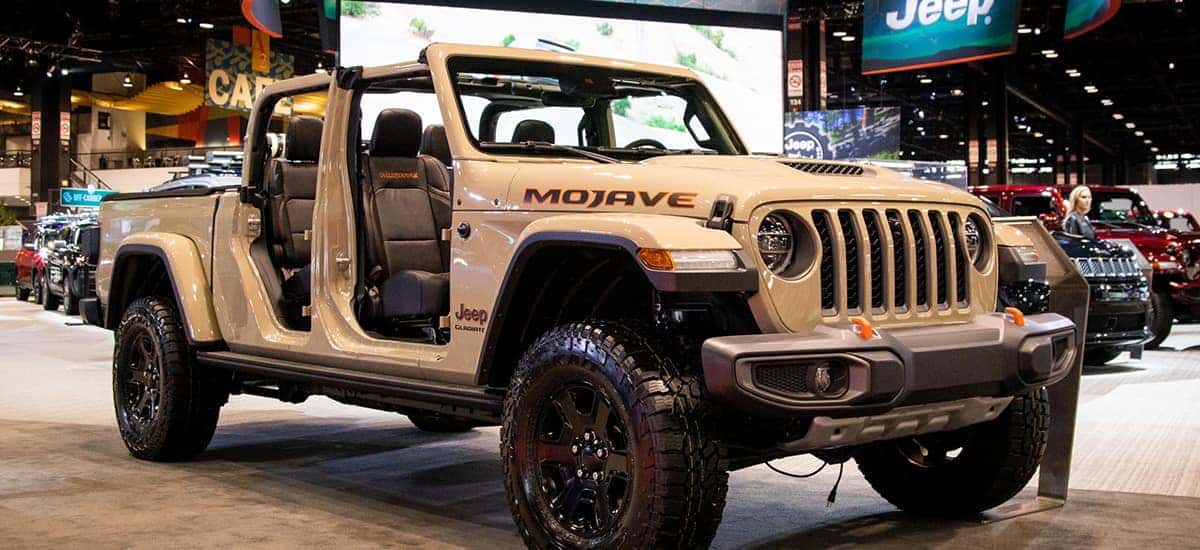 Photo Credit: FCA 
Jeep is the brand that is atop the list among brands owned by parent company Fiat Chrysler Automobiles (FCA). The incredible 2020 Jeep Gladiator will now gain the first-ever Jeep Desert Rated vehicle. Despite a century of the Jeep Wrangler, in only its second year, the Gladiator is paving its own path. The New 2020 Jeep Gladiator Mojave was engineered and built for high-speed off-road performance. (There might be a Desert Rated Wrangler, but at this point that is speculation.) So, what can owners expect regarding this new vehicle?
Striving To Top the Competition
The automotive landscape of vehicles built to handle off-road adventures has grown with rival brands like the Ford F-150 Raptor, Chevy Colorado ZR2, and Toyota's TRD Pro model, especially in regards to desert-races. Jeep has now entered the landscape with its own specifically designed Gladiator to handle the environment of sand dunes and the unique terrain of sand. This new Mojave is akin to a Gladiator Rubicon, 33-inch-tall tires, live axles with 4.10:1 gear, and a two-speed low-range transfer case. But its different than the Rubicon that is used to traveling rocks and trails, the Mojave has built and fortified to handle its way at high speeds through desert sands.  
Origin and Perks of the Jeep Gladiator Mojave
Born out of the Jeep Sandstorm concept that debuted several years back, Jeep has spared no expense to make this production vehicle a remarkable achievement. The Rubicon offers a 1-inch ground clearance, whereas the Mojave has a new 2.5-inch Fox internal-bypass dampers and rides higher up. Made to better absorb large impacts with the help of external fluid reservoirs that are more efficient at removing the heat buildup that can reduce a damper's effectiveness. Fox hydraulic jounce dampers—heavy-duty, short-stroke shock absorbers common on off-road racing vehicles—are fitted to the front bump stops to prevent the suspension from bottoming out.
"A natural extension of our legendary Trail-Rated 4×4 capability leadership," said FCA North America Jeep Brand chief Jim Morrison.
Built with Falken Wildpeak All-Terrain tires, cast-iron steering knuckles, a stiffer rear axle made of thicker tubing, 17-inch wheels, the Jeep Gladiator Mojavehas gained modifications to improve high-speed stability and toughness over gnarly, uneven sand terrain. The powertrain is retained, a powerful 285 horsepower 3.6-Liter V6 with standard six-speed manual transmission. There is an optional eight-speed automatic transmission. The Gladiator Mojave can deal with impacts and curb strikes with more ease and less bucking than even the Rubicon trim. The Mojave is still a burly production Jeep far removed from a desert prerunner, but its overall ride comfort is improved upon even over the Rubicon as well. 
"We went to the five-link coil-spring suspension in the rear, hydro-mounts on the C-pillars and powertrain to help with shake and ride comfort, and we really focused on towing to ensure an extremely competitive tow rating. We had to make some adjustments, including engine cooling, braking and the Class IV hitch," says Gladiator chief engineer Pete Milosavlevski
What Owners of the Gladiator Mojave Gain
Owners will note the Mojave for its unique exterior, a performance hood with striking Mojave decals, orange paint on the tow hooks, and rugged steel slider rails for protecting the rocker panels. Contrast stitching on the dash and steering wheel, Mojave-embroidered sport seats, and bits of the same orange theme kept throughout the vehicle. The 2020 Jeep Gladiator Mojave has a starting price of the $43,875 MSRP (Plus destination fee) and offers a load of optional features including automatic transmission, leather upholstery as well as an 8.4-inch infotainment touchscreen. Looking to drive a Jeep Gladiator today? We can help.
We're Here For You At Kendall Dodge Chrysler Jeep Ram
We're all about helping our customers enjoy their shopping experience, even buying online. We have the 2020 Jeep Gladiator ready, just browse through our new Jeep vehicle inventory to see all our options. We have a friendly and passionate sales team that will make your buying, leasing or selling needs easy for any of our new vehicle inventory. We're happy to be your dealership home. Considering a used vehicle? We have a whole bunch for others to choose from.
Trust us to help you get your vehicle up and running like new with an online service appointment and visit to our service center.  At Kendall Dodge Chrysler Jeep Ram, we know what it takes to provide a worthwhile experience. Allow us the pleasure to help you!