Jeep Renegade: Features Galore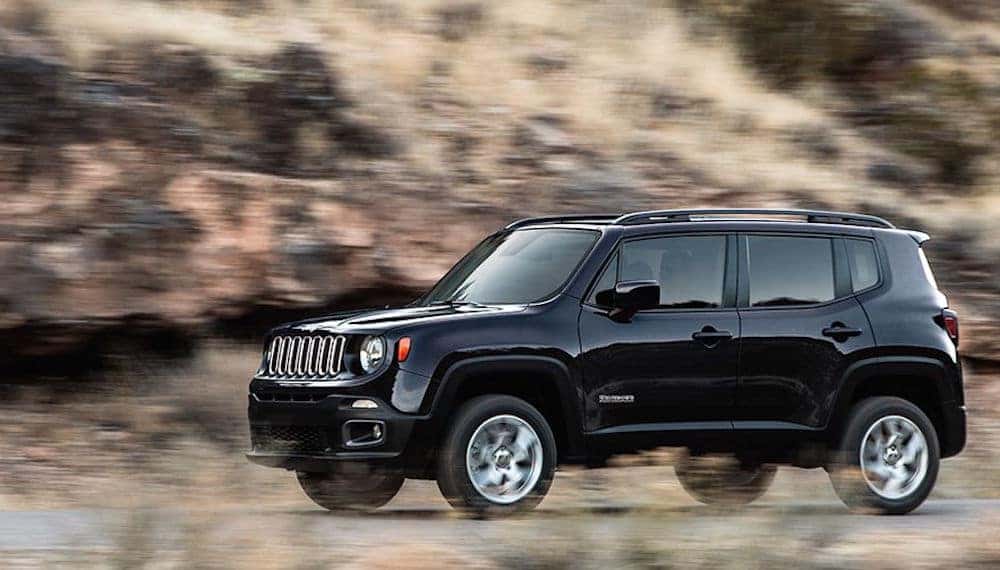 The Jeep Renegade is known for its ruggedness and off-roading capabilities, as well as its dependable engine and mechanics. However, we should probably start recognizing the SUV for one of its other distinguishing attributes: the number of included features.
Whether you're focusing on the interior or exterior, you'll find a number of innovative amenities included in the SUV. If you've considered pursuing a Jeep Renegade in Miami, take a look at our favorite features added to the 2016 model…
Interior Features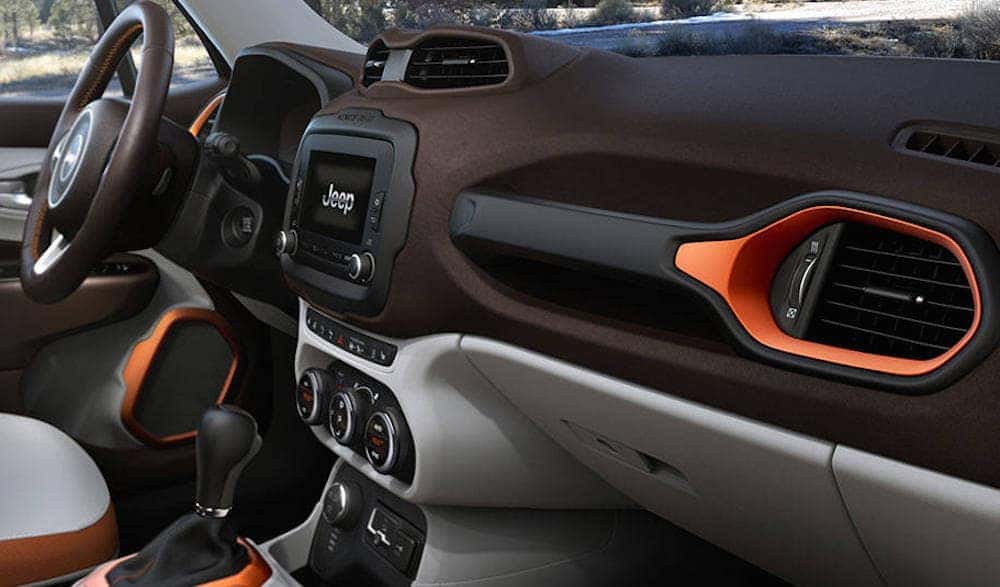 One of the new inclusions to the Jeep Renegade is the My Sky open-air, dual-panel roof. The panels can easily be removed, allowing the sunshine to stream into your vehicle. If the occupants prefer, the sunroof can be completely opened, allowing fresh air into your Jeep. When the panels are removed, drivers will have no issues storing them in the rear cargo area.
Speaking of the cargo area, the Renegade offers plenty of room in the rear of the Renegade. To top it off, the vehicle can be customized to help store whatever items you need to lug along. Whether you want to organize your rows in a 60/40 split folding rear bench or a 40/20/40 split folding rear bench, you certainly won't have a lack of options. Furthermore, the floor can be manipulated to help give the driver additional cargo space to play with.
Predictably, the vehicle also offers some innovative technological features, like the 6.5-inch touchscreen (you can also opt for a five-inch or three-inch unit). With the accompanying Uconnect technology, drivers can easily integrate their phone with their new vehicle, allowing them to make hands-free phone calls and texts. The system also provides drivers with SiriusXM radio and an extensive GPS Navigation system. The system is accompanied by an impressive nine-speaker, 506-watt audio system (including a 6.5-inch subwoofer). Furthermore, the seven-inch full-color driver information display also provides you with vehicle diagnostics, as well as a variety of safety/driver-assist technologies (like Rear Park Assist and Active ParkSense).
Exterior Features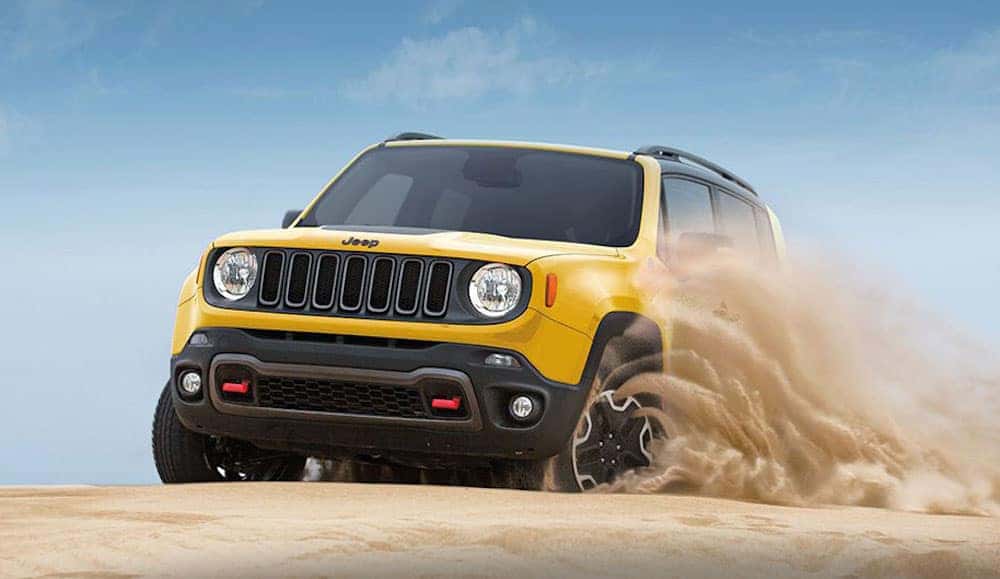 The Renegade's exterior now includes a number of features and amenities that will help improve your drive. For example, the inclusion of halogen fog lamps will assist in your ability to see on those dark and stormy nights. Meanwhile, the heated mirrors will assure that no snow or ice will be obstructing your view. Engineers also included tinted glass, which will absorb solar energy and vicariously make the interior cooler.
There are a number of wheel options for the Renegade, highlight by the 18-inch fully-polished aluminum wheels (with high-gloss clear coat). Other options include 18-inch polish aluminum wheels (with satin carbon paint), 18-inch polish aluminum wheels (with granite crystal accents), and 17-inch polished aluminum wheels (with all-terrain tires).
Safety Features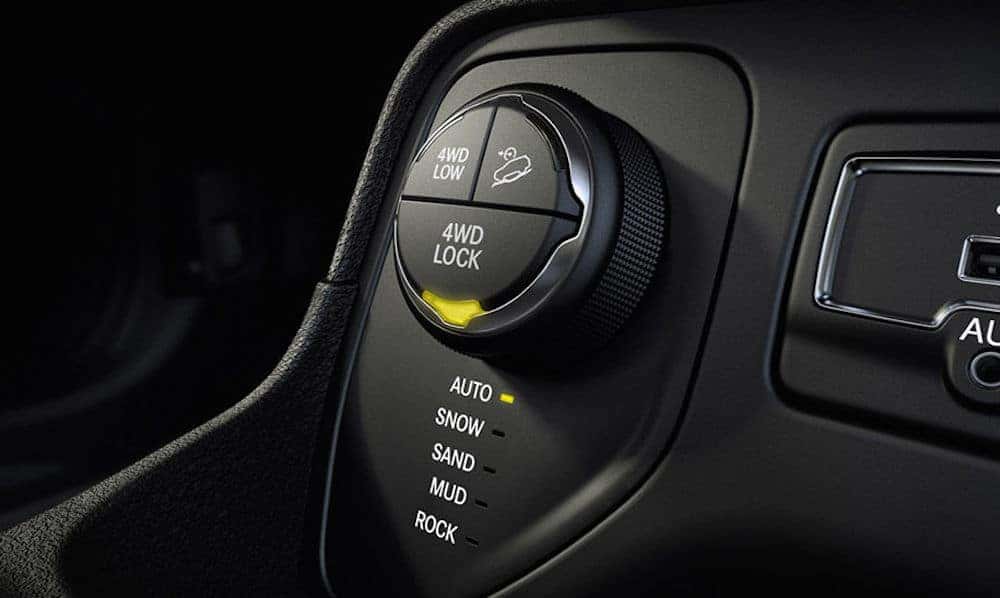 Of course, it wouldn't be a Jeep if the Renegade didn't include a number of safety features and capabilities. This specific SUV actually includes more than 70 safety and security features!
Everyone knows that Jeep's are some of the most dependable vehicles out there, and the vehicle's occupants can feel secure with the seven airbags (including full-length side curtain and knee blocker airbags). Of course, to keep up with the other SUVs in the class, the Renegade also includes a number of impressive technological features (like Blind Spot Monitoring, Lane Departure Warning, and the Forward Collision Warning).
Perhaps best of all if the Uconnect 9-1-1 Call button, which will easily connect the driver with emergency personnel. If you find yourself in an accident, you can be assured that help will be on its way.
Starting at only $17,995, the Renegade is an absolute bargain, especially when you consider all of the included features. If you're the type of car fan who enjoys playing with all of their vehicle's various toys, the Renegade is definitely the SUV for you.