Jeep Trailhawks' Enhanced Off-Road Features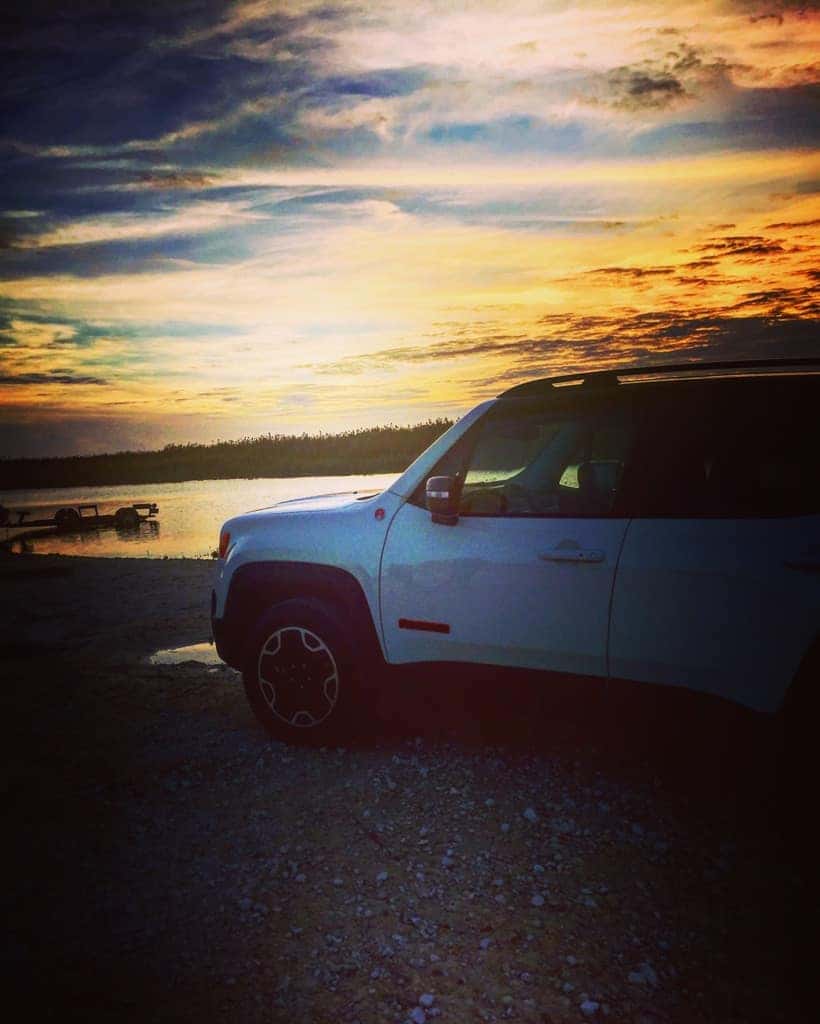 There are a couple Jeep models that are available in the "Trailhawk" trim and for the 2017 model year, a couple more Trailhawk trims are joining the pack. "Trailhawk" trims feature additional off-roading equipment that help the Jeep earn its "Trail Rated" badge and help it conquer the toughest terrains. So, what is different on a Jeep Trailhawk trim that makes it so capable? Check it out below.
Trailhawk Models + "Trail Rated" Badges
In 2017 there will be four Trailhawk trims — Jeep Cherokee Trailhawk, Jeep Renegade Trailhawk, Jeep Grand Cherokee Trailhawk and Jeep Compass Trailhawk. Each of these models have a "Trail Rated" badge. This badge means that the vehicle is designed to perform in a variety of challenging off-road conditions identified by five key consumer-oriented performance categories: traction, ground clearance, maneuverability, articulation and water fording.
Tow hooks
Off-roading is fun, but can be frustrating if you get stuck, so every Trailhawk model is equipped with the Trailhawk's signature red tow hooks. In addition to adding style, the vibrant red color makes the tow hooks easier to spot when stuck in mud or at night. There is one rear tow hook and two in the front. The rear hook can be used for towing and the front hooks can be used to pull out your own Trailhawk or someone else's vehicle if stuck.
Skid Plates
Trailhawk vehicles are also fitted with extra equipment that protects various vehicle components from being scraped, dented, or damaged by water. Depending on the Jepe model, Trailhawk trims will have a few different skid plates, including a front suspension skid plate, fuel tank skid plate, underbody skid plate.
Ground Clearance: Suspension and Tires
Ground clearance is a major factor when off-roading and all Trailhawk trims have a higher ground clearance than the other trims in their class. Ground clearance is the height between the bottom of the vehicle and the ground and ground clearance can be adjusted by raising a vehicle's lift and/ or by adding larger tires and rims. Therefore, all Trailhawk models have larger wheels and larger tires that are specific for off-roading or all-terrain conditions.
4X4 Off-Road Systems
All Trailhawk models come standard with a 4×4 drivetrain, hill descent control and special off-road systems. Each Trailhawk has a different off-road system, but they all have the same purpose — to provide ultimate traction, crawling capabilities and safety.
Hill descent control is a system that helps control braking when it the vehicle is going down a steep incline. Hill descent control knows where to deliver braking and provide extra traction to keep the vehicle from flipping and/or sliding down the hill.
The Jeep Renegade Trailhawk comes standard with a Active Drive Low 4X4 system. This system comes standard with features like traction control, a 4WD low mode, and a 20:1 crawl ratio (very impressive!). The Jeep Cherokee Trailhawk comes with an Active Drive 4X4 Lock system. This system has all the features of the Active Drive 4X4 system, but also has a rear axle lock.
Finally, the Grand Cherokee Trailhawk comes with the Quadra-Drive 4X4 system with Rear ELSD. Basically, this system is like the other 4×4 systems in the way that it allows for ultimate traction, but is also has some unique features of its own. Some features from this system include an electronic limited slip differential and a Quadra-Lift air suspension system.
Love off-roading? Us, too. You can check out our Jeep models here!