Jeep Wagoneer Replacing V8s, Upgrades Style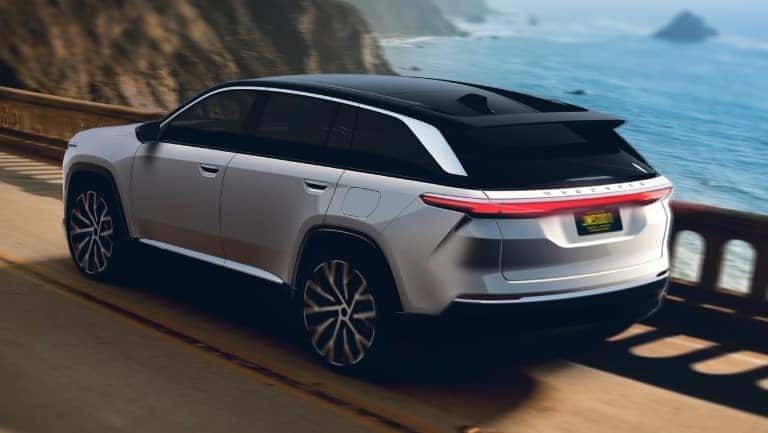 Despite removing the V8 engine an upcoming models, we look into Jeep plans to dominate the SUV market of the luxury segment. What are they mainly consisting of? Top-flight luxury, baby! Continuing to produce their famed and high-end Jeep Wagoneer and Grand Wagoneer. The recent entry of these luxurious three-row SUVs was not lost on us when they launched and they are continually becoming a staple of the brand. We know the Wagoneer and Grand Wagoneer are highly sought-after prizes.
Meet the 2024 Grand Wagoneer
The 2024 Grand Wagoneer is still presented with "Grand Wagoneer" on the front grille and its appears with an American flag right above the scallop on the body side. This signal shows a deployable step that allows drivers to easily step in and out of this lush, rich vehicle. Jeep is banking on making the Grand Wagoneer so prestigious that owners can't help but choose this new ride over any in the three-row SUV segment. Perhaps even take some buyers out of the mid-size SUV market. The choice of 20 or massive 22 aluminum wheels are available as well as packages to allow drivers to have the ultimate luxurious experience. Owners have a lot to love with these options.
Step Into the Richest Interior Offered By Jeep
There are quite a few lush interiors that offer a range between metal, glossy black, lightbrown mix of wood, rich quilted leather and pieces of ambient lighting inside the Grand Wagoneer. The color scheme ranges to include a tan, black, gray or dark blue theme. A badge that says "EST. 1963" can be found on the outside of the instrumental panel. A two-spoke steering wheel is a throwback design to the first Wagoneer design. Owners can use the aluminum rotary shifter that is also noted on the start/stop button that is wrapped in leather. The air suspension is adjustable as well.
The 2024 Jeep Wagoneer and Grand Wagoneer Rolling In Soon
The seating up to eight passengers is what makes this vehicle so impressive. Normally, this much luxury does not offer this much cabin space and room for guests. The second-row bench seating is what offers the most space, but owners can opt for captain chairs in the second row as well, but that would limit seating to seven. The leather is a fine touch, but the real price of heightened status is found in the 75 total inches of touchscreens through the Grand Wagoneer. The large 10.3-inch in the first and second rows are not standard, but available. Check with us for all the choice options and trims we have ready for our clients.
New Jeep Vehicles Are Ready and Here For You
Go through our entire brand new Jeep vehicles. We're more than able to assist our customers for any buying, leasing, selling, or needs they may have. We can also help buyers trade-in their current vehicle. Our knowledgeable sales team shows off all our new vehicle inventory and high-quality pre-owned vehicles with pride.
Not sure if your current vehicle is running well or needs some work? We're here! We are able to make sure you're back on the road fast with our experienced service staff. Make an online service appointment and we can help you with your vehicle problems. We look forward to being your center for all things automotive. Find the right choice this summer now at Kendall Dodge Chrysler Jeep Ram!