Jeep Will Launch Three Adventure Academy Workshops In October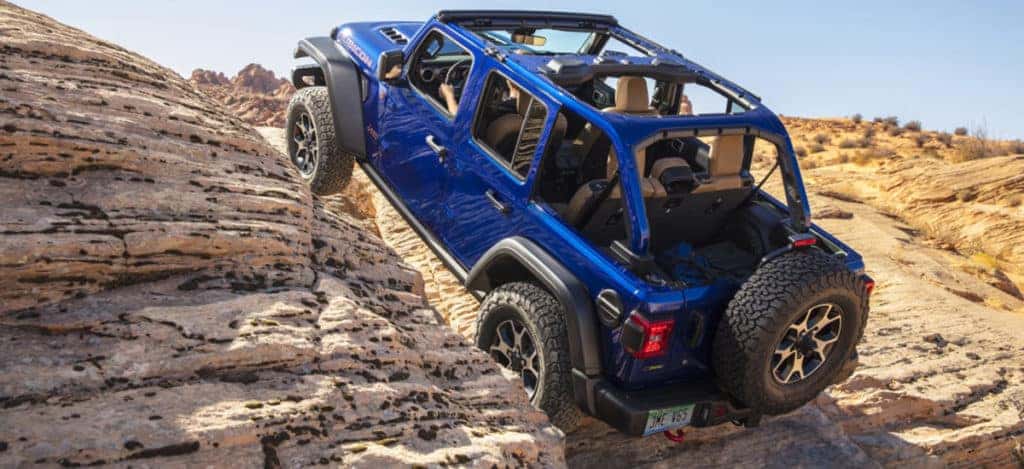 Photo Credit: Jeep, 2020 Jeep® Wrangler Rubicon EcoDiesel
Jeep is ready to salvage some of 2020 with three new events that will help Jeepers become more successful at going off-road. Next month, Jeep will offer an Adventure Academy to teach drivers how to drive travel the great outdoors using a Jeep vehicle correctly. The proper steps are taken to avoid all the common mistakes new Jeep owners (and even longtime Jeep drivers) could make. The adventure is awaiting customers that are willing to learn and be prepared. These Jeep classes are open for any person with any Jeep four-wheel-drive model. There are various courses that are tailor-made for beginners, owners with moderate off-road experience, and even for experts.
Back On Track
Earlier this year, the annual Jeep Jamboree schedule was greatly reduced and altered. Typically on any given year, Jeep has these jamboree events across many states with lots of popularity and fanfare. Next month's classes will help relaunch a growing interest in the Jeep brand and its massive collection of travel the great outdoors using a Jeep vehicle correctly. These classes are set to happen in October 2020 and be held at off-road parks in three states. The driving school will guide drivers starting with the basics and offer an education on how the four-wheel-drive system works, how to equip their vehicle for a trip in the wilderness, how to accurately read terrain, plus offer various driving techniques, trail etiquette, and safety advice.
Jeep Wants Everyone To Become Off-Road Educated
Jeep has always been a company that promotes education and offers structured and organized off-road trips dating as far back as 1953. Just take a look at the history of the Jeep Wrangler to see how far Jeep has come. Jeep has said they expect to make classes small to help all participants feel like they have a firm understanding with hands-on training and the time to feel comfortable. Asking questions is expected with growth coming after each lesson. This process will help make beginners feel comfortable with their new vehicles. Those behind the Adventure Academy anticipate as much as half of their class will be first-time Jeep owners who have never gone off-road before. Jeep traditionally has events like the Jeep Jamboree that are a huge hit among Jeepers, drawing thousands in attendance each year.
What Does Someone Need To Take Adventure Academy Classes?
As long as a person has paid and has a Jeep vehicle with four-wheel-drive, the vehicle can be brand new or decades old. Jeep has listed three dates that will take place starting with October 2nd, 2020 through October 4th, 2020 at the Holly Oaks Off-Road Vehicle Park in Holly, Michigan. The second Adventure Academy class will be held at the Southern Missouri Off-Road Ranch in Seymour, Missouri, from October 9-11th, 2020. The last event for 2020 will be located on the West Coast on October 16-18th, 2020 at the Hollister Hills State Vehicular Recreation Area in Hollister, California. A lone day session will cost $99, for those who only want to go for one day. That price will add all necessary permits and land-use fees, as well as coffee, lunch, and various Jeep merchandise.
Things To Keep In Mind Before Signing Up
Participants are permitted to bring one guest, but taking a pet along for the ride is greatly discouraged. One thing to keep in mind, all Jeep Adventure Academy students are accountable for retaining their car on four wheels and dent-free as Jeep won't cover damages sustained while a part of the class. For readers looking for great Jeep options that can be used to take these classes, we have them both in new and pre-owned vehicles waiting for an owner. Check them out today via online or drop by for some help from our staff in person at Kendall Dodge Chrysler Jeep Ram.
Drive Home the Latest Jeep Vehicles With Our Help
We're ready to assist our customers in many ways, including going out for a test-drive with one of our vehicles from our wide new vehicle inventory. Go through our entire brand new Jeep vehicles to find more choices. We have both the new 2020 Jeep Wrangler and all-new 2020 Jeep Gladiator. Whether you're in Doral, Kendall, North Miami, Homestead, we're happy to help our South Florida and local Miami customers. We're professional and here to assist our customers with all buying, leasing, or trade-in offers.
Don't wait any longer for that oil change, brake repair, tire service, and more! Come to us so we can get started. Just make a simple online service appointment and visit our service center. We hope to see you soon at Kendall Dodge Chrysler Jeep Ram!