Jeep Wrangler Moab Tricks and Treats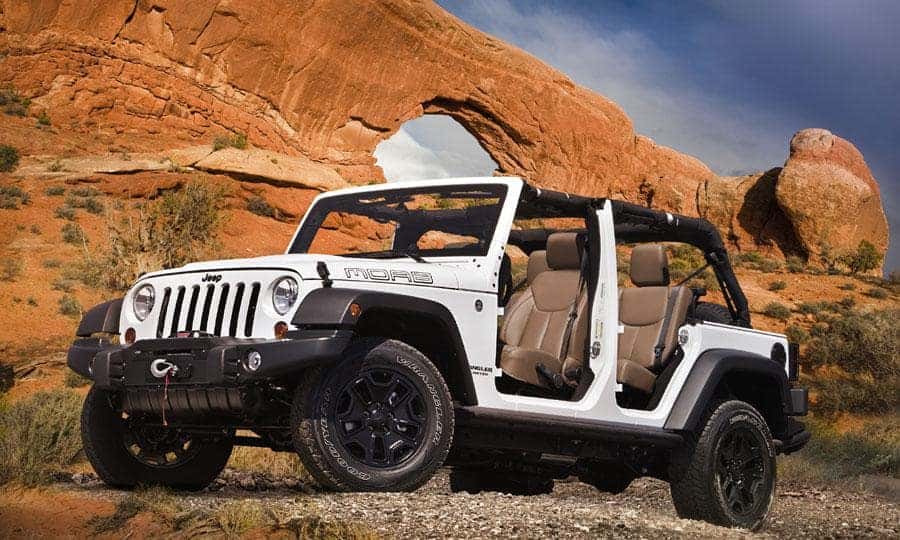 The Jeep Wrangler is an iconic American car. It was first created to serve a purpose in the military, but it wasn't long before civilians wanted to get their hands on the capable off-road vehicle that could literally tackle any terrain. A Jeep Wrangler is by its very definition, a truck for the person on the go. It does not fare well for commuting in the city, and much like a large breed dog, should not be cooped up in a tiny space without room to run. The regular run-of-the-mill Jeep Wrangler is built with the active person in mind, but the new Moab Edition goes a step further, and seems to be the epitome of a truck for the person on the go, and your Jeep dealers in South Florida have it for you!
The black 17-inch Rubicon alloy wheels are one of the first things you will notice when you see the Moab in person. The black finish on the wheels do a good job complementing the black trim throughout the rest of the Wrangler's exterior. Front and rear bumpers feature tow hooks that are both practical, and awesome looking. The Moab can be bought with the standard six-speed manual transmission, or the optional five-speed automatic, making it flexible to the driver's needs.
While the Wrangler can be fairly affordable with a base price of only $22,395, the Moab Edition tends to get a bit pricier. Drivers will get what they pay for, however, and should not purchase a Moab unless they intend to really use it for what it was intended for. At a starting price of $33,095, and a fully loaded version going for just over $40,000, making sure you take every advantage of the fun tricks this Wrangler edition will afford you, is a necessity.