Jeep Wrangler Rubicon Adds First V8 Engine In Over 40 Years!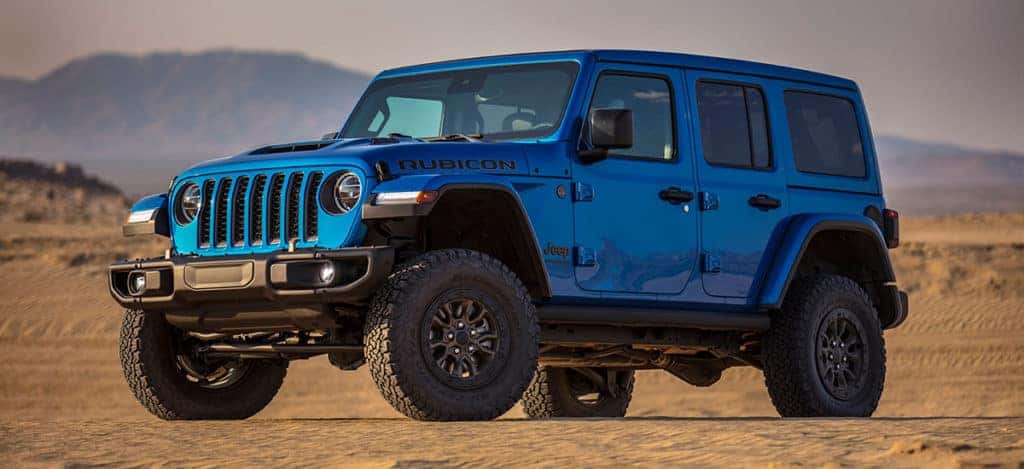 Photo Credit: FCA
The Jeep® brand is going to add a new wrinkle to the famed Wrangler lineup. For the 2021 model year, an all-new Jeep Wrangler Rubicon with a V8 powertrain that is going to debut. The new Jeep Wrangler Rubicon 392 has a 470-horsepower 6.4-liter V8 engine available and can go from 0 to 60 mpg in just 4.5 seconds and a finish a quarter-mile in just 13 seconds! Those times make this upcoming 2021 Jeep Wrangler will be the fastest and most compelling Wrangler the company has ever manufactured. 
How Rare Is A V8 Engine In A Jeep?
Readers should consider this as a unique addition to the Jeep lineup. For the first time in four decades of the Wrangler or its predecessor, the Jeep CJ, has been granted a new V8 engine. The last time a V8-powered engine was fitted into a Wrangler with only 124-horsepower and 220 lb-ft of torque. That particular Wrangler was sold during the 1981 model year. Back then, Jeep was owned by American Motors Corporation, which was later obtained by Chrysler. Fiat Chrysler Automobiles will soon become Stellantis, but the goal for the Jeep brand has not changed. Jeep wants to expand globally and allow more customers to enjoy the adventure offered by their vehicles. 
What's Old Is New Again
FCA executives have commented about the new V8 Wrangler was built in response to meet a wave of customers demanding a more powerful engine than using the traditional engine found in the Wrangler; the 3.6-Liter Pentastar engine. FCA has noted that some Jeep Wrangler owners have adjusted their Jeep vehicles by outfitting their Jeeps with V8 engines. Many more have asked when Fiat Chrysler would extend a V8 engine option for buyers to enjoy. The Wrangler's basic design had to be modified somewhat to fit the bigger engine. The Wrangler Rubicon 392 sits a couple of inches off the ground than a base model Wrangler. The V8 engine needed more space and a greater ride height to provide the exceptional off-road performance Jeepers love. Since the Wrangler can better clear obstacles and drive up steeper slopes with more height, this was only natural and this Wrangler Rubicon is able to waterford through as high as 2.7 feet of water.   
More On the Wrangler Rubicon
The Rubicon 392 has a large air scoop in the hood that was placed inside to allow for greater air intake for the larger engine. Packing a sturdy 470 horsepower, the V8 motor can also deliver 470 lb-ft of torque paired with an eight-speed automatic transmission that can be shifted using paddles behind the steering wheel.
"That's what our customers want. That's what the Wrangler fans have been asking for over and over probably as much as they want bigger tires on these vehicles," said Micky Bly, Head of Propulsion Systems, Fiat Chrysler Automobiles.
For those interested in driving new Jeep vehicles, check with us in Kendall. 
We're Here For You At Kendall Dodge Chrysler Jeep Ram
We're all about helping our customers enjoy their shopping experience, even buying online. We have the 2021 Jeep Wrangler ready, just browse through our new Jeep vehicle inventory to see all our options. We have a friendly and passionate sales team that will make your buying, leasing or selling needs easy for any of our new vehicle inventory. We're happy to be your dealership home. Considering a used vehicle? We have a whole bunch for others to choose from.
Trust us to help you get your vehicle up and running like new with an online service appointment and visit to our service center.  At Kendall Dodge Chrysler Jeep Ram, we know what it takes to provide a worthwhile experience. Allow us the pleasure to help you today!