What Jeep's Trail Rated Tough Badge Means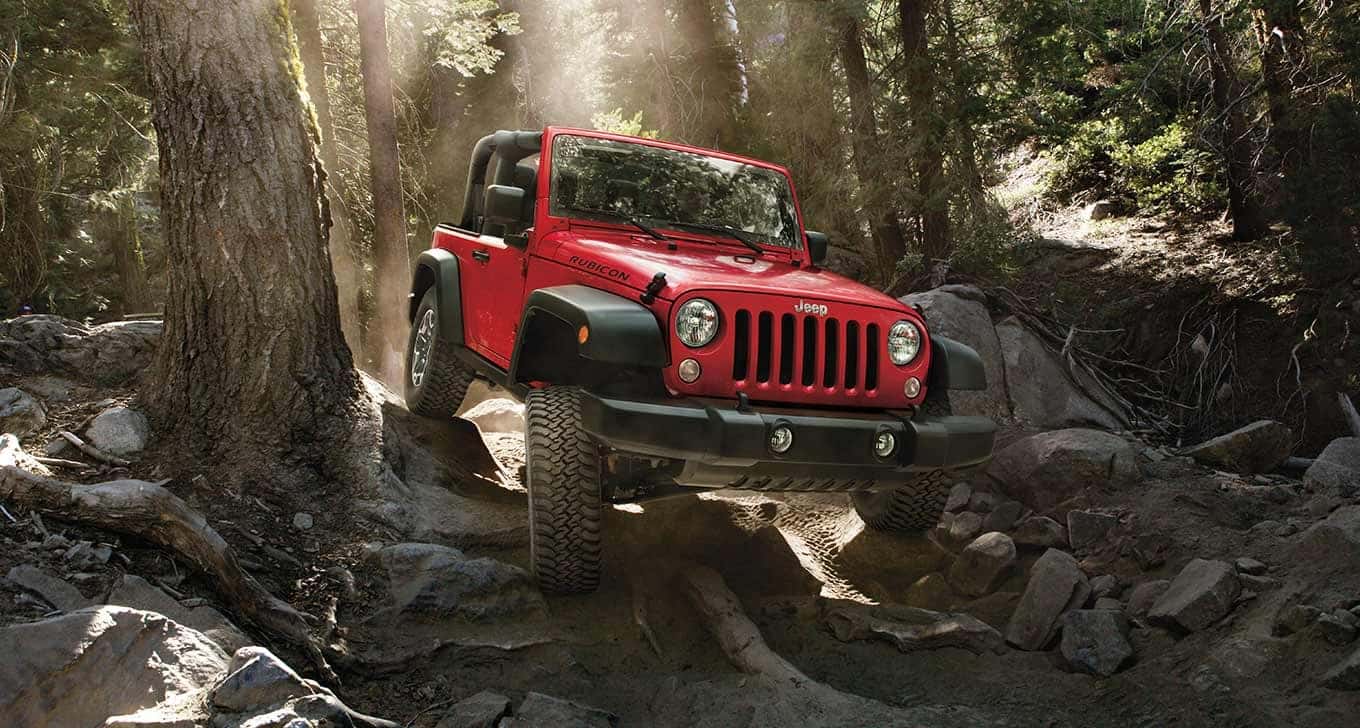 Most models you see sitting in your local Miami Jeep dealership also come with a little badge that says "Trail Rated" on it. You see this all the time when looking at Jeeps, and know it has to do with off-roading, but you might not know what actually goes into making a Jeep trail rated or what it represents. This Trail Rated badge is much more than an accessory, and Jeep's "Trail Rated Tough" title gives their models major bragging rights when compared to the competition.
Jeep vehicles have a legendary off-roading status for a reason, and that reason all starts with the Rubicon Trail.
The Rubicon Trail
The Rubicon Trail is a place where both Jeep engineers and enthusiasts push their beloved vehicles to the limit. This trail isn't some powder-puff cakewalk; in fact, it's something most vehicles can't even come close to approaching, let alone dream of traversing.
This trail is 17-miles of every off-roading hazard and condition imaginable; mud, rocks, logs, sand, creeks, and steep inclines/declines. On this trail, Jeeps need to excel in every off-roading category — maneuverability, ground clearance, articulation, water fording, and traction — in order to successfully complete the trail and earn a Trail Rated badge.
If a Jeep model can't complete the trail, then it doesn't earn the badge. Therefore, this badge represents the strength and endurance of Jeep models, and what they have to overcome in order to succeed.
Maneuverability
When off-roading, maneuverability is one of the most important driving considerations. The ability to fit through small spaces, avoid damage, and have a tight turning radius is what helps get these Jeeps safely through the Rubicon Trail.
The maneuverability of a vehicle is based on a few factors, including a vehicle's wheelbase, a vehicle's track, and the turning radius. The wheelbase is the length between the front and back wheels; the track is the measurement between the axles, and the turning radius is how tightly a vehicle can turn.
It takes all three of these factors to successfully maneuver around any obstacles in the Jeep's path.
Ground Clearance
The ground clearance is simply the amount of space that is between the bottom of the Jeep and the ground. With the right amount of space and well-placed tires, Jeeps are able to climb over large boulders or logs with ease.
A ground clearance miscalculation could result in the Jeep risking damage to important parts underneath the vehicle or it could simply wind up getting stuck somewhere.
Articulation and Traction
Simply put, articulation is the ability to keep a wheel on the ground longer when the Jeep flexes over uneven terrain. Good articulation will provide maximum available traction when one or more of the wheels are elevated.
When the wheel is on the ground, it's important that the tires do their job properly. Therefore, the 4×4 system is in place to allow a Jeep to conquer all manner of hazardous terrain.
Without at least a couple of wheels on the ground at all times, it's possible the Jeep could get hung-up when traversing uneven terrain.
Water Fording
Finally, there's water fording. It's just like ground clearance, except it determines the Jeep's ability to safely cross through water instead of over large obstacles. The high air intake and electrical and body sealing ensure that your Jeep doesn't stall or get damaged when going for a swim.
Now that you've seen what Jeep models need to go through in order to get their Trail Rated badges, I'm sure you have a newfound respect for what the badge stands for and what Trail-Rated Jeeps represent for the brand.