Life Hack: Audiobooks Make Traffic and Road Trips ENJOYABLE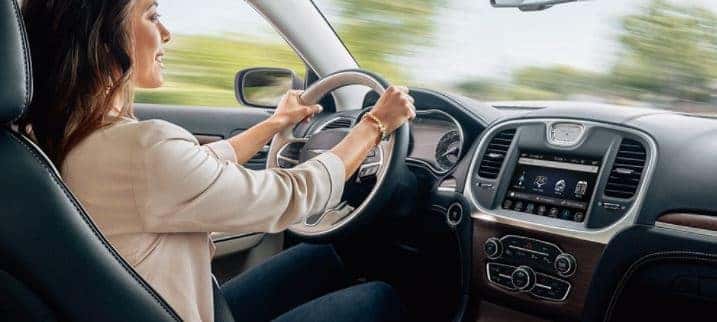 Life Hack 1 — Audiobooks are a great way to stay entertained and focused on the road while in the car.
Life Hack 2 — The Chrysler 300 is equipped with Bluetooth, Apple CarPlay and Android Auto, which makes it super easy to listen to audiobooks in the car.
Life Hack 3- The Chrysler Pacifica is available with the Uconnect Theater Package and along with the package's dual screens come wireless headphones, so your kids won't ever have to listen or complain about your "boring" audiobook.
We don't have a life hack to help you find out which audio book you want to listen to, so to help you out, we've given you a couple suggestions below.
Drama
You may or may not have seen the popular movie Gone Girl, but have you read (or listened to in this case) the book? If not, it is must read. Many reviews say it is even better than the movie. This drama/thriller was released in June 2012 by Gillian Flynn and has a four star rating on Goodreads. We don't want to give to much away, but the basic plot of the book is Amy (the wife) who has a difficult relationship with her husband Nick disappears. Many blame the husband and he continues to get investigated for the crime of her disappearance. If you like a mix of drama, thriller, romance, and mystery all in one book, you will love "Gone Girl."
The book "Time Traveler's Wife" is another excellent mix of Romance and drama. This book was a movie as well featuring Patrick Dempsey which was a big hit. Even if you have seen the movie, the book is worth a read! The book by Audrey Niffenegger portrays the relationship between a man and women who are very much in love, but they have one major problem, time travel. The book takes you through all the emotions and stories that come with the wife and her husband who disappears in time at literally any moment.
Romance
"It Had to be You" is a great Romance book that is highly rated by many critics! This book was released in 2002 by Susan Elizabeth Phillips. In the book, the main character Phoebe (who knows absolutely nothing about football) inherits a professional team. If that doesn't sound crazy enough, she has to put up with a sexist and jock head coach. Being that this book is a romance, we bet you can guess where it goes. However, it is entertaining and worth your time!
"A Walk to Remember" is yet another book that was turned into a movie starring Mandy Moore. This is a Romance story about a "cool guy" that falls in love with a less popular church girl. Of course, you'll need to read it to find out the many things that transpire. This book will make you smile, laugh, and cry (a lot), but if you love romance there is a huge chance you will fall in love with "A Walk to Remember."
Mystery
"And Then there were None" is a highly rated book with a 4.5 out of 5 stars from Barnes and Noble and a 4.3 out of 5 by Goodreads. The english writer Agatha Christie published this book in 1939. It is an oldie but a goodie, especially is you like a thriller and mystery with plenty of suspense. In the book a group of people have been lured into travelling to an island (each of these people have been complicit in the deaths of others at some point). They are the only people on the Island with no escape, what happens next?
Tana French wrote the novel "In the Woods" in 2007 and we highly recommend it. The book explores and follow a pair of detectives. The detectives in the book are investigating the mysterious murder of a 12-year-old girl. The novel has won several awards since 2007 including a Barry Award, Edgar Award, and Macavity Award.
Comedy
"Bossypants" is written by a much loved woman in the comedy industry, Tina Fey. "Bossypants" is a hysterical Autobiography regarding Tina Fey's life, feeling about herself and the industry and more. She explains her failures and successes in a way only Tina Fey could!
"The Girl with the Lower Back Tattoo" is another great book written by a hilarious women in the comedy industry, Amy Schumer. It was a top book on the New York Times bestseller list and we recommend it for anyone looking for a good laugh. This is also an autobiography that channels Schumer's successes and failures and what being a woman in the entertainment industry is like.
Those are just a few genres and a few of the millions of books out there! If you have your own list, share it with us on Facebook or Twitter, we are interested to hear!
And, if you like the idea of listening to your books in a new car, check out our inventory of Chrysler 300 models at Kendall Dodge Chrysler Jeep Ram here. If you need a larger vehicle, check out the Chrysler Pacifica here.