Locked and Loaded: 2019 Dodge Durango Pursuit arrives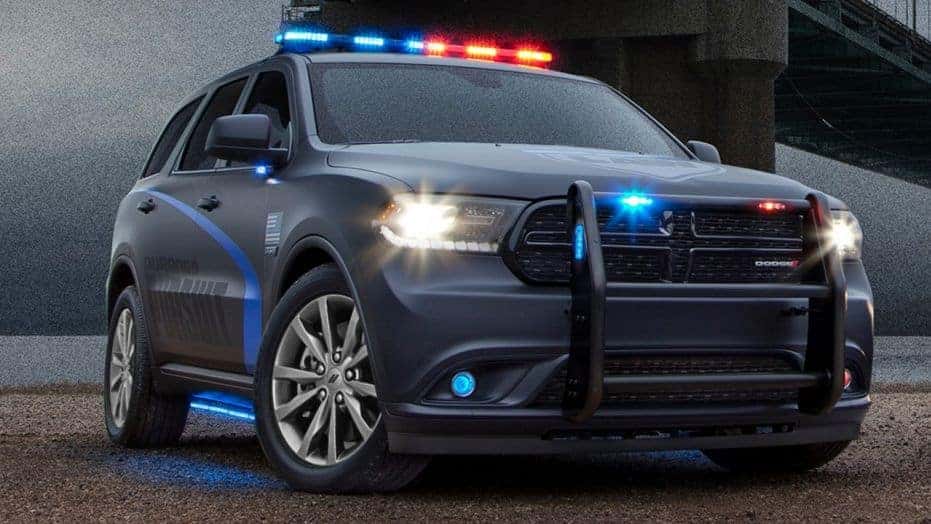 Dodge has proudly announced the new 2019 Dodge Durango Pursuit, built solely for law enforcement officers (LEOs). It wasn't too long ago that the 2018 Dodge Durango Pursuit debuted, only a few years after its predecessor, the 2018 Dodge Charger Pursuit. Both vehicles came out last year and as the 2019 Dodge Durango Pursuit hopes to do, help law enforcement do their job better than any vehicle ever has.
The 6.4-liter HEMI V8 SRT engine in the Dodge Durango Pursuit helps officers reach fast speeds with its 474 horsepower and 470 lb-ft of torque. The body and chassis for 2019 have been upgraded to give the new 2019 Durango Pursuit the segment's longest wheelbase of 119.8 inches and 8.1 inches of ground clearance. This not only improves the vehicle's stability but also solid handling for the driver. A bit of a facelift provided the Durango Pursuit with a new front fascia with inlets that run directly into brake-cooling ducts. This allows the vehicle to perform at a high level of performance, ensuring the calipers, brake pads and rotors will stay cool even under the most intense usage.
Able to maximize its performance, the Dodge Durango Pursuit can handle off road or high-speed pursuits that these vehicles may have to go on – the name is fitting. The Durango Pursuit will be able to hold its own when called upon because it has got the power and speed needed to help curb crime. The Dodge Durango Pursuit can accelerate from 0-60 mph in just 4.4 seconds and has a fast quarter-mile time of only 12.9 seconds. Not to mention, the vehicle boasts a best-in-class maximum towing capacity.
Additional Perks of the Pursuit
Law enforcement vehicle requirements are vastly different than what normal customers need. As such, some of the features the Durango Pursuit received are found in items like a heavy-duty oil cooler and water pump that maintain the temperature of the engine so it can handle the heavy demands that an officer might put on the vehicle. The load-leveling suspension system will help maximize handling, and the ParkSense features are expected to return to assist officers parking along with the ParkView backup camera.
"Dodge already leads the police pursuit sedan business with the proven Charger Pursuit, and we believe the 2019 Dodge Durango Pursuit SUV will expand our appeal to an even broader audience and take our game to the next level in terms of performance … The Durango gives law enforcement agencies even more of what they want: a more spacious interior room, a higher ride height, Hemi V-8 performance and efficiency." – FCA Head of Passenger Car Brands Steve Beahm.
With all the amenities needed to help law enforcement do their job, they will certainly be able to achieve more with the latest Dodge Durango Pursuit. Complete with the latest multi-displacement system (MDS) to help generate better fuel consumption, there's no debating the fact that the police who use the Dodge Durango Pursuit will be able to capture criminals with ease.
University Dodge Has the Dodge Durango
While customers can't purchase the Dodge Durango Pursuit, they can purchase a vehicle that carries the same powertrain and power found in the Pursuit. Our lineup of new 2018 Dodge Durango vehicles are here for you to test drive. From the moment you walk in, let our professional staff help with any buying, leasing, trade-ins or selling options you have. We have a great lineup of new and pre-owned vehicles as we're sure you'll find what you're looking for at University Dodge.
If your current vehicle needs maintenance or repairs, our service center is ready to help return your vehicle back to normal. Our doors are open even if you haven't bought with us. Just book a simple appointment so we can assist you with any oil changes, alignments, tire rotations, servicing brakes and much more! Stop by University Dodge today!
Photo credit: Dodge