A Look Under the Hood of the 2016 Dodge Challenger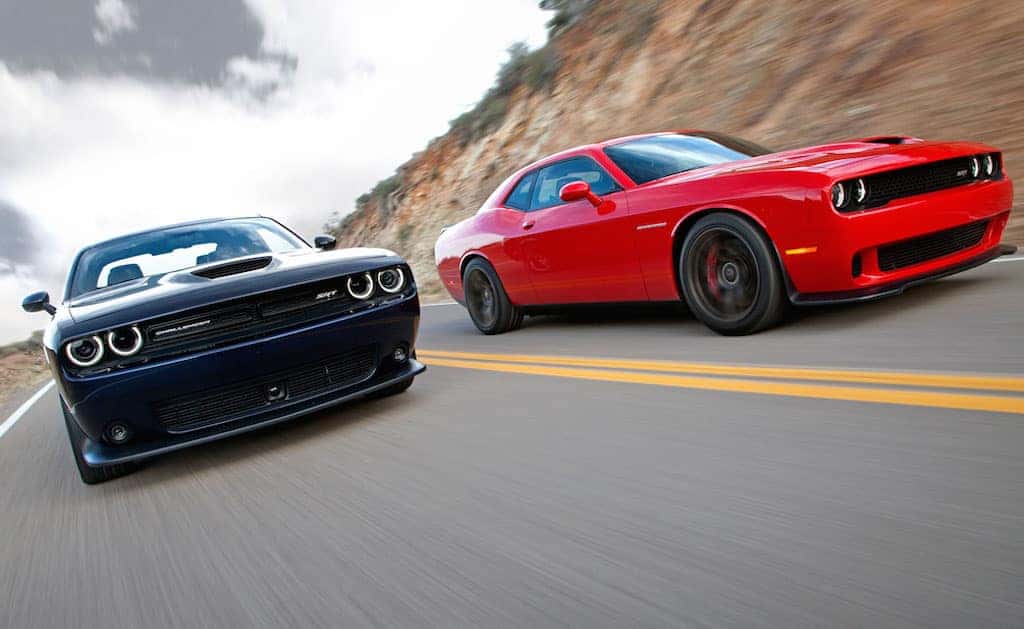 The 2016 Dodge Challenger sitting on the lot of your Dodge dealer in Miami has, just like every other Dodge vehicle, many different trim levels. Which means many changes between each one. It could be something as simple as an aesthetic change, or a brand new powertrain. Since we are talking about an iconic muscle car, the most important changes are the ones made under the hood. For the 2016 lineup, there are four different heart-pounding engines for whatever it is you want to get out of your Challenger.
It doesn't matter if you want to have some fun while spending less time at the gas station, or if you'd rather shatter the windows on your house when you leave the driveway; all of these engines will make sure you have a good time.
3.6-liter Pentastar V6 Engine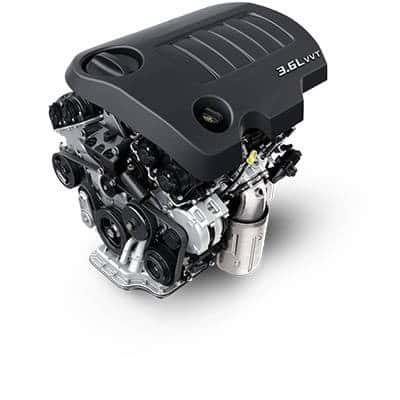 The 3.6-liter Pentastar V6 engine is the stock engine on the SXT and SXT Plus trim. This engine is focused on delivering the best fuel economy possible in the Challenger lineup, without skimping on horsepower and torque. This engine is set up in a compact and lightweight design, with dual overhead camshafts, high-flow intake and exhaust ports, variable valve timing, and an electronic throttle control with integrated speed control.
Along with its refined and fuel-oriented status of the group, this engine is also the most technologically advanced the Challenger has ever seen. Older Challengers used the standard mechanically-linked accelerator pedal and throttle, but now the engine is electronically "connected," so that when you step on the gas pedal you activate an accelerator pedal module, which converts the pressure you put on the pedal into an electric signal. Then, the signal is sent to an electronic control unit (which takes variables and any tweaks you've made into account) to open the throttle for optimum efficiency and performance.
The technology like the Electronic Throttle Control and compact/lightweight design is why this engine can still put out 305 horses and 268 lb-ft of torque, while getting 19 mpg city and 30 mpg highway. But, if you don't care about getting the best fuel economy in your muscle car, then keep reading because the next three engines are sure to please you.
5.7-liter HEMI V8 Engine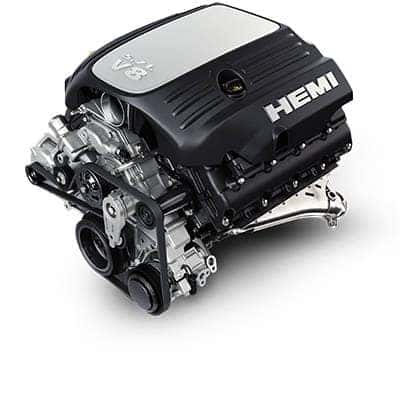 This engine makes an appearance on the R/T, R/T Plus, R/T Shaker, and R/T Plus Shaker trims. The beloved 5.7-liter HEMI V8 engine is the next step up if you want more horsepower and torque and this bad boy puts out 375 horsepower and 410 lb-ft of torque.
Not only does it get 70 more horsepower than the 3.5-liter engine, but it also features fuel saver technology when equipped with the eight-speed automatic transmission. What this technology does is automatically switch over to four-cylinder mode during cruising for greater efficiency, which means if you want to make your tires squeal, it's not going to interfere thanks to its ability to automatically activate and deactivate.
This fuel saving technology allows the 5.7-liter to get up to 15 mpg city and 25 mpg highway, which is about the same as your average truck. The only difference is your average truck doesn't look nearly as good putting out that kind of horsepower.
If this still isn't curbing your horsepower craving, then maybe you should bump up to the next engine.
6.4-liter HEMI V8 Engine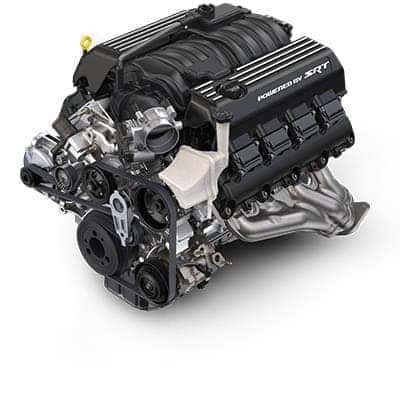 Okay, this is where it becomes borderline unnecessary to have an engine with this type of performance. The 6.4-liter HEMI V8 engine is a true powerhouse, and puts most other muscle (and performance) cars to shame. Makes sense, since this lands the 2016 Dodge Challenger a best-in-class rating of 485 horsepower and 475 lb-ft of torque. Let's do some quick comparisons to see how it blows all the other cars out of the water, shall we?
The 2016 Chevy Camaro SS has a 6.2-liter LT1 V8 engine that can only put out 455 horsepower and torque, which is 30 hp and and 20 torque less than the Challenger's engine. The 2016 Mustang? It can't even come close to touching the Challenger, and it's strongest 5.0-liter GT engine can only churn out 435 horsepower and 400 lb-ft of torque. The Challenger would pass this thing on the race track like it was parked, and then throw some pavement in it's face just for fun.
The 6.4-liter nabs the Challenger a 0-60 mph time in the low 4-second range, with a top speed of 182 mph. This engine comes standard on the 392 Hemi Scat Pack Shaker and SRT 392 trim. And if you still don't feel like this is enough power, you have one option left…
Supercharged 6.2-liter HEMI SRT Hellcat V8
The Supercharged 6.2-liter HEMI SRT Hellcat V8 is a true legend in the making. It has pole-vaulted the Challenger above and beyond the rest of the competition. This engine is available on the final and most powerful Challenger ever produced: the SRT Hellcat.
Not only is it completely unnecessary, but the name is terrifying. It sounds ready to hunt down all the other cars on the track in an unrelenting and merciless manner in order to wipe them off the face of the earth. While that might be a little melodramatic, it's not as far-fetched as you might think once you find out the horsepower.
This supercharged beast puts out 707 horsepower and 650 lb-ft of torque. No, that wasn't a typo. This engine actually puts out 707 horsepower, not only making the SRT Hellcat the most powerful Challenger ever produced, it also makes it the most powerful muscle car ever created.
The 0-60 mph time of this vehicle is off the charts. It hits 60 mph in just 3.6 seconds when equipped with an automatic transmission, and 3.9 seconds when paired to the six-speed manual. Not too mention, it's still equipped with fuel saving technology. Therefore, when paired with the automatic transmission, the SRT Hellcat is able to get 14 mpg city and 23 mpg highway, which isn't bad for an engine that churns out those types of numbers.
Transmission Options
Based on that last statement, it's also clear that the engine isn't the only important part under the hood when it comes to performance. The horsepower and torque play a huge role, but without the transmission, it would never reach the wheels.
Just like the engines, Dodge made sure their transmissions are just as technologically advanced. The TorqueFlite eight-speed automatic is a class-exclusive transmission and one of the reasons this Challenger is so good at tearing down the track. The paddle-shifting capabilities and sport mode provide precision performance, and the silky-smooth electronic shifts help with a seamless transition between gears promoting better performance and fuel economy.
If you want that old school feel, and don't mind sacrificing some performance, you can grab the optional TREMEC six-speed manual transmission. By "sacrificing performance," I mean losing 0.2 seconds on your track time, which is a negligible difference for those of us not looking to set records.
The Best of the Best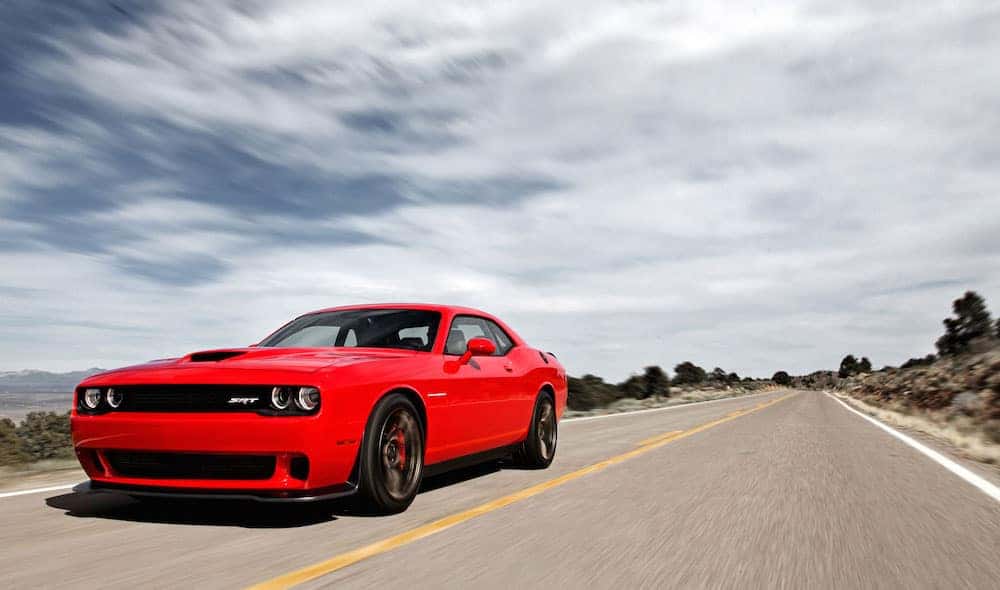 No matter what engine you choose, you can rest assured that you are getting the best of the best. Dodge's state-of-the-art performance enhancing technology is both setting new records in the muscle car world and even helping you spend less time at the gas station, which is what's nice about the modern world of muscle cars. In 2016, you have options.
Whether you want to drive around with the 3.6-liter Pentastar under the hood and enjoy the feeling of simply owning a muscle car or seek the earth-splitting performance with the Supercharged 6.2-liter Hellcat, it's all possible.