Mark A. Smith: Jeep Legacy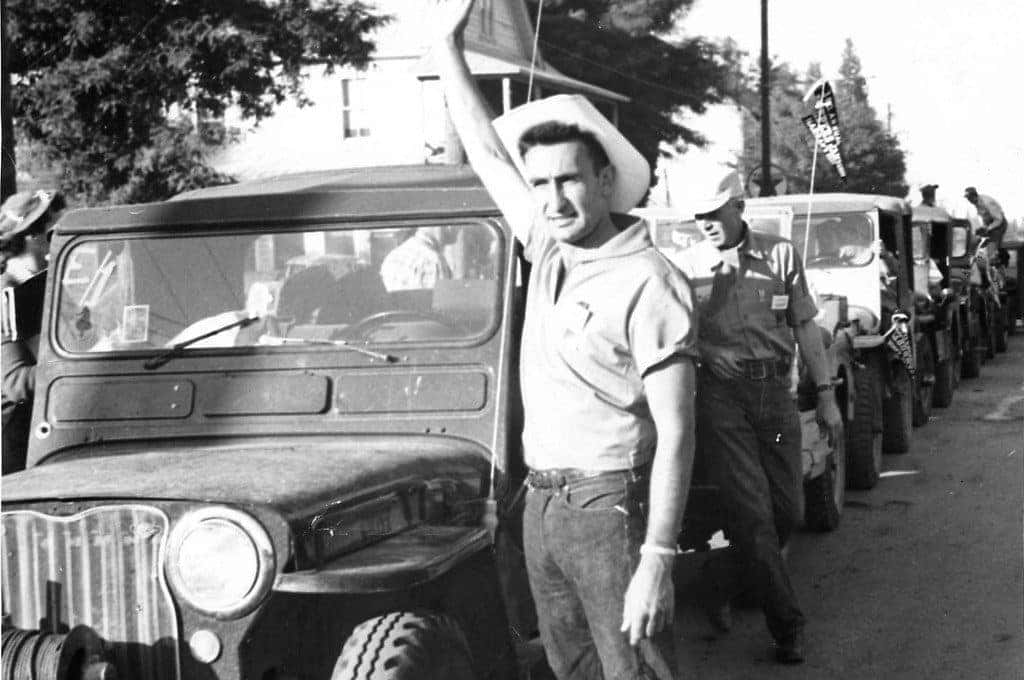 Photo credit: TruckTrend
A remarkable Jeep® lifer, Mark A. Smith, is remembered by Jeep as a towering figure who shaped the Jeep brand to what it is today. Mark passed away at 85 years old on June 9th, 2014, yet his legacy lives on through the very Jeep vehicles sold today. Mark's influence on the Jeep brand can be traced back to the early 1950's, when he and only 154 people became the first to start the Jeep Jamboree. Eventually that same Jeep Jamboree event would grow from the 55 Jeep vehicles in the inaugural one to thousands of Jeepers that come with their Jeep vehicles to various Jeep Jamborees that go on world wide.

A former United States Marine during World War II, Mark helped Jeep refine the 4×4 vehicle and became a legendary four-wheel driver. He led many Jeep lead excursions, even well into his advanced age as he loved being outdoors, traveling to many countries and teaching others about how to use their Jeep. Mark was so tied to the brand, he even had a dog named "Jeep".  Along the way, Mark was able to travel to over 100 countries and every continent except Antarctica. Mark's influence earned him the nickname "Jeepmaster", which he was happy to hold and took very seriously. He famously led a six-month expedition that went from Ushuaia, Argentina to Prudhoe Bay, Alaska and across the Darien Gap.
As one of the first drivers to go on the Rubicon Trail, Jeep fans from all over the world have learned about Mark's adventures and what capabilities were possible with a Jeep vehicle. By 1983, Mark was officially hosting and training each year at Jeep Jamboree USA. He would help guide Jeepers through Canada, Australia, Europe and Mexico at various Jeep Jamboree events held around the world. Time passed by and he became known as "The Father of Jeeping" and would reveal he even got a tattoo of the word "Jeep" on himself. Few people could claim to loving the Jeep brand more than Mark A. Smith and his decades of showcasing what his famous Jeep Wrangler vehicles could do over the years cemented his legacy.
Today, Mark is revered still and Jeep has a dedicated page to remember him and what he did for the Jeep brand. He said he loved to go on Jamborees to build lasting friendships and experience the power of exploration that no other vehicle but Jeep could offer him.
Visit his dedicated page and learn more about the man, the Jeep legend, the "Father of Jeeping"  himself. A 2015 Jeep Wrangler Rubicon was made in his honor, dubbed the Mark A. Smith edition, and was presented to the El Dorado County Sheriff's Office to assist in the patrol and maintenance of the Rubicon Trail
What Makes Jeep Vehicles So Remarkable
Jeep is a brand that has loyal followers all over the world because of the prestige and passion people like Mark A. Smith put into the brand. With top of the line off-road vehicles that have continued to raise their ability to go almost anywhere, we hope you find your Jeep vehicle with us. Let us take care of your buying, selling, trade-in or leasing needs at Kendall Dodge Chrysler Jeep Ram.
We have a great sales team made up of professionals that want to show off our incredible new Jeep lineup. Trust us, we love test driving these remarkable vehicles and taking them for a spin as much as Mark A. Smith and we honor his legacy to this day. Stop by to experience what people like Mark learned decades go; nothing is as fun or exciting to drive than a Jeep vehicle.