Memories from the Walter P. Chrysler Museum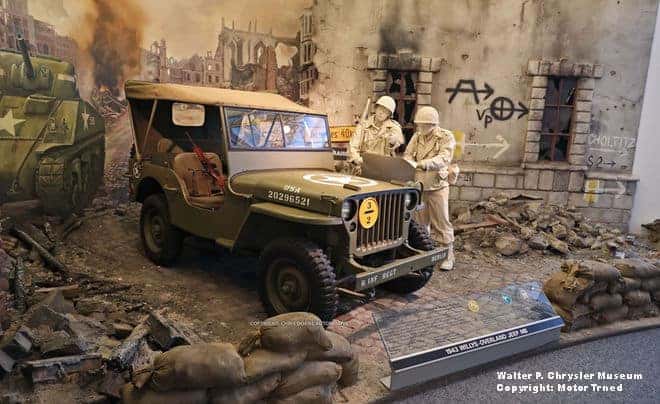 With all of the heritage models Dodge has been releasing lately, we have been spending a lot of time thinking about classic models, and that brought up the Walter P. Chrysler Museum. In addition to Chrysler models, the museum houses some of the rarest, most unique, Dodge, Jeep and Ram models as well.
Unfortunately, after re-opening for a few months in 2016, the museum permanently closed at the end of 2016. While we may not be able to see the awesome classic models that used to be on display there, we can still talk about them. Here are a couple of our favorites.
1948 Chrysler Town & Country Convertible
The Chrysler Town & Country wasn't always a minivan. The 1948 Town & Country was available as a four-door sedan or a two-door convertible and the Chrysler museum housed a convertible model. Like many of the other models produced that year, model on display had all the classic bodystyle features like an elongated body style, round headlights, and wood panels, which is why it was known as a "woody" back then.
Dodge Shelby Charger
The Dodge Shelby Charger was a true performance vehicle built off the front-wheel drive Charger platform. Yes, Shelby, the same automotive performance part manufacturer known for the Shelby Mustang. The engine was a turbocharged 2.2-liter I-4 engine with a revised performance suspension and transmission. To add even more performance, the Shelby Charger ran on Shelby wheels wrapped in high-performance tires.
1955 Chrysler C-300
The 1955 C-300 was a Chrysler unlike any other. It is similar to today's Chrysler 300 in the way that it is a large sedan, but different in the way that it was intended for NASCAR and super FAST. The engine in the 1955 C-300 was a 331-cubic inch FirePower HEMI V8 that produced 330 horsepower. Basically, it looked like a street car, but drove like a race car. Very unique for the mid 50s!
We may not have any of these unique classics, but we do have plenty of FCA (Fiat Chrysler automobiles) to choose from at Kendall Dodge Chrysler Jeep Ram, check out our lineup here.