Moab Easter Jeep Safari Returning In 2021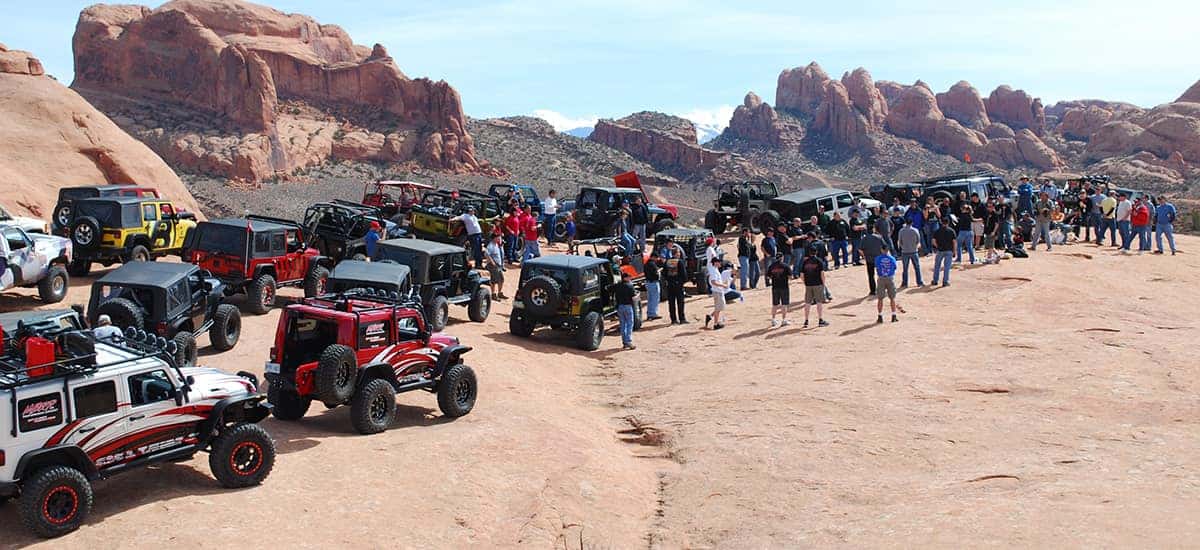 Jeep fanatics, aka Jeepers, can rejoice because lots of good news has come out to start February 2021. So far this year, 2021 has already felt vastly different and one thing that was missing last year is set to return this year. The famed and highly celebrated Moab Easter Jeep Safari is going to return. After the many cancelations that took place due to the COVID-19 pandemic, this year's event, which was originally planned but then canceled, has now been brought back for Jeepers to enjoy. The event hosted every year in Moab, Utah brings thousands of Jeep vehicles and enthusiasts to go on unique trails that showcase the best of the Jeep brand's ability to go off-road and explore. 
What Is the Moab Easter Safari Event?
The largest off-road adventure awaiting Jeepers everywhere! The event usually takes place over a week with various events, raffles, bits of entertainment, and lots of modified Jeep vehicles showing off in the town of Moab. Jeep owners will be happy to make the trek from all over the country and world for this event after not having the chance last year. Jeep Jamborees, as they are known, take place in many states around the United States each year, but by far the most celebrated and populated is the main Jeep Jamboree in Moab. While the Jeep Jamboree events have only taken place for 22 years, the Moab Easter Safari has been around over twice that length. 
Who Hosts This Event?
The event is hosted by Red Rock Four Wheelers and the Moab Chamber of Commerce that works closely to promote the event. Jeep is also involved after years of not having a hand in the event, they have in more recent times sent over their Jeep concepts for Jeepers to view. The Moab Easter Jeep Safari offers attractions and the town of Moab has year-round activities, but not only for the local economy, but the population at large and around the world loves this event.
Events of the Eastern Jeep Safari
What's not to love about new courses on off-road desert terrain? Exploring the capabilities of these iconic Jeep vehicles including the new 2021 Jeep Wrangler and the new 2021 Jeep Gladiator mid-size pickup are all Jeepers want. The tradition dates back 54 years ago with only one year (2020) that didn't see the thousands pour into the small Utah town for its event. Those who come are hoping to explore steep hills and obstacles that require experienced drivers, the occasional rope connected to the bumper, and expert guides. Hoping to avoid any flip overs or anything dangerous, the population that returns to Moab every year aim to make a difference for Jeep owners, both new or experienced. 
When Is the Moab Easter Jeep Safari Taking Place?
We look forward to seeing all the future Jeep concepts that debut and the many modified Jeep vehicles that will come into Moab, Utah later this year. The official date is not set, but the event usually takes place a couple of months before summer begins, in the heart of the spring each year. Looking for a Jeep vehicle to take to this event or any other Jeep events? We know where our readers can find the right vehicle!
Drive Home the Freshest Jeep Vehicles With Our Help
We're ready to assist our customers in many ways, including going out for a test-drive with one of our vehicles from our wide new vehicle inventory. Go through our entire brand new Jeep vehicles to find more choices. Whether you're in Doral, Kendall, North Miami, Homestead, we're happy to help our South Florida and local Miami customers. We're professional and here to assist our customers with all buying, leasing, or trade-in offers. 
Don't wait any longer for that oil change, brake repair, tire service, and more! Come to us so we can get started. Just make a simple online service appointment and visit our service center. We hope to see you soon at Kendall Dodge Chrysler Jeep Ram!