New 2019 Dodge Charger Debuts At SEMA Show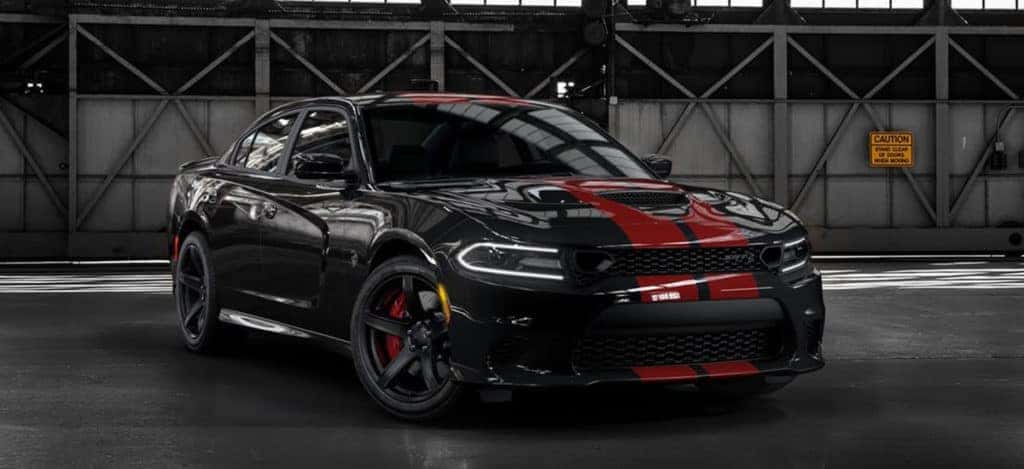 Photo credit: Dodge
Dodge has revamped their Dodge Charger SRT Hellcat for the 2019 edition, complete with striking new twin blue race stripes. The latest news comes during SEMA week in Las Vegas.
The latest addition to the 2019 Dodge four-door muscle car includes all-new racing stripes and the most cutting edge in automotive technology, first introduced with the 2018 Dodge Challenger SRT Demon. New exterior aesthetic options on the SRT Hellcat and R/T models help this Dodge muscle car stand out like never before.
"The Dodge Charger continues its run as the sales leader in the large car segment for the fifth year in a row. And as the aftermarket customization business continues to balloon, these new stripe options give Charger buyers the opportunity to make what is already the only four-door muscle car in the market even more unique, and to do it straight from the factory," said Steve Beahm, head of passenger cars at FCA North America.
Each year, many vendors and automotive companies introduce the latest concepts, vehicles and special edition vehicles at the SEMA Show. Dodge is joining the party with three new Charger SRT Hellcat models, each with three unique dual-center stripe colors: Blue, Red, and Silver. These racing stripes go from the front and rear fascias, over the roof and deck lid, and are made to work with the Charger's signature NACA duct-hood vent. Those new Hellcat stripes aren't the only stripes offered, as the R/T and R/T Scat Pack are also getting stripes that were previously available solely for other trim models. For the first time ever, the Dual-Carbon stripes will be an addition for non-supercharged Charger trims for just $995. (That is the same price point for the Hellcat stripes).
As for the latest tech upgrades for higher-end Charger trims? Line-lock and launch assist were first introduced in the special SRT Demon, designed to help launch drivers on a drag strip, were both added. With new dual air inlets that mirror those on the SRT Demon, torque reserve and the patent after-run chiller have also been added to the new 2019 Dodge Charger Hellcat. The R/T and R/T Scat Pack will also gain launch control as well. The entry Charger lineup just became that much better to own and drive with all these upgrades.
Introducing the Hellephant Crate!
Mopar, which is owned by Fiat Chrysler Automobiles, has just announced the introduction of a special 426 HEMI engine. This "Hellephant" 426 Supercharged Crate HEMI crate box is a game changer. Included with the crate is Hellephant engine, providing the strength of 1000 horsepower and 950 lb-ft of torque engine. The engine will has increased in size from 6.2 to 7.0 liters, and for those who love to built and work on vehicles, it will never be easier than using the Hellephant crate's "Front End Accessory Drive" kit that allows the engine to be inserted into any pre-1976 Dodge muscle car. The crate includes an alternator, power steering pump and all the belts and pulleys needed to get the job done. This is one of Mopar's finest creations, and we're excited to see all the upcoming changes that will be added to the Dodge Charger lineup. Check out the latest Dodge vehicles at a Dodge dealership today.
Find All New Dodge Vehicles Right Now
At Kendall Dodge Chrysler Jeep Ram, we want to take care of our customers. Check out our entire lineup of new Dodge Challengers, like the 2018 Dodge Challenger SRT Hellcat. From sales to repairs, we're here to help! If you're wondering if you should buy or lease, let us help you make the right decision. From trade-ins to selling, we're ready to provide a solution for all our customers. We want to make sure your next trip up north is something special!
Let our professional service team handles repairs and regular maintenance daily. We hope to get your vehicle back into tip-top shape. With a simple service appointment, we can get started on making you a happy customer. We look forward to seeing you today!