New Muscle: 2 New Dodge Challengers and a Barracuda?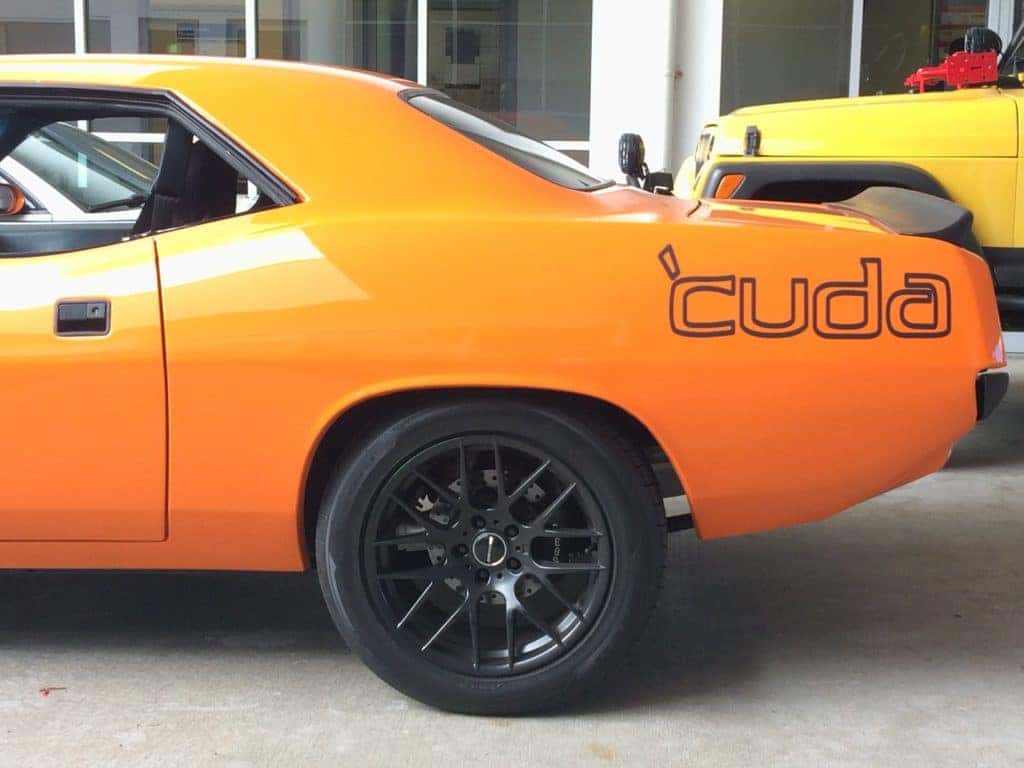 As 2017 approaches, there's a lot of exciting news brewing about Dodge's muscle car lineup. So far we know that there will be four all-new Challenger models, but many online sources are speculating that Dodge will revive the beloved Barracuda. So far, everything that has been reported about a new Barracuda is unconfirmed, but here is what we know about the new Challenger models and what sources are saying about the Barracuda.
Two (More) Challenger Models in 2017
So we already know about the revival of the Dodge Challenger T/A (in case you don't, you can read up on the new Challenger T/A models here), but Dodge is also introducing two new killer Challenger models in 2017 — a Challenger ADR and Challenger GT AWD.
Dodge is taking the daring Challenger SRT Hellcat to the next level with a new widebody model, the Challenger ADR. The wider body will give the powerful Challenger SRT Hellcat wider tires that will help it grip the road better and will make it look even more aggressive.
Then there is the Challenger GT AWD, which was originally a concept model seen in 2015. The new model is the first all-wheel drive Challenger option. Unlike the Challenger's kin, the Charger, which was available with an all-wheel drive powertrain a few years ago, an all-wheel drive option has never been available on the Challenger lineup before. The all-wheel drive Challenger is expected to further improve the Challenger's performance, which is a muscle car lovers dream.
A New Barracuda?
So what's this about a Dodge Barracuda? Well, the Plymouth Barracuda was a popular two-door muscle car that was produced from 1964 to 1974 and rumors are saying it might make a comeback on the Dodge lineup in 2017 or 2018.
If it does become a reality, the new Barracuda wouldn't be a replica of the classic models, but it would be a modern muscle car that channels the car's original roots. From drawings shown on various auto sites, the new Barracuda model has several exterior classic elements, like an aggressive look, an open front grille and four exhaust pipes, but they've been altered to fit modern day regulations and performance expectations.It's likely a new Barracuda's height and length would be trimmed down to create a lighter vehicle to enhance its fuel efficiency and performance.
Of course the interior will be modern look with up-to-date technology features. Metal accents, smooth fabric cloth (with a leather upgrade most likely available), a chrome gear handle as well as handbrakes are likely, and will add to the cabin style. Some of the known technology interior features in the brand new Barracuda include an accessible and advanced dash with a four-inch display screen touch screen that has navigation, SirusXM, a rear-view camera and more.
There is also a lot of talk about the Barracuda's engine options. Some say the Barracuda's base engine will be a 425-horsepower 6.0-liter V8 engine paired to a five-speed manual transmission — wow! There are also rumors that it could be available with the SRT Hellcat engine or the Penstar engine as other options. One thing is for sure, if Dodge does revamp the Barracuda, they will make sure it maintains the Barracuda's classic reputation as a fast and powerful muscle car.
Keep a look out for the 2017 Dodge vehicles mentioned above, as well as the other new models like the Dodge Charger Daytona and Dodge Challenger T/A coming soon to Kendall Dodge Chrysler Jeep Ram. If you can't wait and want a new Dodge now we have you covered, check out our Kendall Dodge Chrysler Jeep Ram inventory here.