Newest Hellcat Becomes Shaq's Third Dodge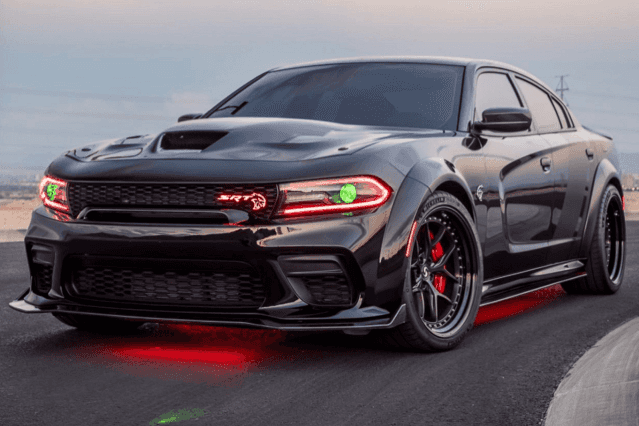 Shaquille O'Neal, the world famous Hall of Fame and four-time NBA champion has added his third Dodge vehicle to his growing Dodge collection. The former Miami Heat All-Star revealed his new Dodge complete with a black finish with bold red accents. Shaq's custom 2023 Dodge Charger commands attention on the road. Notable features include eye-popping red LED daytime running lights, red undercarriage lights, an illuminated SRT badge, and red brake calipers. For additional kazam, the muscle headlights even show off green lights that project sharp graphics on the ground.
Muscle Fuel For the Diesel Himself
Shaq is known for many reasons, but basketball is his claim to fame aside from his massive 7'1" frame. NBA His most well-known basketball jersey number, #34, is squarely placed on the hood. A nod to the number he wore during his time as a Los Angeles Lakers. The new Dodge Charger contains a distinctive diffuser, also produced in black, and a Shaq face meme, his face after having spicy wings on First We Feast's Hot Ones, a widely viewed YouTube channel. The ride looks fantastic, as every Dodge muscle car is.
Two-Hand Jam In the Form of the Hellcat Redeye
Many owners of the 2023 Dodge Charger SRT Hellcat Redeye Widebody can attest to the awesome power provided packs a supercharged 6.2-Liter V8 powertrain, which our readers know full-well offers 797 horsepower and 707 lb-ft of torque in its Redeye Widebody build. Rumors have come that Shaq's ride might even be the Jailbreak model, which boosts the power to a fierce 807 horsepower. (That's something we can't confirm however.)
Shaq Enjoying What Will Change Soon
More and more automakers have moved their focus toward EVs. Even the Dodge brand will upgrade their muscle car for the next generation that is coming closer to launching in 2024. Dodge is preparing for restore their promise from years back to offer an electric variety for their customers. 2023 will answer a lot of questions posed this year in 2022. Our readers should know the coming changes to the Dodge brand. Fully aware that the days of large V8 powertrains are coming to an end, Shaq made sure to get one while he still could as these Dodge vehicles will be collector's items. The way the gas pedal presses down and the feeling of driving a gasoline powered Dodge muscle car is going to change for the first time ever within the next couple years. Now is the time to buy Dodge!
We look ahead to making a remarkable customer experience that will stay on the forefront of the mind when thinking about any vehicle we provide. Allow us to make this summer a special one when coming into Kendall Dodge Chrysler Jeep Ram for any automotive needs from buying, leasing, and selling a vehicle to having maintenance work to keep any ride running smooth. We've let our readers know this before, but learn more after a stop at Kendall Dodge Chrysler Jeep Ram.
Drive Home the Current Dodge Vehicles Before They Are Gone
Want to save huge on a new Dodge Challenger? We're here to assist our customers in many ways, including going out for a test-drive with one of our vehicles from our wide new vehicle inventory. Whether you're in Doral, Kendall, North Miami, Homestead, we're happy to help our South Florida and local Miami customers. We're professional and here to assist our customers with all buying, leasing, or trade-in offers.
We have a whole bunch for others to choose from. We can also help our customers out with any auto financing support they might need as well. Don't forget we have a trained service team that can help with an online appointment to get started on all maintenance work and repairs. We look forward to being your center for all things automotive this summer!