Organizational Car Tips for Parents On-The-Go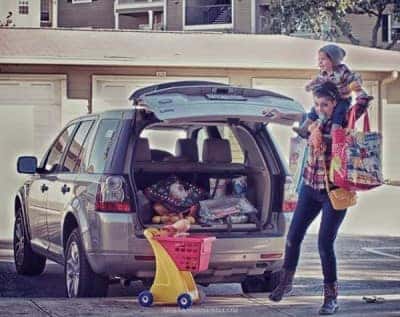 From soccer games to a day spent on the road, it's no secret that being a parent can come with its fair share of challenges when it comes to transportation. Aside from keeping your vehicle clean (or at least trying), life can get a lot easier by keeping the right tools on hand, and fortunately there are so many tips and tricks available to keep your "headquarters on wheels," a clean and happy place.
Create your own emergency kit
Just about anything can happen when parents are on the road. So it's essential to have the necessary resources for those unexpected events. Always stick to the basics –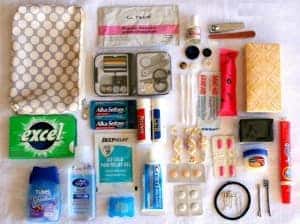 band aids, pain relief medicine, toothbrush/toothpaste, gum and a stain remover pen. The beauty of an emergency kit is the ability to make it your own according to your lifestyle.
Car Trash Can
Another useful tip to keep your vehicle nice and tidy – a mobile trash can. Parents can find one of these almost anywhere or make one of their own! These are awesome, well for obvious reasons but aside from being a trash can, there's a compartment on the side for beverages and a tissue box holder underneath. It's perfect and simply hangs behind the driver and/or passenger seats.
For those parents who would rather make one of their own – simply use a flexible little bag with handles and just hang it behind the driver and/or passenger seat.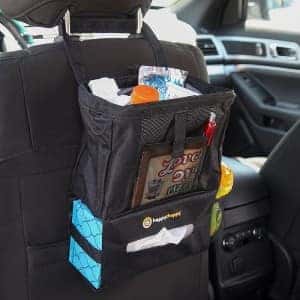 You can find the one pictured above here.
Survival Travel Bags
These are great and basically the perfect example of organization at its finest. From travel games to a variety of snacks – simplify your life with these grab-n-go bags and keep those kiddos happy. Similar to the emergency kit, parents also have the ability to personalize these to fit their lifestyle and their child's as well. Just remember, don't pack anything that will melt (crayons) on hot summer days. Also remember to rotate any snacks so they don't get old and stale.
Let's take things a step further…
Ok, so you have the travel bags and you're ready to take on the open road, but what if your vehicle doesn't have any useful storage compartments to store them in?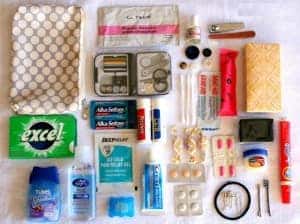 This is basically everything we mentioned before – put into one. These car organizers are perfect for those long road trips or daily use. Parent's can store just about anything and are within arms reach for the kids. But wait there's more! These back seat organizers come in a bunch of variations and most have places for iPads/Tablets for added entertainment.
Find one that fits your lifestyle here.
At Kendall Dodge Chrysler Jeep Ram, we have a variety of new and used vehicles that offer parents endless amounts of conveniences while staying within an economic budget. Also, visit our website for all available Dodge, Chrysler, Jeep, and Ram 2018 inventory. We look forward to hearing from you!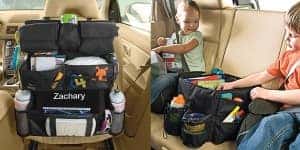 Photocred: today.com, echoesoflaughter.com, amazon.com, simplyorganized.me