Purple Craze in the 2016 Dodge Challenger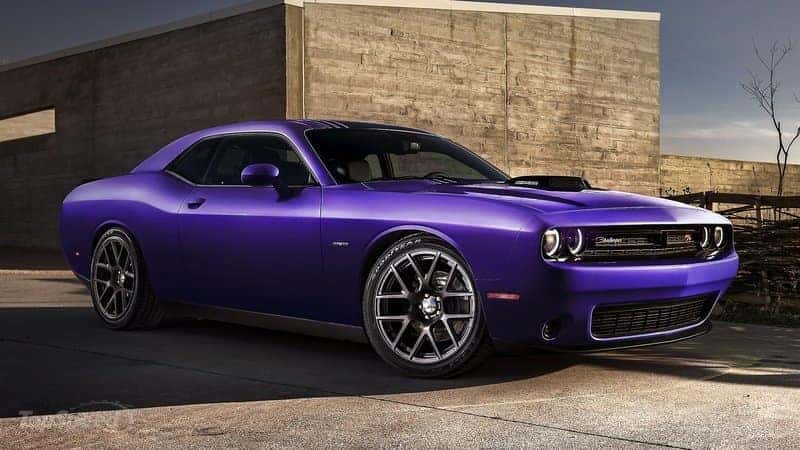 Yeah, I know it's Purple Haze, but with the new Plum Crazy exterior color available on this year's upcoming 2016 Dodge Challenger, it's hard to deny a pun.
Take a peek at what the future has in store for the 2016 Dodge Challenger…
What's Shaking in the 2016 Dodge Challenger? 
New features, in addition to the Plum Crazy hue, include a new Blacktop Appearance group, as well as a revised Uconnect infotainment suite, featuring Siri Eyes Free, an accessible drag-and-drop menu, and a do not disturb function.
While Dodge clearly wanted to stay up to date and cutting edge, Challenger enthusiasts will appreciate styling details reminiscent of its 1971 vintage predecessor. For example, take a look at the split grille featuring projector headlamps, wrapped by LED lighting.
In addition to the new Plum Crazy, Dodge extended its throwback nod by offering "old-school" shades like Sublime Green and B5 Blue.
However, expect a fully updated and contemporary interior, as Dodge made a serious effort to modernize the cabin with current technologies like a customizable seven-inch Thin Film Transistor (TFT) display, along with an optional 8.4-inch infotainment touchscreen.
Those familiar with the Dodge Challenger lineup won't be surprised by the available ten trim levels, represented by the SXT, SXT Plus, R/T, R/T Plus, R/T Shaker, R/T Plus Shaker, R/T Scat Pack, 392 HEMI Scat Pack Shaker, SRT 392, and finally, the fearsome SRT Hellcat.
Don't expect any two Challengers to look alike, given all the customization options Dodge offers, including fourteen interiors, twelve wheel variations, and all the additional stand-alone bells and whistles, exterior colors, and interior upgrades.
Entry-level power is provided by the 3.6-liter V6 engine, rated at 305 horsepower while the 5.7-liter Hemi V8 gets 375 horsepower and 410 lb.-ft. of torque. Continuing up the line, check out the 6.4-liter Hemi V8 engine, which is able to produce 485 horsepower and 475 lb.-ft. of torque.
But, the tip-top trim offers the most power – a whopping 707 horses and 650 lb.-ft. of torque from the 6.2-liter V8 Hellcat. So equipped, the 2016 Dodge Challenger Hellcat presents the most power from the entire muscle car segment, not to mention the most power from the American automotive scene to date.
Operation on all engines comes from either an eight-speed automatic transmission while the V8 engines can be matched to a six-speed manual. All Challenger models are rear-wheel drive setups.
Fuel economy is never something to write home about when we're reviewing performance cars; however, the 2016 Dodge Challenger returns better efficiency numbers that one might usually expect.
From the V6 engine, as seen in this year's Challenger SXT, expect EPA estimates of 19 mpg city, 30 mpg highway, with 23 mpg combined. Challenge R/T configurations, equipped with the 5.7-liter Hemi V8 return 15/23/18 mpg from the manual, or 16/25/19 mpg from the eight-speed automatic setup.
When you move up to the SRT 392 and R/T Scat Pack, expect 14/23/17 mpg from the 6.4-liter Hemi V8 when paired to the manual transmission, and 15/25/18 from the automatic.
Now the Hellcat comes in at 13/21/16 mpg from the manual and 13/22/16 mpg from the automatic. But, let's face it, if you opt for the Hellcat, you've got bigger priorities than fuel efficiency.
Pricing on the upcoming 2016 Dodge Challenger starts at the base MSRP of $26,995 and runs (sprints more like) all the way upwards of 65,490.
Hey, great power comes at a price…But when it comes time to "Grab Life," you can't put a price on the exhilaration behind the wheel of a 2016 Dodge Challenger.Purple Craze in the 2016 Dodge Challenger