Ram 1500 Might Receive the Special Edition Big Horn Low Down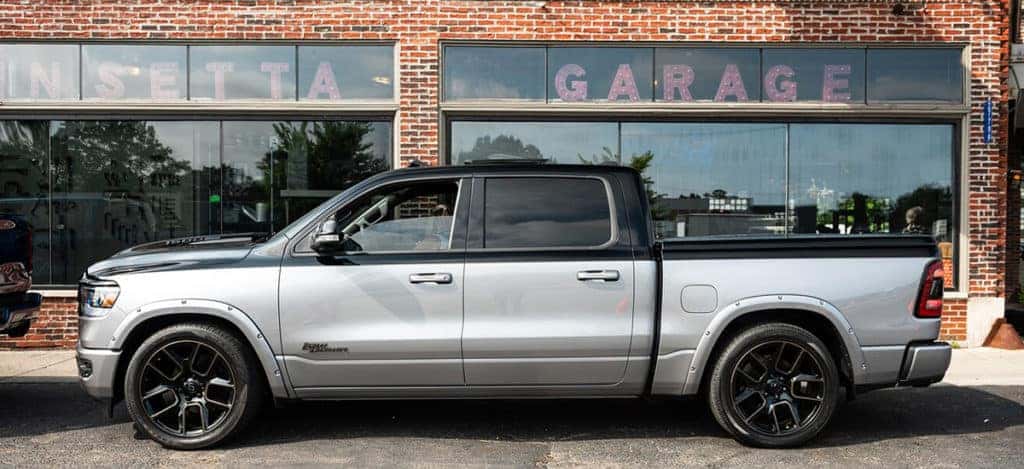 Photo credit: Ram
Might Fiat Chrysler Automobiles (FCA) start a new trend among pickups? "Dropped" pickup trucks might be all the rage if FCA can make it happen. A dropped pickup is a truck that is lowered and closer to the ground rather than the traditional ground clearance. The Mopar team that has been a cornerstone to making accessories that customers love has a knack for lifting and dropping vehicles as well. They have now lowered the truck bed a full two inches in the 2018 Ram 1500 Big Horn, a concept that was first shown at the 2018 SEMA (Specialty Equipment Market Association) show, has been measured for over a year by FCA. The positive feedback received over that span has led to a potential future entry spot for customers in the Mopar catalog. 
The Low Down Concept
So, where did the Low Down concept come from and does FCA and Ram like it enough? Mopar Brand Accessories Manager, Cheryl Woodworth, has witnessed fans reactions to the Low Down concept. She how positive the response has been and enough fanfare leads to making moves. The most recent appearance was in Detroit at the Woodward Dream Cruise event in August 2019. As far as becoming a productive vehicle and moving from a concept vehicle, Ram might make it happen. The 2019 Ram 1500 is the perfect fit and might offer an opportunity to make something customers excited. The Ram Classic could be an option as well. The appearance of the Big Horn Low Down is noticeable thanks to its a silver-and-black body color. The custom paint is known as a "Brassphault" color palette with the upper half of the pickup in Gloss Black and the lower half is Bright Silver. Thin Brass Monkey-colored strip wraps around the pickup and makes the look quite unique. This concept was referred to as an "exercise" by Mopar to put together.
Exclusive Ram Big Horn Perks
Fitted with a 5.7-Liter HEMI V8 engine that has the Ram Airflow cold-air intake system that is stout and powerful. The exterior features aside from the 2-inch lowering kit and 22-inch alloy wheels are unique 5-inch chrome exhaust tips. Special black Low Down badging is added to the front doors of the truck and a one-piece Mopar hard tonneau cover in a sleek looking Gloss Black. Overall, this is the mid-tier trim that Ram owners would feel good about choosing. Of course, owners might want to wait for the upcoming 2020 Ram 1500 EcoDiesel that will arrive before too long. For those looking to drive the newest pickup trucks, come to the place that has a large variety: Kendall Dodge Chrysler Jeep Ram.
Find the Ram You Want With Us
The latest Ram vehicles are here at Kendall Dodge Chrysler Jeep Ram. We have the new 2020 Ram 1500 ready to go for customers. Our inventory also includes over new 250 Ram trucks and a fantastic selection of pre-owned Ram pickups. Rush over to test-drive one and we can assist with any buying, selling, leasing and trade-in offers. 
Experiencing issues or any maintenance needs with your current vehicle? We will help you get back on the road quickly. Allow our experienced service staff to assist with a simple service appointment. Our friendly service team will help your vehicle problems be resolved in a timely fashion. We hope you visit us today at Kendall Dodge Chrysler Jeep Ram!