Ram 1500 Tailgate Is Ahead of the Curve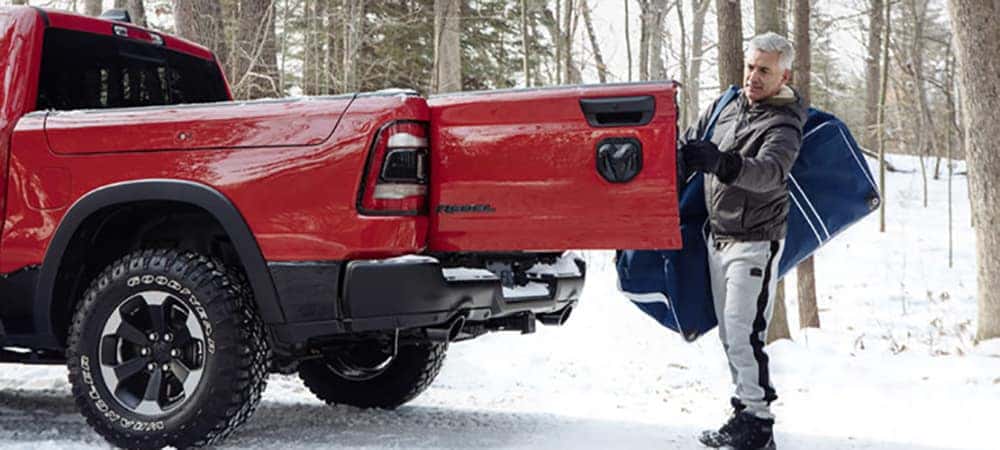 Photo credit: Ram
Tailgates are becoming more and more a topic of conversation and a feature that is not overlooked by consumers. Ram has known this and taken steps to ensure they are ahead of their competition. Since other brands have tried to reinvent the wheel, Ram flipped the idea on its head and went a step further. With the 2019 Ram pickups, there are many uses for the tailgate. Allow us to explain even further exactly what puts Ram ahead of the curve.
More Innovation Than Ever
From being able to use the kick-down step ladder to allow the tailgate to open 60/40, with the ability to open on either side, the latest Ram pickup has more innovation and flexibility than ever before.  Known as a Multifunction Tailgate, the latest Ram pickup, the all-new Ram 1500, has taken the pickup world by storm. Collecting brownie points for its revamped interior, fans are in love with the massive 12-inch touchscreen that is available for owners and it's well thought out design that has never looked better. 
A remote-release tailgate that has a fully dampened drop-down feature makes hauling and carrying items out of the pickup easier and more functional. Four configurations allow for owners to work in several ways to provide the best way to work around the truck bed. The standard open flat is still available, but having the ability to put either side down is functionality that sets Ram apart.
The best part? The Multifunction Tailgate has a load rating of 2,000 pounds! That's quite a huge amount for owners to embrace and use. The truck has an overall load capacity of 2,300 pounds and the cost to have this fully functional tailgate is just $995. The optional retractable drop-down step is $295. The current 2019 Ram 1500 does not have this feature yet, but in the second quarter of 2019, every 2019 Ram 1500 will have the option to carry this great feature. Owners will be able to work smarter and more effectively thanks to the innovation coming from Fiat Chrysler Automobiles (FCA) and Ram. So, thinking about driving one soon? We know the place to test one out today.
The Newest Ram Pickups Ready At Kendall
If you've wanted to drive a new Ram truck, we've got plenty to showcase our customers today, including the all-new 2019 Ram 1500, at Kendall Dodge Chrysler Jeep Ram. We are your superstore for all buying, leasing and selling needs.
Look no further than our professional team to drive new Ram trucks. Should you need any servicing, repairing or maintenance we can help you get your vehicle up and running like new with a service appointment and a visit to our service center today!