Ram 2500 and 3500 Power Wagon Debut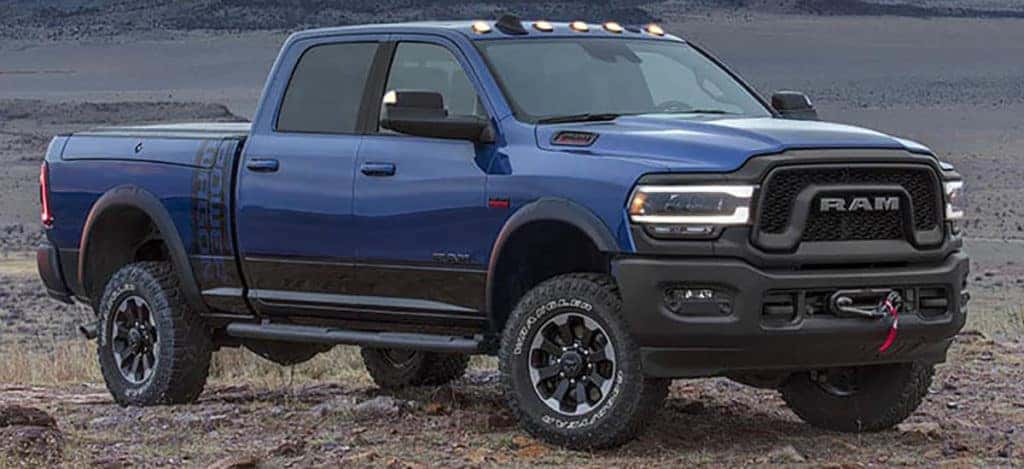 Photo credit: Ram
Ram is ready to have the public take home their latest heavy-duty trucks in their 2019 Heavy-Duty lineup. The 2019 Ram Heavy Duty 2500, 3500 and 2500 Power Wagon are the latest examples of the redefined strength and special engineering that embodies the heavy-duty Ram pickups. Lots of upgrades were added to these all-new off-road powerhouses. Let's share all the details and what customers can expect regarding these three phenomenal vehicles.
2019 Ram Power Wagon
A brand new interior and exterior look are noticeable for the 2019 Ram Power Wagon. New LED headlights and taillights have been added, along with a new Warn Zeon-12 winch that has a 12,000 pound capability. The Uconnect infotainment system has been upgraded with a new 360-degree camera to help maneuver and park. The Power Wagon has refreshed its interior to include a rotary shift knob instead of the column-mounted shifter. The 8.4-inch touchscreen comes standard and supports Apple CarPlay and Android Auto capabilities. The large 12-inch touchscreen is available for the Heavy Duty models to enjoy and be amazed with.
"The Ram Heavy Duty line can move mountains and climb them, but customers will truly appreciate the comfort and competence our engineers have established through real-world tuning of the chassis and suspension. We not only set out to be the most capable. We also instill best-in-class confidence," said Rob Wichman, head of Ram Engineering.
The 2019 2500 Ram Power Wagon includes the 6.4-Liter HEMI V8 with 410 horsepower and 429 lb-ft of torque. This beast of an engine is paired with an eight-speed automatic transmission with a lockable front and rear differential, allowing drivers to embrace the off-road and enjoy taking on roads less traveled. Decked out on the tailgate the words "Power Wagon" exist and any person who drives one will know why Ram has the toughest vehicles in the heavy-duty segment.
Ram Heavy Duty 2500 and 3500
Drivers who wanted to have the same interior that debuted in the 2019 Ram 1500 will be happy. Ram made a wise choice using the 2019 Ram 1500 cabin as a basis for creating the interior of the all-new 2019 Ram Heavy-Duty 2500 and 3500, extract the Ram 1500 look. Ram sold over 700,000 Heavy Duty pickups in 2018, as those numbers are expected to rise with the latest Ram Heavy Duty trucks. More capable and safer with even better comfort inside will help customers enjoy all the perks and luxuries afforded with these all-new Heavy Duty pickups.
The 2019 Heavy Duty 2500 carries a 6.7-Liter inline-six that provides 370 horsepower and 870 lb-ft of torque. With greater capabilities, owners will enjoy the 3500 Heavy Duty more than ever before. How did Ram manage that? The 2019 Heavy Duty 3500 offers a Cummins Turbo Diesel engine that produces 1,000 lb-ft of torque and adaptive cruise control with full-stop capability and the capacity to tow 35,100 pounds. Ready to experience a test-drive with Ram?
The Entire Ram Lineup Available at Kendall Dodge Chrysler Jeep Ram
Drive the all-new 2019 Ram 1500 or a new 2019 Ram 1500 Classic as well. We also carry the 2018 Ram 2500 and 2018 Ram 3500 pickup at Kendall Dodge Chrysler Jeep Ram. We'll help you with any buying, trade-in, selling or leasing. We hope you'll enjoy the entire experience from start to finish. Ram pickups boast the highest percentage of pickups still on the road – over the last 30 years. Rush over to test-drive the vehicle with the highest owner loyalty of any half-ton pickup on the market today!
Hoping to service, repair or maintain your current vehicle? Trust us to help you get your vehicle up and running like new with an online service appointment and visit to our service center. We look forward to helping you soon at Kendall Dodge Chrysler Jeep Ram and providing an unmatched full-scale automotive experience.