Ram 2500 vs. Ram 2500 Power Wagon – How Similar Are They?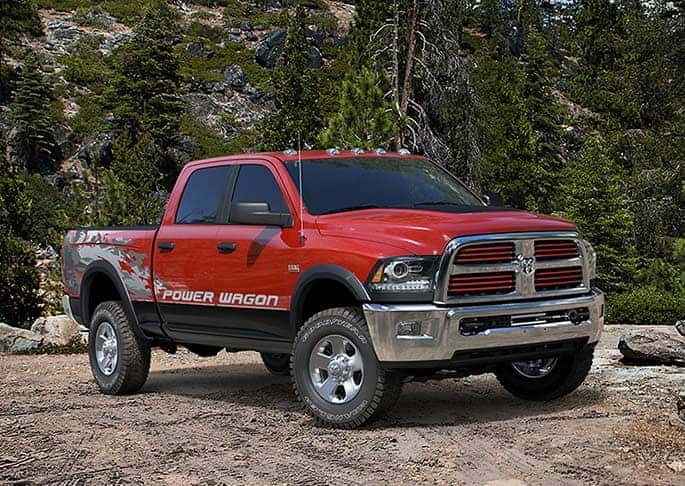 The Ram Power Wagon is built on the original Ram 2500 4×4 crew cab platform, but it is a pretty intense truck. It is off-road capable and it has an aggressive style inside and out. So, what are the differences between this beast and the more affordable base Ram 2500?
Engine and Performance
The base engine on the Ram 2500 is a 5.7-liter HEMI V8 engine and it produces 383 horsepower and 400 lb-ft of torque. The 2017 Ram Power Wagon comes standard with the 6.4-liter HEMI V8 engine, which produces more power than the 5.7-liter engine. The Power Wagon's 6.4-liter engine produces 410 horsepower and 429 lb-ft of torque. This engine is available on all other 2500 models, but does not come standard like it does with the Power Wagon.
Off-road capability
When it comes to off-roading, some trucks are built for more intense terrains. These trucks have more features that help it when off-roading and the off-roading features on the Ram Power Wagon are a big part of what set it apart from other Ram 2500 trims.
The 2017 Ram Power Wagon comes standard with off-roading equipment include improved gear like 33-inch Goodyear all-terrain tires, a 12,000-pound capacity winch attached to the front end of the truck, and Bilstein shocks. The Ram Power Wagon also has hill descent control, electronically lockable front and rear axles, and an electronically disconnecting sway bar, which help to keep everyone safe.
Style
Interior features the Power Wagon and other Ram 2500 4×4 crew cab models have in common include a 40/20/40 split bench, height adjustable front shoulder belts, manual adjustable seats, and a rear folding seat and a under seat storage compartment in the rear.
But the Ram Power Wagon has some exclusive interior style options that aren't offered on other Ram trims. Features specific to the Power Wagon include special seating designs that have the logo written large and proud, a premium door trim with a map pocket, and a unique overhead console.
When it comes to the exterior, the Power Wagon has the same shape and style of the Ram 2500 model, but it definitely has it's own unique look and appeal. Features specific to the Power Wagon include the Goodyear tires mentioned above, tons of Power Wagon badging and logos and it has the same grille as the Ram 1500 Rebel.
Price
Pricing between Ram 2500 models and the Ram Power wagon varies. Pricing for the 2017 Ram Power Wagon begins at $51,160, and the base Ram 2500 4×4 crew cab model starts at Tradesman begins at $38,495.
Interested in a Ram 2500 4×4 crew cab or the new 2017 Ram Power Wagon? Check out our entire inventory of Ram 2500 trucks here.
Photo source: ramtrucks.com