Ram 3500 HD Pickup Has More Torque Than Any HD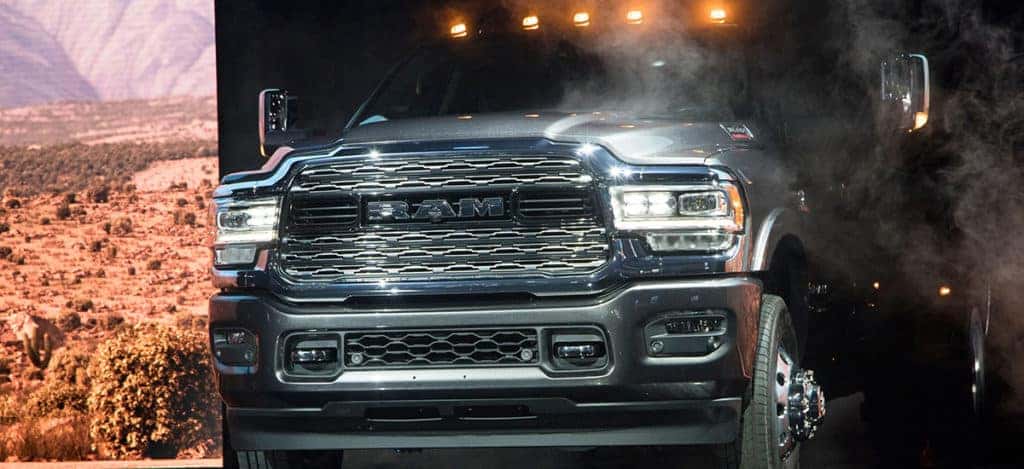 Photo credit: Dodge
Ram has introduced their newest Ram HD that has unmatched superiority in terms of torque. With a refreshed 6.7-Liter Cummins turbo-diesel power and a new body and chassis, the new 2019 Ram Heavy Duty is the first production pickup to offer the magical 1,000 lb-ft of torque mark. The 2019 Ram 3500 HD is able to tow a major amount of weight with 35,100 pounds and carry a 6,570-pound payload. With that immense hauling power, that is more than any heavy-duty diesel truck in its class. This new engine is 60 pounds lighter than the previous version of the engine thanks in part to new pistons that are not only lighter, but stronger.
The diesel-powered Ram 3500 also gains a 10-speed Allison automatic transmission to pair with the 400 horsepower in the 6.7-Liter Cummins powertrain. The smile comes on the face of Jim Morrison, head of the Ram brand in North America and he reveals the impressive engine gains.
"It's the sound barrier, and we just broke it," said Jim Morrison, in reference to the 1,000 lb-ft of torque engine.
Alternative Engine Options
The 2019 Ram 3500 HD comes standard with a gasoline-powered 6.4-Liter HEMI V8 engine that carries a 410 horsepower and 429 lb-ft of torque. Customers will enjoy best-in-class 7,690-pound gas payload and are available for customers to enjoy once the 2019 Ram 3500 debuts in spring 2019. Aside from gaining the impressive ability to be a workhorse truck, there's been additions inside the interior that will further help separate Ram from the competition. Boasting an incredible array of new technology, the infotainment system that helped make the 2019 Ram 1500 winner of multiple awards, the 2019 Ram HD models will have some of the same highlights as well.
Due to the sleek styling and remarkably large 12-inch touchscreen, the all-new 2019 Ram 1500 was a hit. Ram has decided to add that immense foot-long touchscreen as an available option for the 3500 HD, along with a new instrument panel, upscale refinement with an updated HVAC system that moves air at a higher volume for passengers, but less noise is heard as a result. Ram even went so far with their interior upgrades to include faster heating elements on diesel models to help with increase a faster warm air delivery. Chilly mornings end as soon as a driver enters in the Ram with these improvements.
Cabin space has been upgraded and the center console has more storage space than ever before. There's even enough space to place a 15-inch laptop in the storage. The interior provides a total of five USB ports are inside the Ram HD. Three of the five, including one in the black, link with the Uconnect infotainment system to allow the touchscreen device to load the user's phone. Users of the Uconnect system can respond to calls, texts and play music directly from the touchscreen. While a 5-inch touchscreen is standard for the base trim, there's also an option for an 8.4-inch touchscreen or the aforementioned king-of-touchscreen in the huge 12-inch touchscreen option.
More Reasons To Drive Ram
In 2018 Ram sales were the highest they've been since 1993. In particular, the Ram 2500/3500 heavy-duty trucks accounted for nearly one-third of Ram's record 536,980 vehicles sold. Ram pickup trucks were the third best-selling vehicle of any type in the United States last year, according to Trucks.com. If you've wanted to drive a new Ram truck, we've got plenty to showcase our customers today, including the all-new 2019 Ram 1500, at Kendall Dodge Chrysler Jeep Ram.
Look no further than our professional team to drive new Ram trucks. Should you need any servicing, repairing or maintenance we can help you get your vehicle up and running like new with a service appointment and a visit to our service center today!