Ram is Celebrating the Hunt in 1500 Outdoorsman: Mossy Oak Edition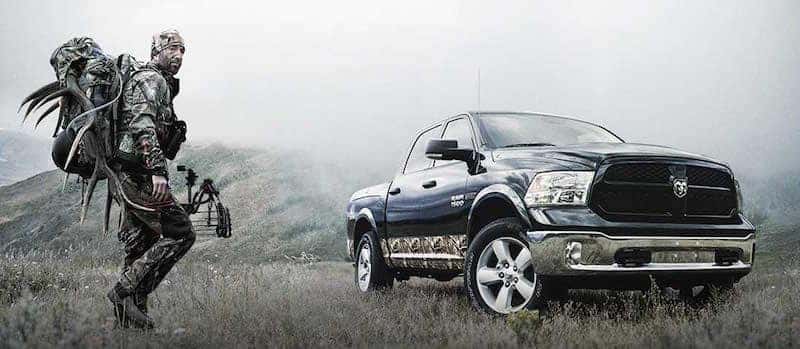 Did you know it's already hunting season? Maybe not for ten points, but it is if you're hunting for the perfect vehicle to take you confidently deep into the woods. Your prime target is none other than the 1500 Outdoorsman Dodge Ram for sale.
While Ram pickups already have a tough exterior and are built rugged to endure most any bumps and bruises life can throw at it, the 2016 Ram 1500 Outdoorsman is made specifically to handle the elements. Being out the deeps woods requires fortitude, strength and solidarity. It means that you may not being returning home that night. It means possibly getting caught up in unexpected weather and setting up camp. The security of knowing you'll never get stuck because you're driving the toughest pickup that's made explicitly for the outdoors provides the confidence to let you focus on your passion and skill: the hunt. 
Power Meets Conscience

When you spend so much time in pristine nature untouched, unfettered by humans, you want to leave that way. Ram's engineers designed new diesel engines with improved technology to be eco-conscious while also economic. The BioDiesel 3.0L V6 engine provides exceptional torque, the best fuel economy of any full-size pickup while also reducing the C02 emissions. Combining power and efficiency is of great importance to today's truck drivers.
Real truck drivers know what's required of their performance engines. When capability meets efficiency, you've just about struck gold. The 3.6L Pentastar V6 engine combines the best of both these qualities to deliver an ever impressive 305 horsepower. Using advanced technology, the Pentastar comes equipped with Start-Stop technology, which saves power and fuel and shows Ram's continued dedication to their drivers. This powerful V6 is designed to handle the toughest jobs given its 4×4 capacity while a silent chain timing drive contributes to the engine's durability.
Adding Fuel Saver Technology to the most powerful engine available for the 1500 is yet another way Ram's engineers are designing with you, the driver, in mind. Backing up the 395 horsepower and 410 lb/ft of torque is Ram's legendary 5.7L HEMI V8. When the task at hand requires the unbridled strength to carry larger loads, there is only one HEMI that can get the job done correctly and efficiently.  
The 1500 Outdoorsman Mossy Oak Edition delivers 27 mpg highway driving, ensuring that no matter how far away you have to go to get away from it all, Ram will get you there. Innovative engineering designs with the EcoDiesel engine allow for such efficiency, be it on the open road or rugged backwood trails. Your weekend journeys are about to become more efficient and more often.
When the Hunt is Calling

It's about function. It's about efficiency. When you're getting ready for the hunt, having the essentials accessible is a necessity. With Ram's Outdoorsman having that ready for you, you won't have to worry about having the 'right' stuff. They've already packed it for you. Knowing how important the bed is for carrying your hunt, they've utilized their space accordingly. Hidden within the sides of the bed you'll find the class-exclusive Rambox, Rams cargo management system. Regardless of what lies ahead of you, Rambox has the storage space required to fit the essential items you'll need to get the job done. An illuminated, drainable all secure system with remote security provides the insurance that whatever you should keep stored will be safely protected. Included features are adjustable bed extender/divider, bed tie-downs and a cargo box with LED lighting that fits 4.8 sheets of building material.
1500 Outdoorsman: Mossy Oak Edition

If you're already the person who knows about Mossy Oak, then you know about the outdoors. You know you're way around a trading post, you've experienced the "great woods", absorbed the silence and solitude of early mornings in the field, felt the exposure wading in rushing waters, maybe you've even seen a bear or two. Mossy Oak is a company made for people who are familiar with these experiences, who have a great love and passion for the outdoors. Collaborating with Ram to make a truly unique truck, Mossy Oak 1500 allows you to show your spirit while driving every day. From Mossy Oak bed rails and tailgate caps, spray-in bed liner to rear quarter panel decal, this 1500 celebrates your love as you do: decked out camo and is ready at a moment's notice to be called away.
Miles Away, Connect When You Want
While no one understands more how important it is to disconnect from technology every now and then, should something turn your head to back home while being out in the wilderness, the 1500 Outdoorsman keeps communication open with Ram's available UConnect System with Wifi hotspot. Acting as a hotspot, you'll always be able to connect to whatever attention is needed of you. Using your 8.4-inch screen that keeps updated navigation employing 3D graphics and detailed views of terrain, you'll be able to find your way into or out of any situation.
Build to Last: Ram's Unsurpassed Warranty
When Dodge Ram builds their fleet of trucks, they build with the understanding that more is required of these trucks than any other vehicle on the road today. These trucks are meant to withstand any construction materials put in it. They're meant to tow, haul and lug farm equipment, boats, other vehicles. Drivers need the confidence to know that Ram trucks will achieve the journey and task ahead of them.
With so much figuratively riding on these vehicles, Ram wants you to know they stand behind their trucks. They offer an unsurpassed diesel powertrain warranty that is better than any other. Offering to back their diesel-powered trucks with a 5-Year/100,000-Mile Diesel Powertrain Limited Warranty and their gas-powered trucks with a 5-Year/60.000-Mile Gas Powertrain Limited Warranty should provide you with all you need to know that Ram trucks are made to last.
#RAMHUNTSHUNGER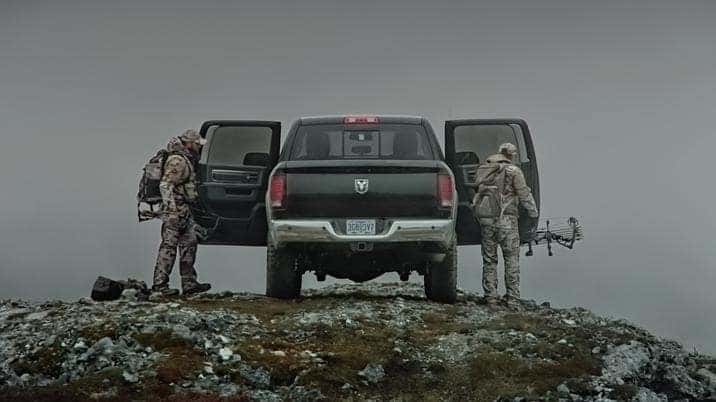 In a new advertising campaign to fight hunger, Ram is calling on their very own and devoted Ram Nation to put out the call of donating portions of your hunt to help feed the hungry. Also teaming up with the FHFH (Farmers and Hunters Feeding the Hungry) which is an organization that takes donations from hunters to feed the less fortunate, Ram is expecting their community of owners and Ram Nation to step up and contribute what they can during this season of giving.
Ram trucks have a lot to be proud of in their Nation of fans. Devoted to more than just the Ram brand, they are devoted to their neighbors and communities, devoted to each other for the greater good. That's why Ram knows they can depend on the hunters, the outdoorsmen, to answer the call and donate their hunt.
Hoping to inspire hunters and fishermen as well, Ram is using their voice anyway they can to attract all who will listen. Using the hashtag #ramhuntshunger in all their advertisements, Rams marketing is approaching this issue through social media as well as television, print, and digital media. The hashtag is presented on every ad and urges viewers to visit RamTrucks.com/outdoorsman to learn more about getting involved.
One Donation Can Provide 200 Meals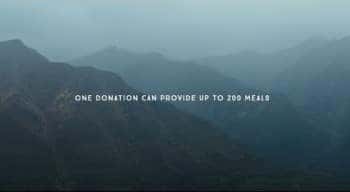 While this campaign focuses on bringing to light the hunger issues that face millions of Americans, their aim is to reach the hunters of this nation by highlighting the pristine yet unbridled territory and exposure hunters subject themselves to. By then bringing to light that one donation can make the difference of 200 meals for a hungry family, it's an appropriate call to action for all those who can use their talent, their hunt for good. Ram is confident their Nation will step up and help out this season. Will you?