Ram Introduces 2020 Ram 1500 Navy Special Edition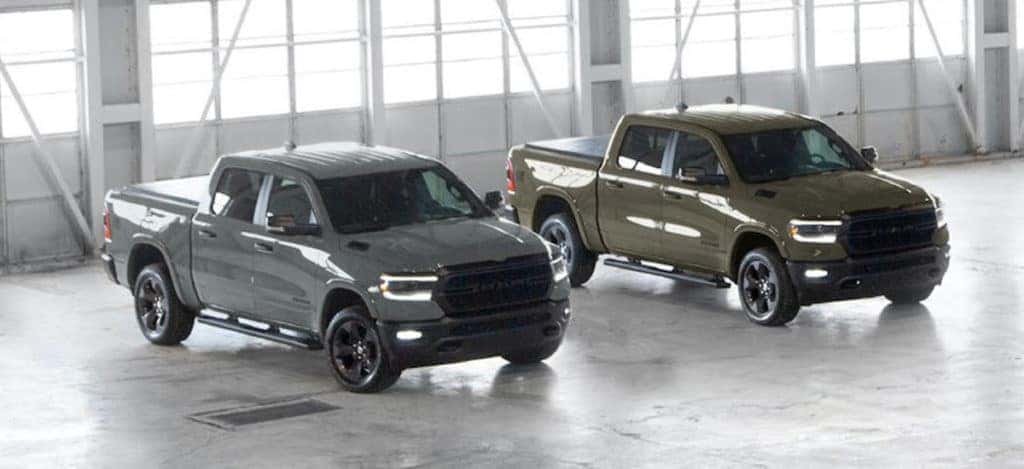 Photo credit: Ram
While COVID-19, the upcoming United States presidential election, and social justice have been at the forefront of people's minds, the U.S. Armed Forces may not have been. Ram has decided to debut a new series of Ram 1500 pickups that will shift a new focus to the U.S. Armed Forces and shows customers that Ram is proud of our country. Ram has spoken out about it's newest collection of special edition trucks to honor each branch of the U.S. military. We have a Ram 1500 specifically in tribute to the U.S. Army and U.S. Navy, the first two Ram pickup options
Inside the Special Edition Ram 1500
The latest Ram 1500 Built to Serve edition has now come out, debuting on Flag Day in mid-June 2020. These unique pickups are special edition trucks that are not produced from the base model pickups. Owners that opt for this get a better pickup. Ram's 4×4 Off-Road package is included with its high-level shock absorbers, all-terrain tires, and an electronic locking rear differential among other facilities. The body colors extend to Ceramic Gray or Patriot Blue for the new Navy special edition pickup. The addition of the Ceramic Gray is a new color created for this special edition pickup, while Patriot Blue was newly developed for the 2019 Ram 1500 production. Customers are going to regard the pickup's interior adds blue cues with a hint of Ambassador Blue that allows appropriate contrast from the black interior. Ram's thoughtful handling is a new Velcro panel on each side of the front seating that includes patches, such as a regimental or flag with "Built To Serve" expressed.
More on the Ram "Built To Serve" Pickups
Ram will provide all Built to Serve edition pickups with a US flag decal and a second decal marked "Built to Serve" on the rear quarter panels. The "Built to Serve" moniker is also found inside the interior across the middle of the front row seating. The wheel flares also match great with either of the color body color options. Buyers can thank the standard 20-inch wheels feature a smooth gray finish for its sleek look. For each vehicle, they all have front fascia in an all-black grille and black bumper finish. Ram added black badges alternatively instead of the standard finish. 
Ram plans to offer 2,000 units of this distinct Built to Serve edition to dealers started allowing the first special edition on June 14, 2020. For those that want to add the new 2020 Ram 1500 pickup, come to Kendall Dodge Chrysler Jeep Ram. The next few weeks will see the release of the special edition "Built To Serve" series that will honor the Air Force, Marines, and Coast Guard. Every pickup will see their own special colors and trimmings that invoke the spirit of each branch of the Armed Forces. 
Drive Home the Luxury Car of the Year Today!
Thinking about going on a test-drive with the award-winning 2020 Ram 1500? We can help our customers find exactly what they want to drive. The right vehicle is everything for our clients. We go the extra mile to ensure each transaction is simple. Don't wait any longer to get the right vehicle. We have an incredible selection of new vehicles, including Ram vehicles. We're ready to help our customers purchase or lease at Kendall Dodge Chrysler Jeep Ram. 
Don't wait till 2021 to fix your current ride. Allow us to provide you with timely service with a simple online appointment. Let us know what work you need to have done and we'll be ready! See you today in Kendall!