Ram Produces Another Milestone With 3rd Millionth Cummins Engine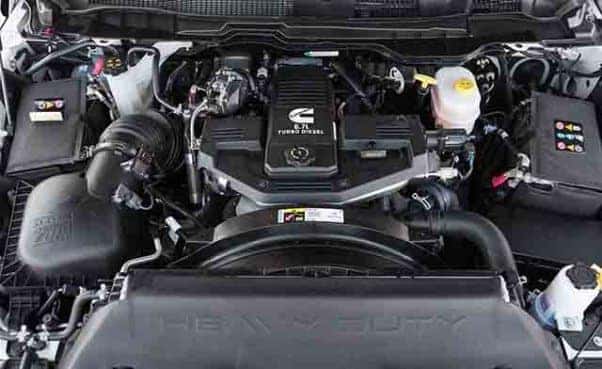 Photo credit: Ram
There is one lucky person about to receive the 3 millionth engine inside of a new Ram heavy-duty pickup. Back when Dodge was combined with the Ram brand, they built the first pickup with a Cummins engine in 1989. The last three decades have been spent earning millions of customers with their award-winning powertrains that have promoted the Ram brand's ability to produce high-quality engines. Many milestones were crossed to get to this impressive benchmark. Fiat Chrysler Automobiles (FCA), the parent company of both Ram and Dodge, has stated that the upcoming 3 millionth engine will be inserted into a Ram 3500 Longhorn Crew Cab Dually pickup. The actual pickup has already been ordered actually, but we'll get to that.
Cummins Engine Breakthroughs
The Cummins Turbo-Diesel engine has long been noted for the strength owners receive. The 200 horsepower mark was first passed in a Cummins engine back in 1996. Another milestone was reached with the first Cummins engine to surpass 500 lb-ft of torque back in 2001. In fact, today the current Cummins produces over 400 horsepower and as much as 1,000 lb-ft of torque with their latest technology in their 6.7-Liter Turbo-Diesel engine. Ram touts that exactly 75% of each Ram 2500 and Ram 3500 Heavy-Duty owners opt for the available 6.7-Liter Cummins Turbo Diesel engine as their powertrain choice. Cummins engines have earned the high-mileage bragging rights among all heavy-duty pickups. In fact, Cummins Turbo Diesel has a High Mileage Club for owners that have gone over 100,000 miles. For those looking for the right call when picking a heavy-duty, consider the success and longevity that comes with a Cummins engine in a Ram.
Surprise! One Lucky Owner Will Join the Celebration
As far as the Ram heavy-duty pickup that is slated to have this piece of Ram history, the Longhorn Crew Cab is perfect for drivers that have to tow but want to enjoy cruising equally. The dealership that has received the pickup is planning to keep a surprise this news and host a celebration for the owner. The Cummins 6.7-Liter engine adds $11,795 to the base price of the 2019 Ram 3500 pickup. Not only will this lucky owner have a super-powerful pickup, but they will also enjoy leather upholstery, an eight-way power-adjustable driver's seat, a responsive and large 8.4-inch touchscreen and all the top-notch engineering that has afforded Ram owners to make this three millionth Cummins engine possible. Want to experience the power and beauty of new Ram trucks? 
Find the Newest Ram Trucks
For owners hoping to drive the brand new 2020 Ram 1500 or a heavy-duty Ram truck with a Cummins powertrain? We have them here at Kendall Dodge Chrysler Jeep Ram! Our sales team can assist with the process of buying, leasing, and selling. Trade-ins are also apart of our everyday business, see what we can do for you. 
Currently dealing with issues with your pickup? We can help you get your vehicle up and running like new with an online service appointment to our service center. We look forward to helping you today at Kendall Dodge Chrysler Jeep Ram. Stop by and see what we can do as your automotive superstore.