Ram Unleashes All-New 2021 Ram 700 Compact Pickup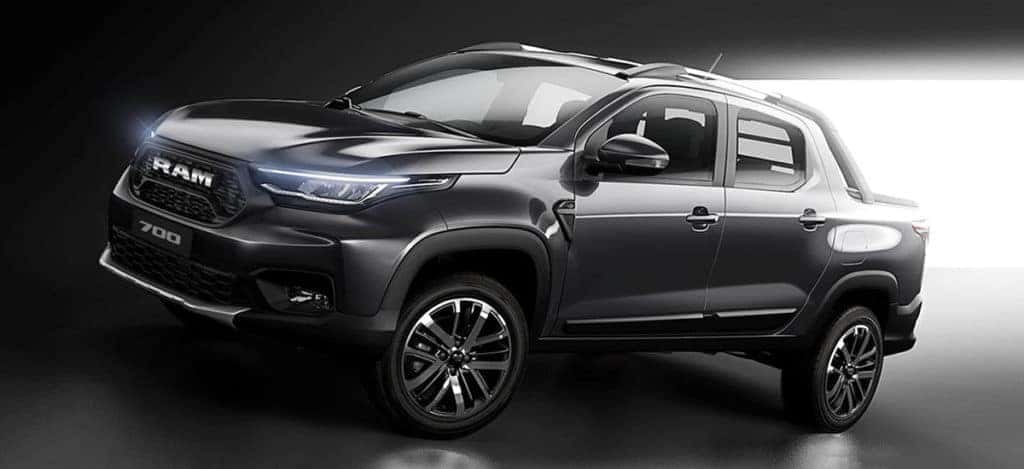 Photo credit: Ram
While the launch of the most advanced and unique Ram pickup, the upcoming 2021 Ram 1500 Rebel TRX, is months out, there is another new Ram truck on the way. However, it's not what anyone expected. While the Ram brand has built pickups that serve to be the pinnacle of all off-road pickups, we're excited about the new Ram 700 compact pickup truck debut that will come to South America and Mexico. Ram will offer the all-new 2021 Ram 700 compact pickup for customers looking for a compact pickup that can serve as an ideal work truck, but also offer the comfort of driving in a vehicle that isn't massive and can fit into parking spaces better. 
Upgrades Added To the Ram 700
The 2021 Ram 700 has a new look both inside and out as it enters a new generation. Under the hood, the Ram pickup has a 1.4-Liter FIRE EVO inline-four-cylinder engine that creates 85 horsepower and 90 lb-ft of torque and a larger 1.3-Liter Firefly inline-four-cylinder engine that hits 99 horsepower and 94 lb-ft of torque. Each Ram 700 is paired to a five-speed manual transmission with all models coming with front-wheel-drive. The trims are as follows, the base is the SLT, followed by the Big Horn, and finally the Laramie trim. The Laramie trim has the upgraded powertrain and comes with a double cab standard.  
"The Ram 700 redefines the concept of the small pickup by being the most capable, versatile, safe, and technologically advanced in its class," according to Ram.
Updates To the All-New 2021 Ram 700
The design platform is based on fellow FCA brand Fiat and its new Modular Platform Pickup platform. Customers have the choice of two or four doors as well as a single or double cab configuration. The 2021 Ram 700 can fit up to five people comfortably. The load capacity is 1,653 pounds and it has generous ground clearance at 8.4 inches. The Ram 700 is listed at 176 inches long and exactly 68.1 inches wide, which isn't exactly small, but it is a compact truck. Ram added new front and rear suspension with new springs, shock absorbers, and a new suspension cross and stabilizer bar at the front. Ram included a new rear axle as well and offers best-in-class approach and departure angles with up to 24-degree entry and a 28-degree exit. 
Ram also brought in some nice upgrades for the all-new 2021 Ram 700 including new LED headlights, a seven-inch touchscreen with wireless Apple CarPlay, and Android Auto support. Ram added its logo across the grille makes it more closely resemble its larger Ram 1500 counterpart. While the 2021 Ram 700 is not being made for North America currently, who knows what the future will hold. Haven't been able to handle or complete the job that is asked? Ask us about driving a new Ram pickup with our help!
Come Join Us On a Test-Drive In A New Ram
We're all about helping our customers enjoy their shopping experience. Hurry to Kendall Dodge Chrysler Jeep Ram to take advantage of the fantastic prices on the latest Ram pickups, like the award-winning 2020 Ram 1500. We have a friendly and passionate sales team that will make your buying, leasing, or selling needs in our new vehicle inventory. We're happy to be your dealership home. Considering a used vehicle? 
If you're curious if you should buy or lease, let us assist you to make the best decision. We are ready for trade-ins and selling vehicles as well. Allow us to fix your vehicle or maintain it with a simple online service appointment. Allow us the pleasure to help you save and keep your vehicle running smoothly for years to come!