Ram v. Ford Heavy Duty Pickup Trucks (Spoiler Alert: Ram Wins)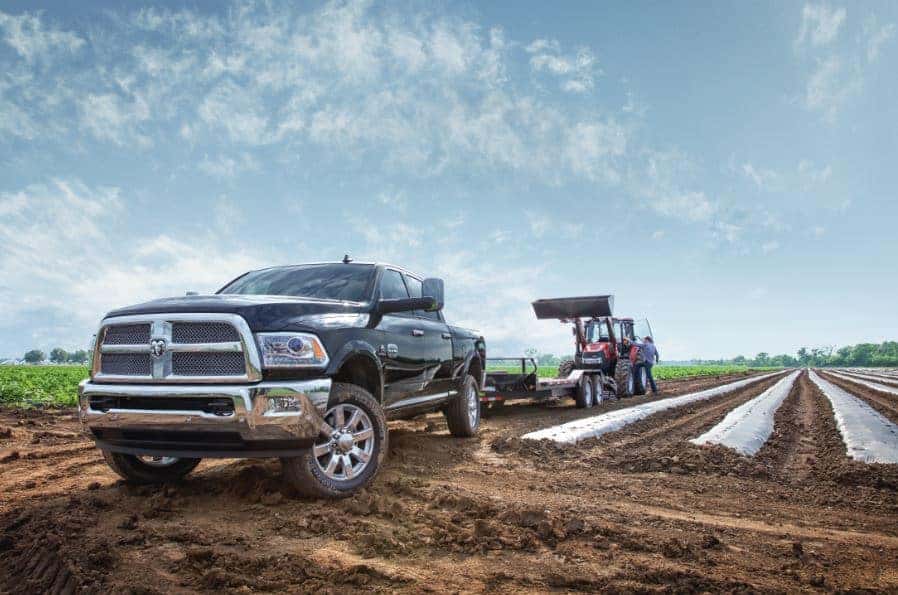 If you have a big boat, a trailer, or any other heavy items that require transportation, you need a heavy-duty truck, but which pickup truck do you choose? The options are pretty slim and most people would say the two biggest competitors are Ram and Ford, but we think the clear winner is Ram trucks.
Engine and Power
The Ram 2500 and Ram 3500 is available with three different engine options, which means more buyers can customize it to get the amount of power they need. The Ram 3500 engine options include the 5.7-liter HEMI V8, the 6.4-Liter HEMI V8 (standard in the Ram 2500 Power Wagon), and the 6.7-liter Cummins Turbo Diesel V6 engine. The base engine, the 5.7-liter V8 engine, can produce up to 383 horsepower and 400 lb-ft of torque, the 6.4-liter V8 produces up to an impressive 410 horsepower and 429 lb-ft of torque.
The Cummins Turbo Diesel engine is available with a couple different transmission options, which results in different horsepower and torque. When paired to a six-speed manual transmission, the 6.7L engine produces 350 horsepower and 660 lb-ft of torque and when paired to the six-speed automatic transmission it produces 370 horsepower and 800 lb-ft of torque. Buyers looking for the most powerful heavy-duty truck on the market will want to opt for the new 2018 6.7L Cummins Turbo Diesel engine paired to the AISIN six-speed automatic transmission because this engine produces 385 horsepower and 930 lb-ft of torque.
Ford is a different story. The Ford Super Duty options, the F-250 and F-350 are only available with two engine options. The options include 6.2-liter V8 engine and a 6.7-liter Power Stroke V8 Turbo Diesel engine. The 6.2-liter V8 produces up to 385 horsepower and 430 lb-ft of torque, while the 6.7L Power diesel option can produce up to 450 horsepower and 935 lb-ft of torque.
Off-road Capabilities
For many truck drivers, off-roading is either a needed feature for work purposes or a fun and necessary feature for adventure. That is why both Ram and Ford have specialty off-roading, but Ford only offers a light-duty off-road trim and Ram offers a light-duty and heavy-duty off-road trim option.
The Ram 2500 Power Wagon is fitted with all of the off-roading necessities including a 4×4 drivetrain, a 6.4-liter HEMI engine, 33' Goodyear all-terrain tires, a 12,000-pound electronic WARN winch with a 90-foot cable, Bilstein shocks, and an electronic sway bar.  
Size and Storage
Size and cargo space in both the cab or the truck and the bed are always important to truck owners because hauling both the family and all the gear for an adventure calls for a lot of space. Ford and Ram are neck-and-neck when it comes to comfortable and spacious cabins. Ram is unbeatable when it comes to both cargo space in the bed and the cab size.
In regards to storage, both trucks come with different bed size options. The Ram heavy duty trucks come with either a 6.4' bed or a 8' bed, depending on how much space the driver needs. The Ford super duty trucks come with either a 6'8' bed or a 8.4' bed which are both slightly bigger than the options given by Ram. However, Ram trucks are available with the RamBox Cargo Management System which includes two lockable storage boxes that are located on both sides of the truck bed. The lockable storage boxes make it easy for someone to store cargo they want locked up, but not necessarily in the vehicle, which is nice when items are really dirty or messy or carrying things like hunting or fishing equipment. Additionally, the cargo boxes have drains so they can also be used like coolers, which is a really great feature when tailgating.

See? We knew we would convince you too. If you want more engine options, a heavy-duty off-road truck, a huge cab, and convenient bed storage options, Ram heavy duty trucks are really the only answer. Check out our Ram 2500 and Ram 3500 inventory.