Remember the Jeep Comanche Concept? Check Out Its Twin!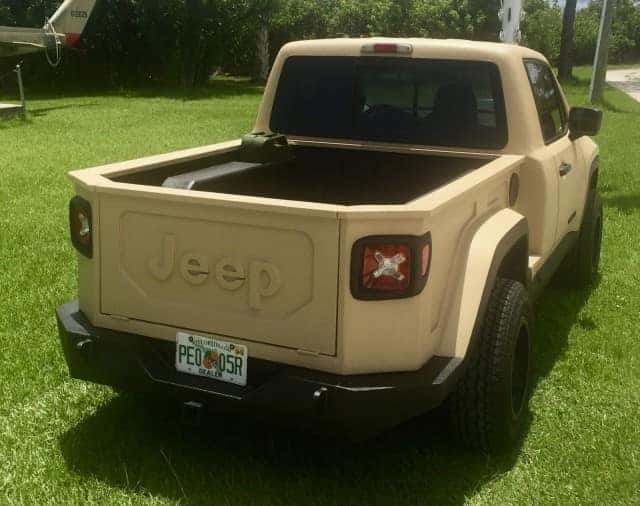 Remember the Jeep Comanche concept from the 2016 Easter Jeep Safari? Unlike the original Jeep Comanche of the '80s and '90s that was based off the Cherokee platform, the 2016 Jeep Comanche 4×4 concept had Jeep Renegade base, but it is a diesel powered "trucklet" with a military-style truck bed. It is probably smaller than any truck you've seen, but it is mighty.
2016 Jeep Comanche Concept
In order to make the Jeep Comanche concept work, Jeep engineers stretched the wheelbase of a Jeep Renegade six inches and gave the model a five-foot truck bed. The concept model also has a two-inch lift, a winch, rock rails, a soft top like the Wrangler, and 32-inch all-terrain tires. To complete the military feel, the Jeep Comanche concept was a beige color called "Beige Against the Machine." Which is perfect when you think about the band Rage Against the Machine and its anti-establishment routes.
The engine on the Comanche concept was a 2.0-liter turbo-diesel four-cylinder engine paired to  nine-speed automatic transmission. An off-roading machine, the Comanche concept had a 4×4 off-road system with a low range capability and a locking rear differential.
Jeep Comanche by Alan Ensor
Not all Jeepers were ready to let the Comanche concept fall by the wayside, and Alan Ensor was one of them. Alan Ensor is a custom Jeep builder for Boar Customs, a company located in Florida. Ensor took a badly damaged Renegade to create his own version of the Jeep Comanche concept (shown above), and it looks so similar to the original concept that displayed at the Easter Jeep Safari.
To complete his model, Ensor removed the damaged quarter panel of the vehicle and added a truck bed. He also added a rear window from a Ford Ranger, a 1.5-inch lift, steel tubing and body panels. He left the drivetrain as the stock drivetrain for the Renegade and kept the stock taillights and fuel filler as well. While his model doesn't have the soft top like the concept, it is a very similar shade to the "Beige Against the Machine."
Pretty cool, right? Wanna try it out for yourself? We can help you build your own and find a Renegade! Check out our Jeep Renegade inventory at Kendall Dodge Chrysler Jeep Ram here.
Photo source: Motor Authority