What Separates SRT Dodge Models from Base Models?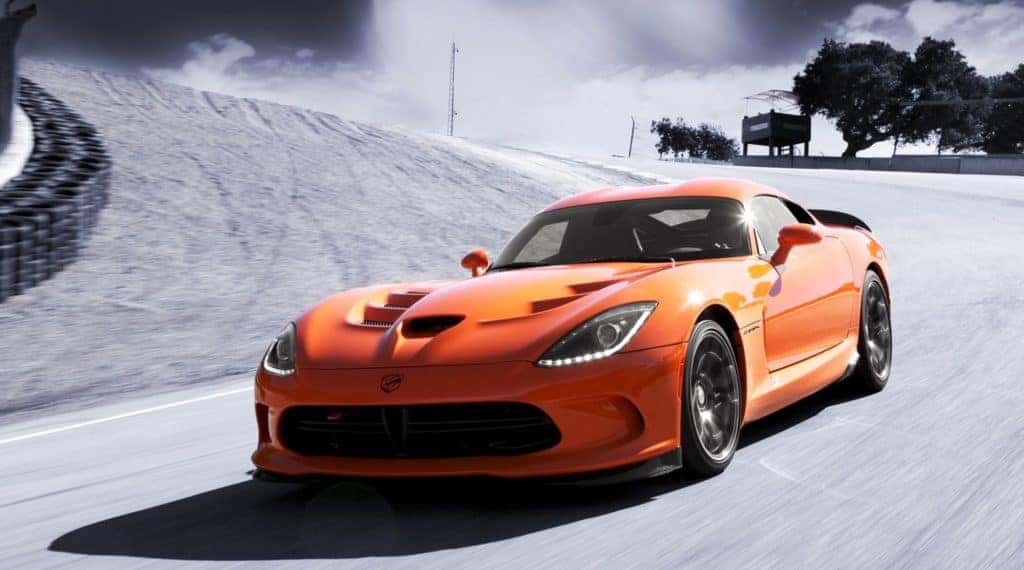 Dodge has always been known as a powerful brand. Some of the most popular muscle cars of all time have been Dodge cars, such as the Viper, Challenger and Charger.
In fact, a couple of those models were even featured in the latest "Fast and the Furious" movie, performing some death-defying stunts and outracing police.
The most powerful Dodge models are branded SRT models. SRT stands for "street and racing technology," and it was started by the Fiat Chrysler Automobile group for the production of the Dodge Viper in 2003.
The technology includes powerful engines that would make the cars in the SRT line fit to duke it out in any street-racing competition (a legally sanctioned one, of course).
So far, 17 vehicles have been released to Dodge dealerships with SRT branding, and more are planned for the future, including the Dodge Dart SRT.
Here's a look at a few of those models to help you understand what made the SRT vehicles so special and so different from their base model counterparts:
Dodge Viper
Several iterations of the Viper have received the SRT upgrade over the years. However, SRT technology was not introduced until the Viper's third generation.
The original Viper was introduced in 1992 as a powerful sports car. It had a 8.0-liter V10 engine that was inspired by the V8 engine Chrysler was using at the time. The Viper engine was upgraded with aluminum alloy for the block and heads, and it produced 465 pounds per feet of torque and reached a top speed of 180 mph.
When the second generation was introduced in 1996, it also featured an 8.0-liter V10 engine, but it had been reworked to be lighter and more powerful. It could go from 0 to 60 mph in just 4 seconds, and it had a top speed of 185 mph.
Both the first and second generation of the Viper were popular for street racing, and both were selected as pace cars for the Indianapolis 500. The second generation even featured raised areas on the roof over the driver and passenger seats to accommodate helmets.
However, when the Viper SRT was introduced in 2003, it improved on those stats and made the car an even bigger contender for racing enthusiasts. The 2003 Viper SRT-10 had an 8.3-liter V10 engine that putt out 510 horsepower and 525 pounds per feet of torque. It had a top speed of 189.5 mph and could go from 0 to 60 mph in 3.8 seconds.
An SRT-10 coupe was introduced for 2006 that had a reworked engine that put out 535 pounds per feet of torque and reached a top speed of 192.6 mph.
Other Viper SRT models would be released, including the Dodge Viper SRT-10 ACR from 2008 to 2010, the SRT Viper from 2013 to 2014, and the current generation of the Dodge Viper SRT-10, which was introduced in 2012. Several variants and special editions were also produced.
The current model features an 8.4-liter V10 engine that puts out 640 horsepower.
Dodge Neon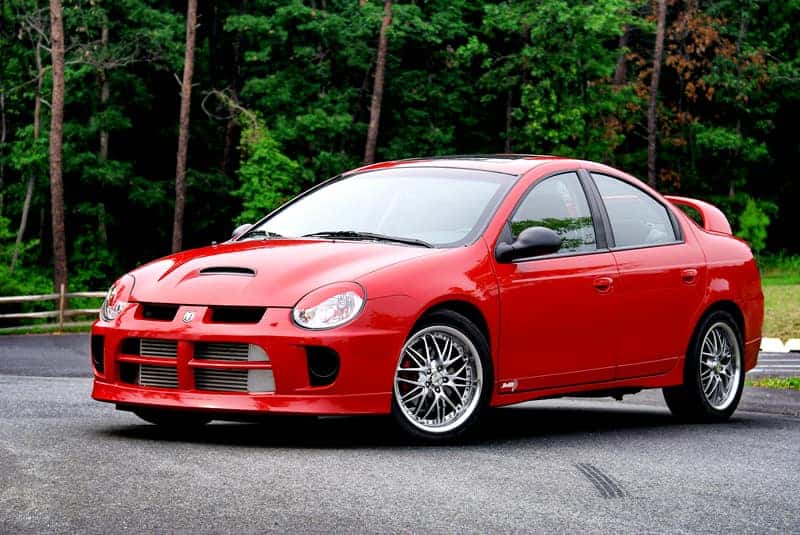 When you think of the Dodge Neon, you may not think of a powerful racing car. Yet the Neon was one of the earliest Dodge models to get the SRT technology.
The Neon was introduced in 1995 as either a four-door sedan or a two-door coupe — both of which featured conservative styling and a modest 2.0-liter four-cylinder engine that put out 132 horsepower and 129 pounds per feet of torque. The most powerful engine available had 150 horsepower and 133 pounds per feet of torque.
While the first Neon was more powerful than many of its contemporaries, it was not as powerful as the other models that Dodge has produced, including the SRT version of the Neon.
It wasn't until the end of its second generation that the Neon got the SRT upgrade. SRT was available as a trim option, and it included a 2.4-liter turbocharged DOHC Inline 4 engine that put out 215 horsepower and 245 pounds per feet of torque. It was the second-fastest car in the Dodge lineup, behind the Viper.
Four production models were created before the Dodge Neon SRT-4 was finally introduced, but it was wildly popular once it went on sale. Approximately 25,000 units were sold in the three years it was available for sale — about 10 times more than Dodge expected to sell.
A second version was produced for sale in 2004 and 2005 that increased the horsepower to 230 and the torque to 250 pounds per feet. It had a top speed of 153 mph.
An American Club Racing model and a Commemorative Edition were also produced.
Dodge Charger
The Dodge Charger has a storied history that dates back to 1966, and it remains one of Dodge's most popular models.
Each generation was more powerful than the last, but Dodge upped its game when it introduced the Dodge Charger SRT-8 in 2006.
The Charger SRT-8 had a 6.1-liter HEMI V8 engine that put out 425 horsepower. It was the most powerful engine in a Chrysler production vehicle with a five-speed automatic transmission.
An updated version was released in 2011 that had a 6.4-liter HEMI V8 engine that put out 470 horsepower and 470 pounds per feet of torque. In 2015, the engine was updated to put out 485 horsepower and 475 pounds per feet of torque.
A supercharged Hellcat version was also introduced in 2015. Although it wasn't an SRT model, it could easily have been. It has a 6.2-liter HEMI engine that puts out 707 horsepower and can go from 0 to 60 mph in 3.7 seconds.
Dodge Challenger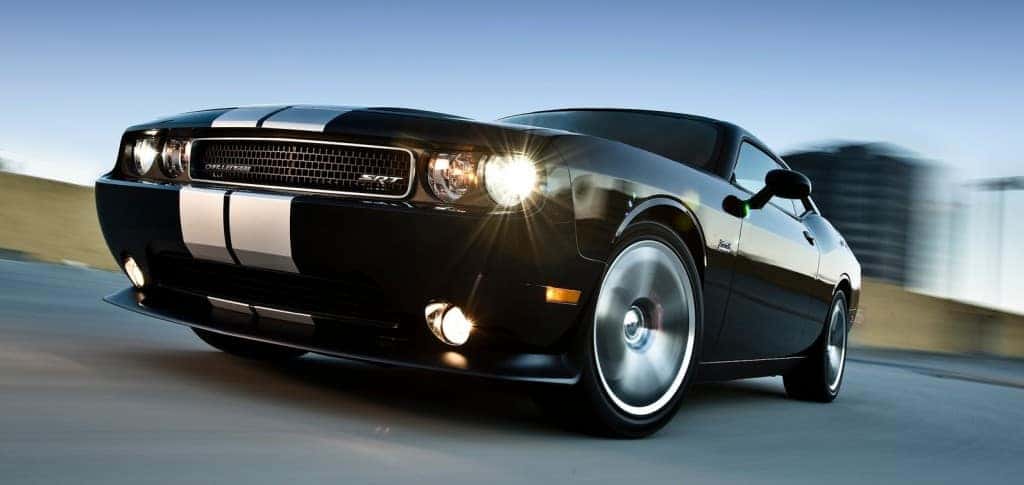 Much like the Charger, the Challenger has always been a popular muscle car, but it got the SRT treatment for the 2008 model. Every 2008 SRT model sported a 6.1-liter HEMI V8 engine that put out 425 horsepower.
The base model Challenger from that generation had only a 3.5-liter SOHC V6 engine.
The 2008 Challenger SRT-8 was so popular that it was entirely sold out before it even hit Dodge dealerships.
The Challenger SRT-8 was upgraded in 2011 with a 6.4-liter HEMI V8 engine that put out 470 horsepower.
In 2015, the Challenger was also introduced as a Hellcat version that put out 707 horsepower.
Like the Charger, the Challenger Hellcat has also proven to be wildly popular, and Dodge has had to halt orders since demand has far outpaced supply.
Dodge has produced several other SRT models, and each and every one has distinguished itself from their base models with increased horsepower, a stronger chassis, improved handling and top speeds.
You don't need to train to become a race car driver to know what it feels like to be in a cockpit. You can get a sense of it just by slipping into an SRT model.