The Short but Notable History of the Chrysler 200
The Chrysler 200 may be in its second generation, but the popular sedan has had a very brief history. The mid-size passenger car was introduced in 2010 as a re-engineered version of the Chrysler Sebring. However, it had many distinguishing features, and it soon set itself apart as a quality vehicle in its own right.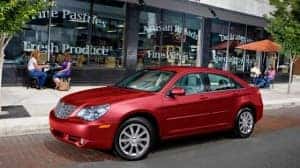 When you start looking for a 2015 Chrysler 200 for sale, it's important that you know at least a little about the model's brief but notable history to understand how much has gone into the current design. With a little context, you can better appreciate how much the Chrysler 200 has to offer and what makes it a truly exceptional buy.
Here's a brief overview of the Chrysler 200's history:
Engine Evolution
When the first Chrysler 200 was introduced in 2000, it had a 2.4-liter, four-cylinder engine that put out 173 horsepower and 166 pounds per feet of torque. It was the same engine that was used on the Sebring, and it came with either a four-speed Ultradrive 40TES or a six-speed Ultradrive 62TE automatic transmission.
An optional Pentastar engine was offered that was a 3.6-liter V6 and came with a six-speed automatic transmission. The Pentastar engine generated 283 horsepower and 260 pounds per feet of torque, putting out considerably more power than the standard engine.
A third option was available, which was a flex-fuel version of the Pentastar engine.
The Pentastar engines were only available on Limited edition models that were produced between 2011 and 2014.
Chrysler introduced the second generation of the 200 in 2015, and it included a 2.4-liter TigerShark Inline 4 engine that was more fuel efficient. The engine produced 184 horsepower and 173 pounds per feet of torque.
A 3.6-liter Pentastar engine was again offered as an option. The new Pentastar engine was more powerful than the first generation. It offered 295 horsepower and 262 pounds per feet of torque. Both engines came with a nine-speed 948TE automatic transmission.
While the engine choices have evolved to be more powerful and sophisticated, the Chrysler 200 has always offered quality engines for strong performance.
Mechanical Features
The engine may be the most important part of the car, but the other mechanical features enhance its performance and contribute to its longevity. The Chrysler 200 has included a number of advanced mechanical features since it was first introduced, and it has slowly added more sophisticated features over time.
The first generation of the Chrysler 200 was based on the Sebring platform, but it improved upon the design. Some of those changes included an advanced suspension that created a more comfortable ride, a rear sway bar and stiffer body mounts.
A limited edition released in 2014 included even more upgrades, such as a cold air intake under the hood, a coil-over suspension for a lower center of gravity, and more.
The second generation included an all-wheel drive system that helped improve its fuel economy. The system automatically detects rough road conditions, sending a signal that engages all four tires only when necessary. Under routine driving conditions, only two wheels are engaged.
Safety Features
The Chrysler 200 has not just performed well; it has also performed safely. Since it was first introduced, the Chrysler 200 has offered a number of safety features that protect all passengers.
The National Highway Traffic Safety Administration gave the first generation of the Chrysler 200 high marks for safety. The NHTSA gave the car five stars for side driver tests and four stars for side passenger tests, rollover tests and overall safety. The agency gave the Chrysler 200 three stars for front driver and passenger tests.
The second generation of the Chrysler 200 introduced a number of advanced safety features. The 2015 Chrysler 200 includes adaptive cruise control (with stop and go), lane departure warning, lane keep assist, rear view camera, forward collision warning, blind spot monitoring, parallel parking assist, and numerous air bags.
The safety features in the Chrysler 200 help drivers to be more aware of their surroundings and to navigate obstacles and emergency situations more quickly. Simply driving this car can reduce your risk of an accident significantly.
The best part is that when you find a 2015 Chrysler 200 for sale, these features will come standard. You won't have to pay extra for the comfort and security these features offer.
Comfort and Convenience Features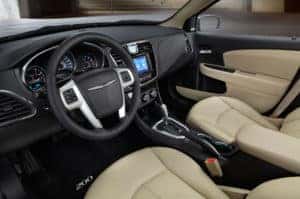 As befitting a modern automobile, the Chrysler 200 has a number of comfort and convenience features that enhance the ride. The first generation of the Chrysler 200 was designed with comfort in mind, including measures that reduced the car's noise and vibration while driving. The upholstery included thick materials for more comfortable seating, and LED head lights made it easier to see in a variety of conditions.
The 2014 limited edition model included features like mesh grilles, satin trims, a matte black diffuser, a chin spoiler and more.
The second generation of the Chrysler 200 introduced features like the Uconnect system with Bluetooth audio, a navigation system and HD radio. The 2015 model also includes a 7-inch driver display window that is customizable, a nine-speaker audio system, and push start. Drivers also have the option to choose dual panoramic sun roofs.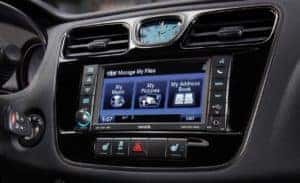 The Chrysler 200 offers a plush ride with all the modern technological amenities.
Sales History
When the Chrysler 200 was first introduced in 2010, it had a slow sales year with only 255 units in the United States. By the following year, sales were booming. Chrysler sold 87,099 units in 2011, and had its best year yet in 2012 with 125,476 units.
In 2013, Chrysler sold 122,480 units, and in 2014, it sold 117,363 units.
Sales figures won't come in for 2015 until sometime early next year, but we're positive that Chrysler will continue to do well with this popular model.
Now is a great time to look into a 2015 Chrysler 200 for sale. The second generation of this mid-size sedan offers a range of comfort and safety features that make it a great choice for drivers of all types, including those with families or those who are looking for a good business car for entertaining clients.
Visit Kendall Dodge Chrysler Jeep Ram to take a test drive of the 2015 Chrysler 200 and to get a feel for all that it has to offer. We're confident that you'll fall in love with this elegant sedan and want to drive it home.