The 2016 Jeep Renegade Trailhawk Boasts Best-in-Class 4×4 Capability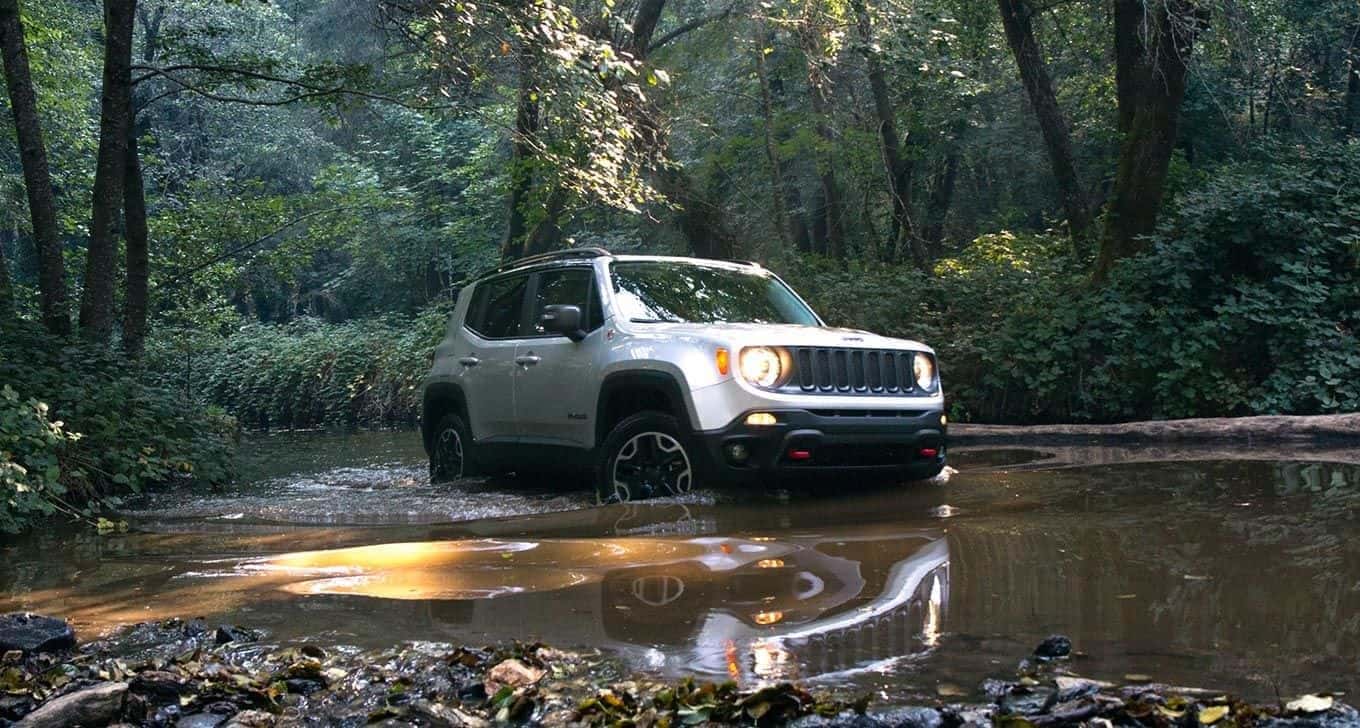 It's not often you see a small SUV on the market that can keep up with bigger SUVs in terms of off-road performance. But, the 2016 Jeep Renegade for sale is an exception to that rule. Is it really surprising, though? It's a Jeep after all, and each model has at least one trim level that earns it a Trail Rated badge. For the Renegade, it's the Trailhawk trim — and this badge backs-up its best-in-class 4×4 capability claim. The 2.4-liter Tigershark is the engine of choice for the Trailhawk trim, and Jeep Active Drive Low provides it with the crawling power needed to travel off the beaten path. Jeep's advanced and class-exclusive Selec-Terrain technology is also on board and provides a quick and effortless way to tune your Renegade's traction to your current driving condition.
With the aid of state-of-the-art 4×4 features and classic Jeep durability, the Renegade is a vehicle that is able to tackle more than any other compact SUV on the market.
Trail Rated Tough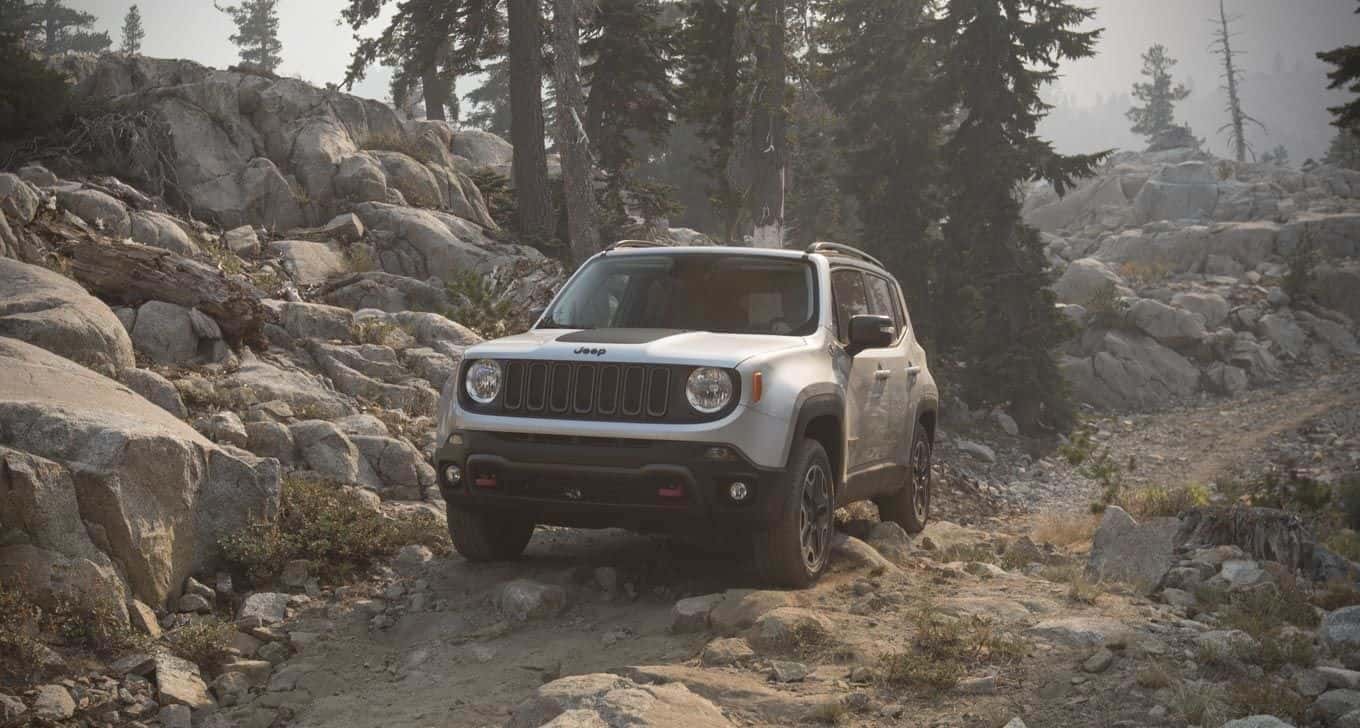 Getting a Trail Rated badge isn't a cake walk. This badge signifies the Jeep's ability to perform well under various off-road conditions, all of which are found on the legendary Rubicon trail — which is a trail that has pushed drivers and their Jeeps to the limit for years. Above-average ground clearance, traction, maneuverability, articulation, and water fording abilities are required, and typically people won't tackle this trail unless they have a modded Jeep. When the automaker does their testing, however, the vehicle does it with all stock parts. Which means the Renegade Trailhawk is able to complete one of the toughest off-roading trails out there without any aftermarket parts.
This is a true testament to the Renegade's 4×4 capability and being trail rated tough defends this little SUV's best-in-class title.
2.4-liter Tigershark
How was it able to complete such a grueling test? While it's not the entire reason, the engine is a major one.
It might not have the famous 3.6-liter Pentastar V6 sitting under the hood like the Wrangler, but the Renegade Trailhawk's engine of choice is nothing to sniff at. The 2.4-liter Tigershark I4 engine is an engine that has the power needed for off-road driving, and the efficiency for on-road travel. That way, you are able to get the best of both worlds.
This engine produces 180 horsepower and 175 lb-ft of torque, and while that may seem weak, it's important to remember that the power is proportional to the size of the Renegade. If this engine was on the Wrangler, it would barely be able to push it down the road. However, on an SUV as small as the Renegade, it's plenty of power. Actually, this engine comes with MultiAir technology, which gives it increased power and torque while reducing the emissions. When a four-wheel-drive Renegade model is equipped with this engine, it's able to get up to 21 mpg city and 29 mpg combined. Which is quite generous for a vehicle with this type of off-road capability — regardless of how small it is.
Transmission
But, the engine can't do it alone. Without a good transmission, the power wouldn't be properly distributed to the wheels. Which is why the 2016 Jeep Renegade offers an available class-exclusive nine-speed automatic transmission. This transmission has a wider gear selection, which provides the Renegade with outstanding launch characteristics, excellent efficiency, and silky-smooth gear shifts. All of this comes together for precisely tuned on-road performance and controlled off-road capability.
Speaking of capability, the Jeep Active Drive Low system found on the Renegade Trailhawk trim is the star of the show, considering that this is the 4×4 system that allows the Renegade to traverse such harsh terrain.
Jeep Active Drive Low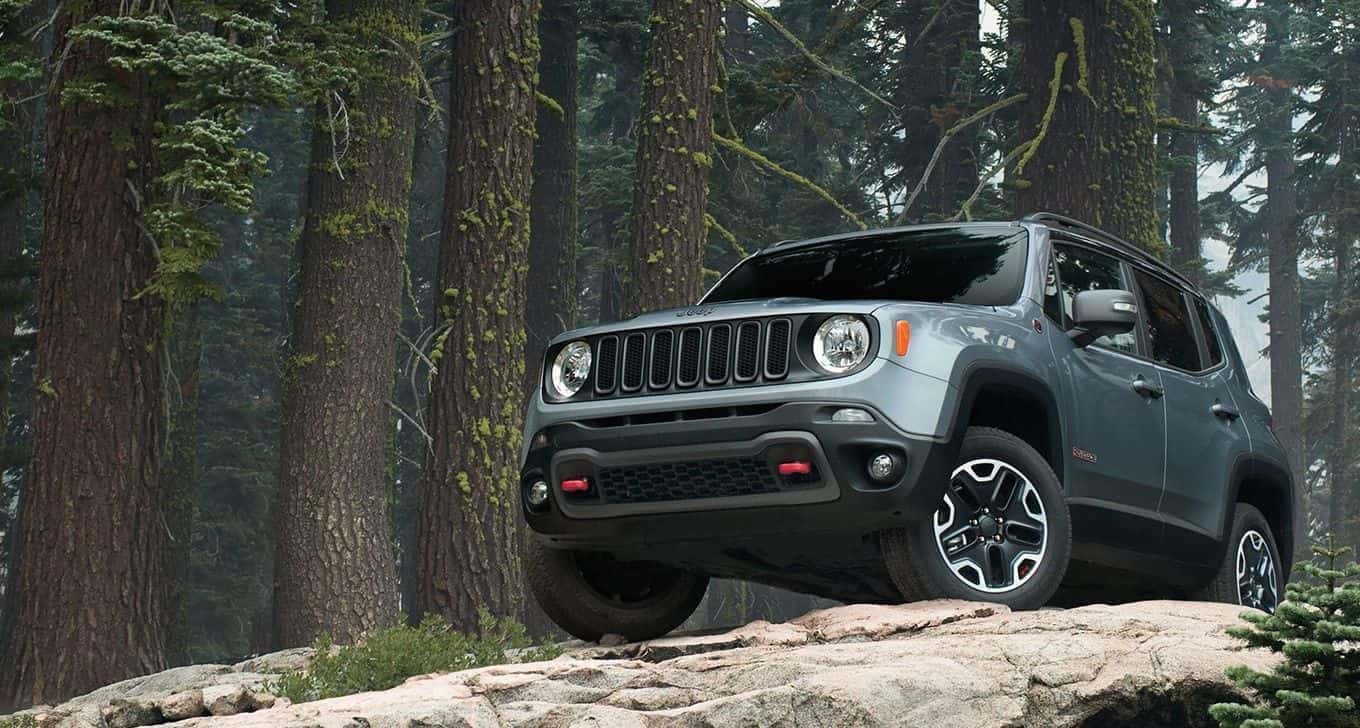 In order to fully understand the benefits that Jeep Active Drive Low provides the Renegade Trailhawk, it's important to first understand the basic Jeep Active Drive system. Because, Jeep Active Drive Low has everything that Jeep Active Drive has, but adds the Trailhawk model's Trail Rated capability — which is an enhanced 20:1 crawl ratio and a "Low" mode for climbing rocks.
Both of these systems give the Renegade a rear axle disconnect system, which seamlessly switches between two and four-wheel drive to either provide efficiency when 4×4 capability isn't needed or power when it is. The four-wheel drive system is also automatic and will engage when it deems four-wheel drive is necessary. It can do this by detecting temperature drops, changes in slope, and even inclement weather. It also has a disconnecting power transfer unit, a multi-piece driveshaft, a rear drive module with an electronic control unit, and a torque transfer device. Hill descent control is also present and allows you to safely drive down steep slopes without using the gas or brake. That way, there is less room for error if you hit the gas too hard —or brake too quickly — while descending.
This system is focused on two things: capability and convenience – and it excels at both.
Class-Exclusive Selec-Terrain Dial

Also, a class-exclusive feature is a Selec-Terrain dial. While this system is equipped to every Renegade, the Trailhawk trim has an exclusive traction setting. These traction settings are chosen — literally — with the turn of a dial. You can choose between Auto, Snow, Sand, and Mud, whereas the Trailhawk trim adds a Rock setting. As soon as the dial is turned towards that setting, it means you have an instant 4×4 capability for whatever terrain or condition you are about to face.
That's a little more convenient than hopping out and manually locking in the hubs like the old days, huh?
Capable and Convenient
With the 2016 Jeep Renegade, it's clear that performance is the priority. The best-in-class 4×4 capability and Trail Rated badge – thanks to Jeep Active Drive Low – makes that obvious. However, something that isn't noticed at first is how convenient all of these systems are. With the Renegade, the transition between two and four-wheel drive is automatic and seamless and getting the proper traction for whatever type of terrain only requires the turn of a dial.
This means that the Renegade isn't only built to be the most capable small SUV, but those same class-exclusive off-road features also make it one of the most convenient and easily operated off-road vehicles. That way, you can focus more on having fun off the road, and have peace of mind knowing that if things get tough, the Renegade's got your back.