The Difference Between Ram Light-Duty VS Heavy-Duty Pickups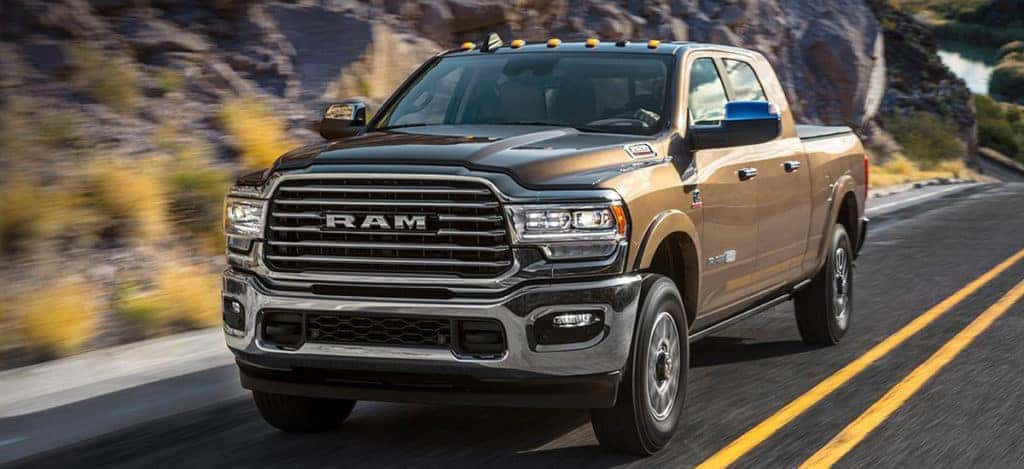 Photo credit: Ram
Fiat Chrysler Automobiles (FCA) has made its Ram brand stronger and better than ever. Not only has the Ram 1500 pickup taken the second place spot ahead of Chevrolet in light-duty pickup sales for the second year in a row, but Ram also has many options for buyers. The newest Ram light-duty and heavy-duty pickups are revamped and provide way more for customers than ever before. Not just performance upgrades, but interiors have never looked as gorgeous or felt as comfortable as they do now. But, what are the major differences between the Ram light-duty and heavy-duty pickups? Discover all the latest Ram news with us right now.
First Differences Between Ram Pickups
For customers interested in securing their pickup future with a Ram, there's no better choice than the latest Ram pickups. Keep in mind, the major differences are found in maximum towing capabilities, cab sizes and price between the light-duty and heavy-duty options. Engine options and performance differences are found as well and we can explain those contrasts. There are some available options that only the light-duty or the heavy-duty pickup trims can supply drivers. Let's get into the latest 2019 Ram pickups and explain some of those differences. 
2019 Ram 1500 Engine Options
The 3.6-Liter V6 with eTorque offers 305 horsepower and 269 lb-ft of torque, the 5.7-Liter HEMI V8 engine adds 90 horsepower and 141 horsepower (395 horsepower and 410 ft-lb of torque) and the latest eTorque engine was added to the 5.7-Liter HEMI V8 and this will add 130 lb-ft of torque. How do those powertrains compare to the 2500 and 3500 pickups?
2019 Ram 2500 Engine Options
6.4-Liter HEMI V8 engine has more horsepower than any 2019 Ram 1500, with a total of 410 horsepower and 429 lb-ft of torque. The 6.7-Liter Cummins Turbo Diesel engine is for those who need the most impressive torque rating Ram offers for the Ram 2500 with 850 lb-ft of torque to go with 370 horsepower. To gain even more torque, there is no greater option than to turn to the massive Ram 3500.
2019 Ram 3500 Engine Options
The base engine is the 6.4-Liter HEMI V8 comes stock with 410 horsepower and 429 lb-ft of torque. The same 6.7-Liter Cummins Turbo Diesel is available as found in the Ram 2500, however, the 6.7-Liter Cummins Turbo Diesel I6 HO offers 1,000 lb-ft of torque to go with 400 horsepower. There is no greater feeling than driving a Heavy-Duty pickup that is capable of handling any kind of job. Now the only questions is deciding which cab length is the right choice.
To Mega Cab Or Not Mega Cab?
Ram has carried their Mega Cab option for over a decade. The Mega Cab is a four-door crew cab option that only comes on the Ram Heavy-Duty 2500 and 3500 pickups. This option extends the cab by 11.1 inches. This in total will add 9.1 cubic feet of storage space, which is 5.7 more cubic feet than the crew cab option. This option allows for reclining rear seats. For customers that want to have a large cab that supports long-haul trips or fits well for those using a work crew that travels, this is a solid choice. 
Adding the Mega Cab will up the price by $1,500. Keep in mind, the Mega Cab is also only available as a 4×4 configurations. Only a 6-ft, 4-inch bed. The other options for cab styles include a 4×2, 4×4 and 8-foot long bed. Opting for a Mega Cab will mean a longer truck. The 2019 Mega Cab has 249.9 inches of total length versus a 238.9 inches for crew-cab models. 
The Place To Buy Your Next Ram
Kendall Dodge Chrysler Jeep Ram has plenty of new and pre-owned vehicles for our customers to come by and test-drive. We are very excited to show off our latest and greatest Ram heavy-duty pickups. Not looking to buy, lease or sell your vehicle? We can also help with trade-ins. 
Not sure what is going wrong with your vehicle? Delayed on getting maintenance on your vehicle? We can help you with an online appointment at our service center. Allow our trusted service techs to handle all your vehicle needs. We hope to see you soon!