The Dodge Viper Always Comes Back Stronger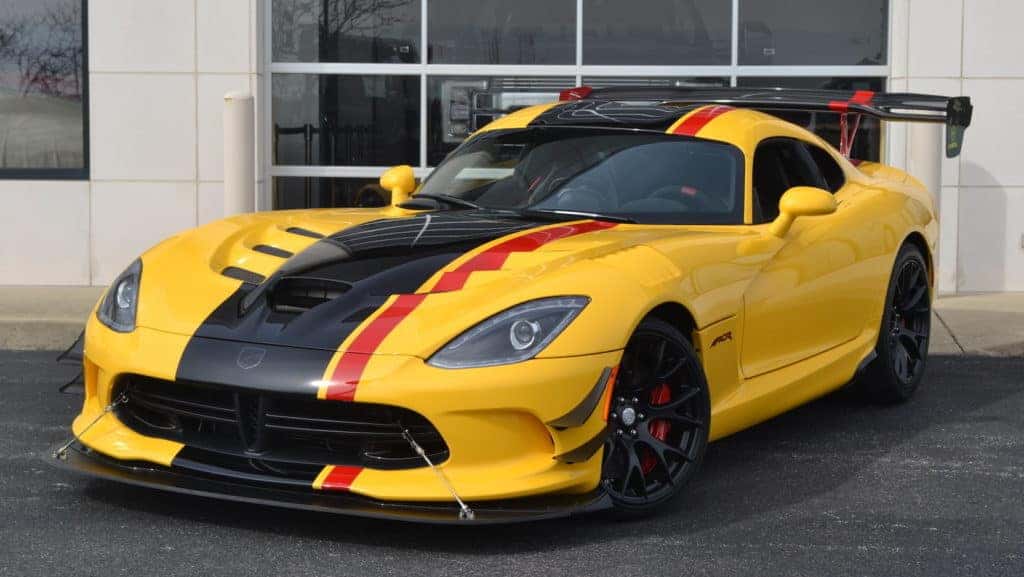 Photo credit: Mecum Auctions
Few vehicles create a massive and immediate impact on pop-culture like the Dodge Viper did when it first debuted. Though the Dodge Viper is currently on the shelf and discontinued as of 2017, there is no denying this vehicle will return. The only question is when and how much better will the Viper become. A long track record of returning with impressive engineering and better materials and quality has been established since the vehicle first became available back in 1992.  A new story that included MotorTrend Car of the Year judges Tom Gale and Chris Teodore was recently published. Both Gale and Teodore were with FCA when the original Viper was being made in the 1980s. Back then, Gale was the Vice President of Design for the Dodge Viper. Their insight both behind the scenes and now working for MotorTrend gives them an edge to speak on behalf of the historic run the Viper has had and they gave their insight about the process. We are also curious if Dodge will produce another Viper this decade?
The Dodge Viper Origins
The Viper was first shown at the 1989 Detroit Auto Show, and immediately the world fell in love with this vehicle. First sold in 1992, the Dodge Viper was called the Viper RT/10. Customers had access to buy the vehicle to begin the year in January 1992. The image of a fresh new coupe dominated the talk of the automotive industry with its rear-drive with an outstanding 8.0-Liter V10 engine that included 400 horsepower and 450 lb-ft of torque. Readers would be hard pressed to find a production vehicle on the road today that can offer that kind of power. Keep in mind, this was the original Dodge Viper. Owners enjoyed a six-speed manual transmission, but the car was basic in terms of amenities and that would be added in the subsequent generations as the Viper improved upon itself. 
"We really want a V-10 car because we want something that had a heroic proportion. We wanted something that was unique—different. I just wouldn't want something that was in the image of what somebody else did, because you're going to come into that market and you're just going to look like everybody else, so why bother?" Gale said.
Step Into the Viper Sequel: The Viper GTS
How did the Viper improve? Increasing the speed and the interior to offer more for customers was the goal. The engineers did a marvelous job and when looking back they were even surprised at the speed of the Dodge Viper GTS. Described by Gale as "Brutally fast" and regarded as a real achievement. They increased the horsepower by 45, jumping to 450 horsepower and increased the torque up to 490 lb-ft of torque. They also increased safety features and still found a way to make the vehicle lighter and added features like power windows. The end result was a special vehicle that debuted in 1996. 
"Bigger-and badder-than life. Few legends truly live up to their press. A standout performance bargain and far surpasses the Corvette ZR-1 in thrills per mile. We wanted something that had a lasting and kind of classic feel to it," Gale said. 
Third-Generation Viper: The SRT-10
Gale was retiring with one last project to handle and his team put their minds together to make the third-generation Viper that would end up first making its appearance at the 2000 Detroit Auto Show. Naturally, this was the first and strongest Dodge Viper yet. The look had changed slightly, removing the spoilers, dive planes on the roadster version of the vehicle. Known as the SRT-10, the Viper would be ready for production and hit dealerships in 2003, quickly becoming a must-buy for Viper enthusiasts. The V10 grew to 8.3-Liter and hit 500 horsepower with an incredible 525 lb-ft of torque. After the debut Gale retired as the executive VP of product development and design, Theodore left as senior VP of platform engineering. They left Team Viper in good hands with the SRT-10. 
"We put just all the love in that car. That car, just from all the little bits, the hair pins on the center-lock wheels, the little adjustable trunk splitter pieces… just all that was so tastefully done. That car was a precursor of what we were going to do with the next-generation car," said Gale.
Next-Gen Viper ACR Comes Alive
Before the next-generation Viper was put into production, Gale would retire as the executive VP of product development and design, while Theodore left as senior VP of platform engineering. Although Gale and Theodore departed what had become Team Viper, the Viper was placed in good hands without them. The new engineers tasked with creating the next Viper came up with some good ideas. The Viper would become more aerodynamic by the time they came out with his fourth generation in 2008, they were able to hit an impressive mark for the V10 engine as it gave owners 600 horsepower and 650 lb-ft of torque. The engine was paired with a new six-speed manual gearbox and a beefed-up rear axle with a new limited-slip differential. Some cosmetic and body color changes rounded out the new Viper. However, this run only lasted till 2010. The effects of the Great Recession would greatly disrupt sales for the Viper-SRT10 ACR. 
The Final Viper Is Made: Viper VX
A new decade, a new SRT Viper that was suited for racing, as the SRT name is implied today with its Street Racing Technology. But, Dodge also wanted to give drivers a better day to day vehicle that would be more luxurious inside and offer more amenities than ever before. Of course, the Viper had to be powerful and that would come by way of its 8.4-Liter V10 with a remarkable 640 horsepower and 600 lb-ft of torque. The vehicle came out in 2015, but would see its run end in similar fashion to the previous Viper; ending after two years in production. By 2017, the vehicle provided customers with five limited edition models, but saw its close with no door for another Viper project to date. Could that change? Would you want a new Dodge Viper? Let us know on our Facebook page! We're sure it would come back stronger and more powerful than ever before. Hoping to drive a new Dodge vehicle? We can help.
Come to Drive Home the Newest Dodge Vehicles!
We welcome our readers to Kendall Dodge Chrysler Jeep Ram. We offer our new Dodge vehicle inventory, like the new 2020 Dodge Charger and 2020 Dodge Challenger. If you're curious about whether you should buy or lease, let us help you make the right decision. We also honor trade-ins and selling vehicles, and we're ready to help find a solution for our customers. We want to ensure a fantastic experience with our online support to help with all of these transactions. 
Thinking about any repairs and regular maintenance for your current vehicle? We will work to get your vehicle back into shape as soon as possible. With a simple online service appointment, we can get started on making you a very happy customer after a visit to our service center. We're here for our customers no matter what!